'Passionate about football, until the last breath': The Singaporean referee who made World Cup history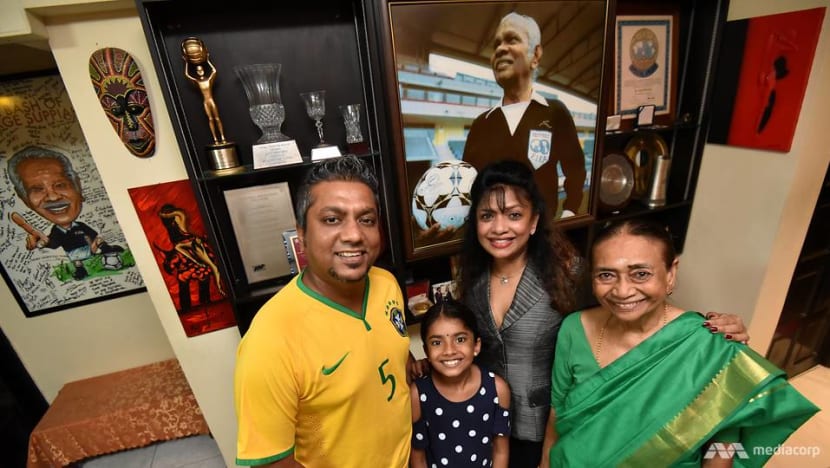 SINGAPORE: Madam Vallambal Suppiah, 87, has caught every game of the World Cup so far. While some of the names, faces and countries may be a bit of a blur, there is one figure she always keeps an eye on – the referee.
"I like to watch all the referees and what they do. Sometimes I know the mistakes they make as well," Mdm Suppiah told Channel NewsAsia. "I feel very sad when the game starts and I see the referees there. But, I have to change my thinking and then I cheer when I watch the game."

The reason for Mdm Suppiah's focus on the man in the middle - and her sadness? Her late husband was the first Singaporean to officiate at the World Cup.
Mr Govindasamy Suppiah, better known as George, was the man in charge of the first round game between Poland and Haiti at the 1974 World Cup in West Germany. The Poles won the game 7-0, but Mr Suppiah was the headline act back in Singapore.

It would take another 32 years for a Singaporean to follow in his footsteps, when Shamsul Maidin refereed in Germany during the 2006 tournament.

"I didn't understand the magnitude of the whole thing," said his daughter Shamini, who was seven at the time. "But there was a lot of hype. I know there was a lot of talk in the newspapers, in the media and the news - everything."

Ms Shamini recalled how neighbours would gather at their family home in Owen Road to watch football matches. Among those who lived nearby were the likes of former Singapore coach Choo Seng Quee and later, local football star Dollah Kassim.
"It was a pre-war shophouse, so the living room on the ground level was very huge. And we had lots of neighbours and not many had a television, so they would watch the games at our house," she added. 

Mr Suppiah went on to be the linesman for two more games in the tournament, Sweden against Bulgaria and Brazil against the Netherlands. 
"To be truthful, I actually hated the game," said Ms Shamini. "Only because it took dad away all the time. I knew he was busy, nothing but soccer. It was always about football. We hardly saw him during that time and I guess with the training and everything else, it helped him become a World Cup referee.
"There was a lot of time spent on this. I remember his grapefruit diet. I remember the runs he used to do to make sure that he was fit enough for the World Cup. He was always a fit person, and he was always into sports but there was a lot of extra training that went into it."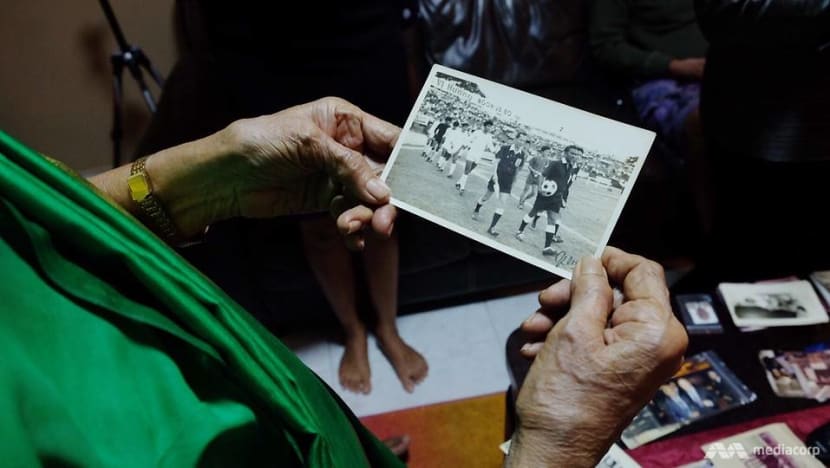 A no-nonsense official, Mr Suppiah was a "strict but fair referee", said Mdm Vallambal. A set of little drums he brought back from the tournament would serve to highlight that.
"Apparently, at one of the matches he was refereeing, it was kind of a violent crowd and they threw the drums because they weren't happy with the decisions," said Ms Shamini. "And he brought them back as souvenirs! So that's always in my memory."
Born in 1929, Mr Suppiah was an avid sportsman who swam, participated in athletics, and also played tennis, hockey, squash. But football was his first love.

The second referee in the family after his older brother Muthusamy, Mr Suppiah took up officiating before he turned 25.

"He had a lot of stories of how he did not come from a very wealthy family so he did not even have a pair of boots or shoes to play," said Shamini. "He used to play soccer barefoot to start with, and eventually he worked very hard at becoming a referee and he excelled in it and the rest is history."

A school teacher by trade, Mr Suppiah became a FIFA referee in 1967. He went on to referee numerous international 'A' matches before becoming a FIFA refereeing instructor in 1979.

But even after he retired from the game, Mr Suppiah was never too far from the thick of the action. He would faithfully follow World Cup matches on television, catching games together with his family.
"He would comment on the referee's performance and took notes down," said Ms Shamini. "Especially if there was any controversy, he would know that the next day the media would be after him to ask about comments for the radio and newspapers."
In fact, it was his love for the World Cup that was one of the contributing factors behind his "degeneration in health", said his daughter. 
"I can't remember if it was three or four World Cups ago that he was actually watching every single match, because they used to call from the radio station and ask him for opinions of what he thinks the game would turn out like," said Ms Shamini.
"There was a year that he had actually done this and missed his exercising throughout the whole one month and that actually led to him losing his toe. Because he didn't do the (daily) exercise, so there was not enough circulation and he suffered from diabetes - and that led to him losing his toe."

But even after losing two toes, Mr Suppiah, who by then was pushing 80, would still turn up at the Farrer Park field to coach children under his charge. 
He died at the age of 83 after an extended battle with diabetes.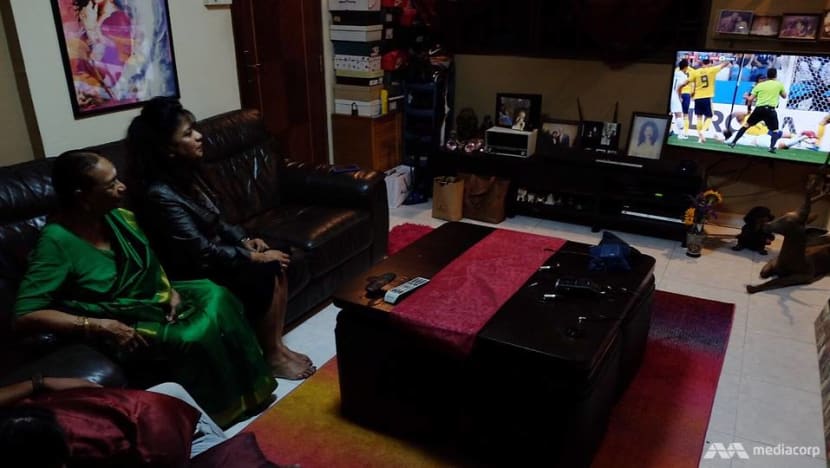 For members of the Suppiah family, watching the World Cup brings bittersweet memories.
"(The World Cup) means my father, that's what it means to us. And it's very hard to get through a season, without thinking about it and it just makes us miss him even more," said Shamini.

"We hear his voice in the background, we hear so many things he would have said, what he would have done, when a referee makes a decision right or wrong, what he felt about it, comments about the players, what they should be doing, what's wrong, what's right."
"I have to remember the World Cup. George Suppiah, I am proud of that," added Mdm Vallambal without hesitation.
As the Suppiah family sits on the sofa, eyes trained on the ongoing Sweden-South Korea slugfest, a framed smiling caricature clad in a black FIFA outfit hangs on the living room wall opposite them – Singapore's first World Cup referee will never be too far away from the action.