Ex-flight attendant among Singaporeans working in roles related to World Cup in Qatar
The World Cup has been a truly international affair, and Singapore is playing a small part. From making the container complexes possible to ensuring security for fans, meet two Singaporeans in the thick of it.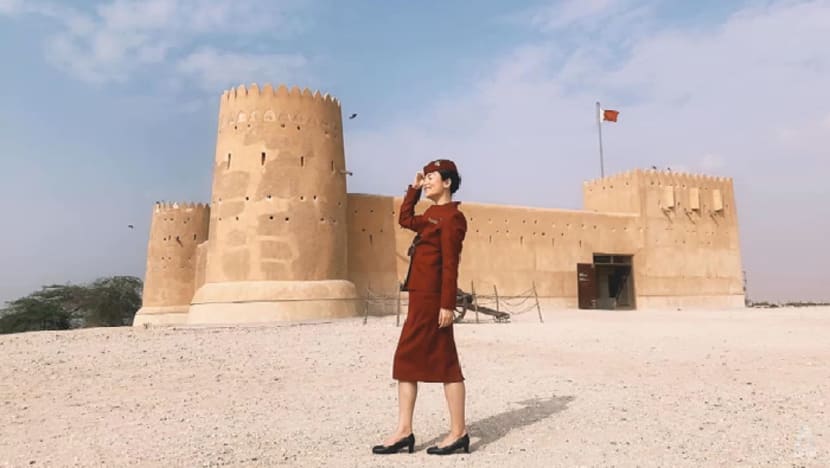 DOHA: Singaporean Christine Goh used to don the burgundy colours of Qatar Airways -  a dream job that gave her the opportunity to work overseas and explore different cultures.
But like many others in the industry, the former senior flight attendant lost her job when the COVID-19 pandemic struck.
Determined to stay in Qatar, Ms Goh managed to secure a job as a translator with a technology firm, but found it difficult to tell her family about her new role. 
"I was slightly jaded because I was passionate about my flying job. It was a very tough period," Ms Goh said.
"I actually kept it from my parents for six months before I eventually decided to tell them, saying I've found a job in Qatar after I was made redundant due to COVID."
A PART OF FOOTBALL'S BIGGEST SHOW
Today, Ms Goh is involved in the FIFA World Cup tournament's security operations, after landing a business development role with security firm GSS Certis International, which is managing some security aspects of the event.
Her job involves boosting resources at airports, training grounds and hotels.
 
Another Singaporean who calls Doha home is Mr Wilson Chan, who attracts investments, such as temporary accommodation at the World Cup, for the local government.
The sprawling container compounds in the desert housing football fans from around the world are part of Mr Chan's projects.
He added that the tournament has brought increased business interest in the country.
"We see a lot of foreign visitors and investors are very curious because of the World Cup hype," said Mr Chan. "And therefore we are seeing a lot of interest to find out more about opportunities in Qatar and how to set up businesses in Qatar."
PROJECTS GO BEYOND THE WORLD CUP
Mr Chan said that the World Cup has helped put Qatar on the map for many businesses, which would more likely consider the country as a potential business destination after this.
"With the World Cup as a spotlight for the world to really see what Qatar has to offer, not just in terms of sports and the World Cup but in terms of the infrastructure, the friendliness of the people … hopefully they will come and learn more and set up shop in Qatar," said Mr Chan.
In the lead-up to the tournament, Qatar positioned itself as a major hub for sports and events, Ms Goh said, adding that there are already other projects in the pipeline.
Upcoming major events include the Horticultural Expo and AFC Asian Cup next year, the Asian Games in 2030, and the ongoing 10-year Formula One contract, said Ms Goh.
These, along with other sporting competitions scheduled to be held in Qatar, mean the outlook is promising for businesses and workers like herself, she added.
STAYING ON IN QATAR
There are at least 300 Singaporeans living in Qatar. They add to an expatriate mix dominated by individuals mostly from South Asia and Africa.
Both Ms Goh and Mr Chan said that they see themselves living and working in the country in the immediate future.
While the heat gets a little intense during certain months of the year, the lifestyle in Doha is "comfortable" for Ms Goh.
 
"Compared to Singapore, I would say that the work-life balance here is more," she said. "You also feel more exposed to working with different cultures. So you always have to be very adaptive."
"I'm actually very proud of myself for living through that period, from flying with Qatar Airways to COVID … to finding myself other jobs and now I'm very comfortable here in Qatar," she said.

Mr Chan, who has been in Doha for four years and in the Middle East for 14, also said he hopes to stay on in Qatar.
 
"As a foreign talent you want to contribute and add value to the job as much as we can, but it can come and go as easily as next year," he said.
"If given a chance … for as long as the family's happy, so Inshallah, for as long as I can for the next 10 years," he said.
Watch all 64 matches of the FIFA World Cup Qatar 2022™ LIVE on meWATCH. Visit mewatch.sg/fifaworldcup for details.