Doha Diary: Travel comes easy at compact Qatar World Cup, but dose of patience necessary
Getting around during the World Cup has been a breeze - for the most part, says CNA's Matthew Mohan.
DOHA: On a driverless train in Qatar, an animated conversation about Iranian politics breaks out.
A Team Melli fan and an England supporter are deep in discussion, before another Iranian across the aisle interjects in disagreement.
All this, as air horns from another carriage assault commuters' ears.
Welcome to the Doha metro, a public railway network which fans at the World Cup use to get from stadium to stadium.
Train seats are plush, the journey is smooth and the experience usually a pleasant one.
COMPACT WORLD CUP
Unlike previous World Cup host nations such as Russia and Brazil, the size of Qatar - the smallest country to host football's biggest tournament - means that this edition is an unprecedentedly compact one.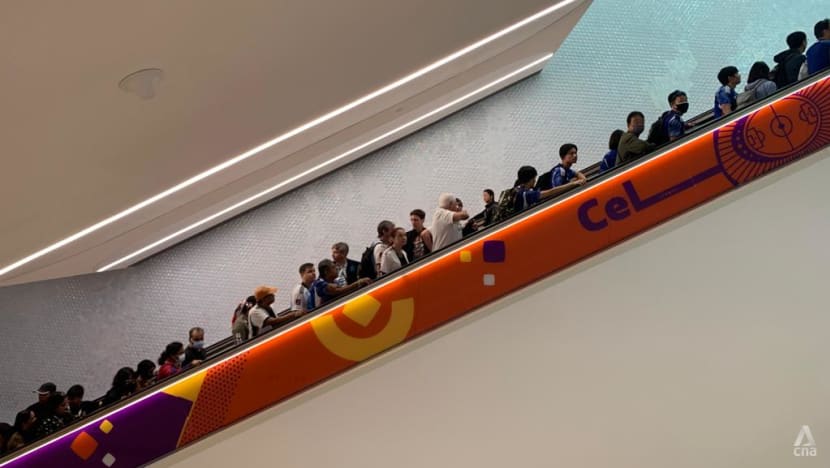 The tournament's eight stadiums are located within a radius of about 55km from capital Doha, five of which are accessible via a walk of no more than twenty minutes from the metro.
Spanning 76km, 37 stations and three lines - red, green, and gold - the metro is also spotlessly clean, and I can attest to that having used it a fair bit during my time here in Doha.
With four games held in one day, it is also possible to visit multiple venues. However, fans are limited to two matches per day, as are the media.
"I think it's a great thing (that the World Cup is so compact)," said English fan John Holden. "We got the metro from the airport to our apartment, got the metro to the stadium, it's really good."
Public transportation - including the metro - is free for visitors throughout the duration of the tournament.
Apart from the railway network, which was launched in 2019, there's always Uber. 
And unlike in other countries where there's usually a wait associated with bookings, there seems to be no shortage of drivers here in Qatar.
Rides are quick, easy to come by and there is usually no gridlock on the roads.
STAYING PATIENT
While transport options abound, accessing them after matches can be an issue.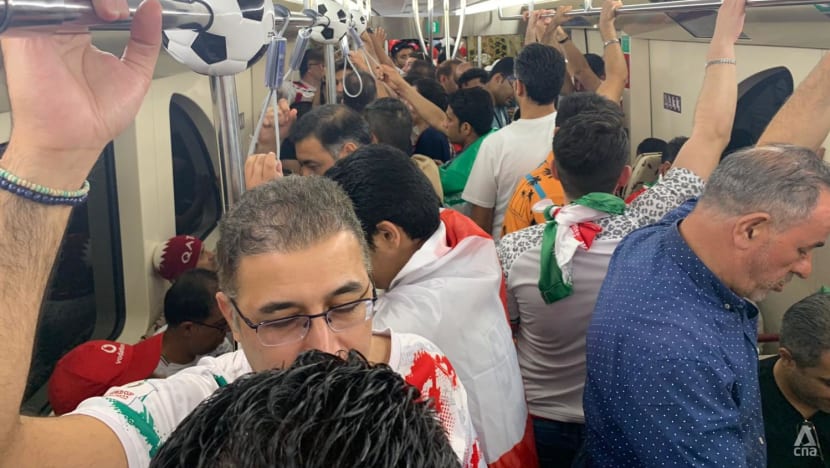 After England's game with Iran earlier this week, I found myself stuck in a heaving crowd headed towards the Sport City metro station.
Penned in by barriers, we stopped, started, then stopped again, as ushers bellowed instructions into loud-hailers and directed us with foam fingers.
Things were orderly for the most part, though a daring few opted to vault the barriers to get ahead.
For the rest of us who were less agile and more law-abiding, it was a slow 45-minute trudge.
While others thumbed through their mobile phones, I spoke to English fan Steven Carol.
"After the games in Russia, they had buses outside, and then you're back in Moscow," he recalled. 
But Mr Carol was still in relatively good spirits as he waited patiently in line.
"We could have been in the queue and lost 6-2!" he said.
I found myself in a similar situation after South Korea's stalemate with Uruguay on Thursday (Nov 24), with the path to the metro station as packed as the defending on the pitch.
While there was no pushing, this was certainly not for the claustrophobic nor faint of heart.
I finally dislodged myself from the harrowing throng - only to be greeted by another queue, this time snaking up to the metro entrance.
It will be a Uber for me tonight instead.
Watch all 64 matches of the FIFA World Cup Qatar 2022™ LIVE on meWATCH. Visit mewatch.sg/fifaworldcup for details.