SMRT to boost solar power capacity at Bishan Depot after expanding agreement with EDPR Sunseap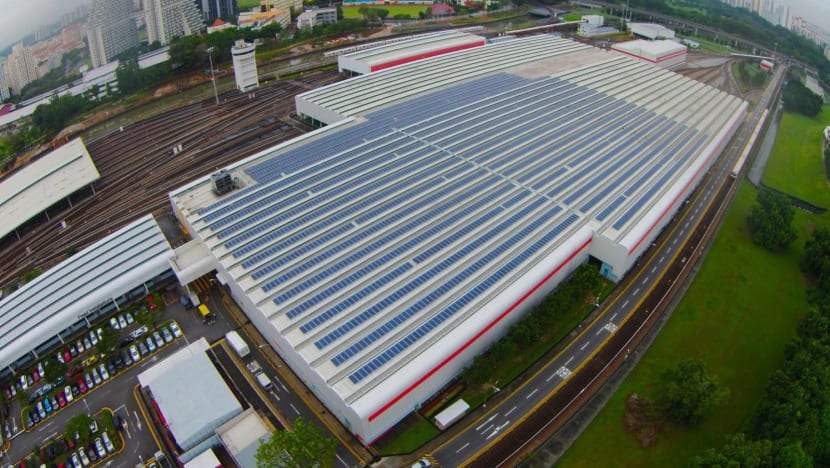 SINGAPORE: SMRT Trains and EDPR Sunseap on Monday (Nov 7) announced the expansion of their agreement to power SMRT's Bishan Depot with solar energy.
With the additional capacity under the agreement, "all non-traction energy needs" at the depot will be met by solar power by next year.
"Under a power purchase agreement, EDPR Sunseap will install a photovoltaic (PV) system that will have a capacity of 1.56 MWp when it is completed in 2023," SMRT Trains and EDPR Sunseap said in a joint media release.
"With the latest agreement to generate more energy from solar power, SMRT moves a step closer to meeting its goal to achieve net-zero carbon equivalent by 2050."
MWp, or megawatt-peak, is the power output of a solar power system which would be achieved under ideal conditions.
According to UIC, the worldwide professional association representing the railway sector, non-traction energy consumption refers to energy used for commercial activities at stations and concessions; maintenance activities at workshops, depots and service buildings; and technical railway operations, such as signalling, traffic control and the lighting of infrastructure.
Energy use in offices or for administrative purposes also falls under non-traction energy consumption.
The partnership between SMRT Trains and EDPR Sunseap – then Sunseap Leasing – to power Bishan Depot began in 2016, with 10,000 sqm of solar panels installed on the rooftop of the depot's main building as part of the initial agreement.
Installation of the panels was completed in 2017, with the PV system's capacity at 1 MWp.
The addition of the new PV system will bring the total solar power capacity at Bishan Depot to 2.56 MWp. Together, the solar panels will generate about 3,000 megawatt-hours (MWh) of energy per year.
"This is equivalent to powering 700 four-room public housing flats, and will avoid 1,224 metric tons of carbon dioxide per year," SMRT Trains and EDPR Sunseap said.
PV systems with a total capacity of about 3 MWp have also been installed by the Land Transport Authority at the Tuas West and Mandai train depots, the companies noted.
"Land transport accounts for about 15 per cent of carbon emissions in Singapore, and public transport companies like SMRT are transitioning to alternative and clean energy sources in support of the Ministry of Transport's goal to reduce land transport emissions by 80 per cent from its peak in 2016, by 2050," they said.
Describing public transport as a key element in the flight against climate change, EDPR Sunseap executive vice president for client solutions Filipa Ricciardi said: "We believe that forging strong, long-term partnerships with transport operators will help drive innovative actionable solutions to one of the biggest challenges of our times."