New Speaker of Parliament Seah Kian Peng sworn in, urges MPs to be vigilant in personal conduct
"We are all too human, and as recent events have reminded us, our weaknesses are not only physical but also spiritual," says Singapore's 11th Speaker.
SINGAPORE: Singapore's newest Speaker of Parliament Seah Kian Peng called on Members of Parliament (MPs) to be vigilant in their personal conduct, after being sworn in on Wednesday (Aug 2).
Mr Seah becomes the country's 11th Speaker in the wake of his predecessor Tan Chuan-Jin stepping down over an extramarital affair with fellow People's Action Party MP Cheng Li Hui, who also resigned.
Just a week before that, Mr Tan also had to apologise for using "unparliamentary language" in response to an opposition lawmaker's speech in the House.
Mr Seah, 61, pledged to perform his duties "impartially, firmly and fairly", in a speech after his oath-taking.
He briefly paid tribute to Mr Tan's efforts to demystify parliamentary processes and engage younger people on the institution of parliament.
"We are all too human, and as recent events have reminded us, our weaknesses are not only physical but also spiritual," he said.
"I say this not to join with the chorus of sanctimony, but to reflect, first, on the need for us all to be vigilant in our personal conduct and choices.
"Vigilant with ourselves first of all, but also with our colleagues. To hold one another to account, not to fear to tell truth to power, nor be slow to listen to hard truths."
He also stressed the importance of MPs performing their parliamentary duties responsibly.
"You and I, we are here for a day, for a fleeting number of terms. But our words here and our work here, they live on far beyond us.
"We must therefore remember and bear the weight of our office with dignity and a constant sense of duty," he said.
Mr Seah has been an MP for Marine Parade Group Representation Constituency since 2006. He served as Deputy Speaker from October 2011 to January 2016.
Leader of the House Indranee Rajah said Mr Seah's previous experience as Deputy Speaker was "especially pertinent" to his appointment.
"You are taking the chair at a time when, having regard to recent events and the circumstances in which the Speaker's chair became vacant, it is imperative to ensure that MPs and Singaporeans can continue to have trust and confidence in the office of the Speaker, and be assured that the duties and functions of the speaker will be carried out firmly, fairly and impartially," she said.
She described Mr Seah as a strong advocate for the labour movement, and noted his contributions as an MP, including twice moving a private member's Bill to amend the Maintenance of Parents Act.
Mr Seah spent a large part of his career with the National Trades Union Congress (NTUC) group of companies, helming different portfolios.
He is currently the group CEO of NTUC Enterprise, which includes social enterprises like Singapore's largest supermarket chain NTUC FairPrice, education and training provider NTUC LearningHub as well as food court operator Kopitiam.
Ms Indranee noted that Mr Seah would continue working at NTUC Enterprise while serving as Speaker, but was also making plans to step down within the year.
Mr Seah is also a board member of the Singapore Olympic Foundation, and previously served on the boards of the Centre for Fathering, the Singapore Centre for Social Enterprises, the National Parks Board and Singtel among others.
His nomination as Speaker was announced by the Prime Minister's Office on Jul 21.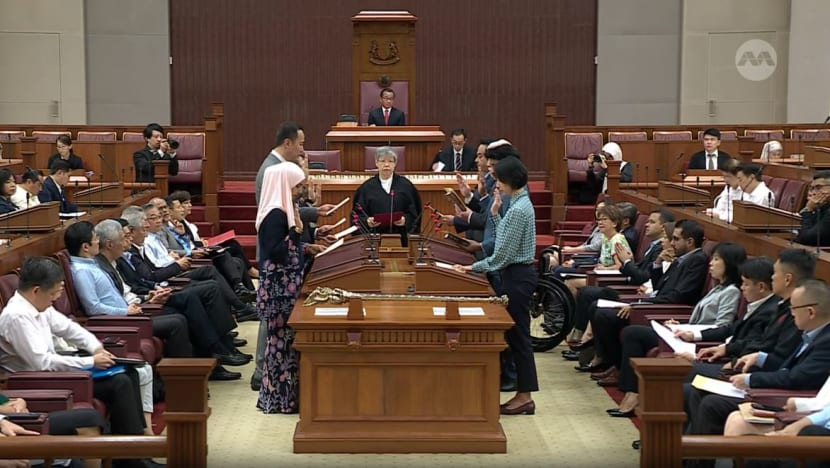 NOMINATED MPS SWORN IN
Nine Nominated MPs (NMPs) also took their oaths on Wednesday. They include second-term NMP Raj Joshua Thomas, a lawyer and president of the Security Association Singapore.
The other eight NMPs, all first-timers, are:
Ms Chandradas Usha Ranee, an art historian, tax lawyer and co-founder of Plural Art magazine
Mr Chua Tiang Choon Keith, vice president of the Singapore Anglican Community Services and executive chairman of food-and-beverage firm ABR Holdings
Mr Mark Lee Kean Phi, CEO of apparel company Sing Lun Holdings
Mr Ong Hua Han, assistant vice president at Deutsche Bank AG
Mr Parekh Nimil Rajnikant, chairperson of the Singapore Indian Chamber of Commerce and Industry and CEO of acquisition firm Pegasus Asia
Associate Professor Razwana Begum Abdul Rahim, head of the public safety and security programme at the Singapore University of Social Sciences 
Ms Jean See Jinli, director of the NTUC Freelancers and Self-employed Unit at NTUC's Administration Research Unit 
Dr Syed Harun Taha Alhabsyi, a consultant psychiatrist
NMPs are appointed for a two-and-a-half year term.
The NMP scheme was introduced in 1990 to ensure a wide representation of community views in parliament. Up to nine NMPs can be appointed in each parliament.
Besides submissions from the public, seven functional groups - including business and industry, labour, and the professions - are invited to submit names of candidates.
A total of 30 names were submitted during a one-month window from March to April.
A special committee of MPs chaired by then Speaker Mr Tan then considered all the eligible candidates and nominated them to President Halimah Yacob.
In its report, the special committee said the selection was "challenging" as "most of the persons proposed were qualified and of good calibre".