Sports Hub to be integrated more closely into upcoming facilities to revitalise Kallang
Sport Singapore will incorporate a holding company and all current employees have been offered positions in the new corporate entity.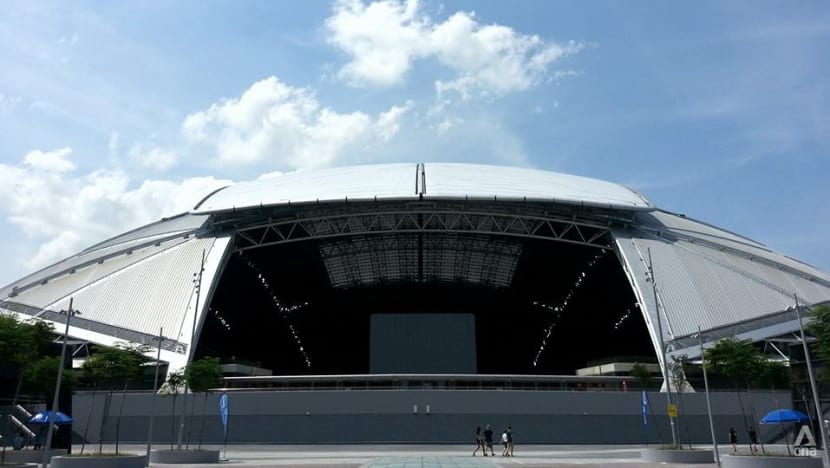 SINGAPORE: The Singapore Sports Hub will be integrated more closely into upcoming facilities within Kallang to revitalise the area after ownership and management is handed over to Sport Singapore (SportSG), said Minister for Culture, Community, Youth and Sports Edwin Tong in Parliament on Monday (Aug 1).
Delivering a ministerial statement in Parliament, Mr Tong said this would "unlock greater value" and achieve the broader social and sporting vision for the precinct.
"We have a vision to transform the entire Kallang Alive precinct, including the Sports Hub, into one, single integrated ecosystem which is not only capable of hosting world-class events, but also to be the home ground for our national athletes as they train and compete.
"We want this to be the beating heart of our community, grassroots and school sports and the testbed and breeding ground for sports innovation and growth," he explained.
"Taking over ownership and management of the Sports Hub will enable SportSG to unlock Sports Hub's full potential for Singapore. And we will integrate the Sports Hub more closely with its upcoming facilities within the precinct to deliver more seamless offerings and capture stronger precinct synergies."
The Kallang Alive development was announced by SportSG in 2019 as a 89-ha mixed-use lifestyle destination where Singaporeans can participate in community sports activities and enjoy world-class entertainment and sporting action. 
Mr Tong's comments follow the announcement in June that SportSG will take over the ownership and management of the Sports Hub from Dec 9.
SportSG said it reached a mutual agreement with current operator SportsHub Pte Ltd (SHPL) to terminate their public-private partnership.
As part of the Kallang Alive precinct plan, there will be an expansion of sporting facilities around the Sports Hub, which will be developed, owned and operated by SportSG directly. 
These include the Kallang Football Hub - which will be the national training centre, the Kallang Tennis Centre, and other facilities such as a Youth Hub in the longer-term pipeline.
Integrating the Sports Hub with its surrounding facilities will allow more to be done with one event, said Mr Tong. He gave the example of the WTT Grand Smash earlier this year where table tennis tables were set up around the main event. Members of the public were able to use the facilities to play with family and friends while they waited for the elite matches. 
"High-quality international marquee events will be complemented side by side, with local programming ... By concurrently integrating community programming on the sidelines and in the months running up to the event, many more Singaporeans can benefit," he said.
From a user point of view, the integration would mean that people are likely to benefit from cheaper costs as SportSG is now able to reap precinct-wide economies of scale through shared functions and services, said Mr Tong.
"With different ownership structures and different commercial profit and loss, it can be incredibly challenging to achieve seamless integration in the delivery of services across the entire suite of facilities. In fact, adversarial competition between the facilities is the more likely outcome," he explained.
"So by taking over the Sports Hub, we will be able to give users a more integrated service experience across this entire precinct, for instance, precinct-wide promotional and marketing activities, hospitality offerings that span across multiple facilities and programming."
As an overarching consideration, Mr Tong noted that the Sports Hub will be made more accessible to Singaporeans. 
"We want to make it a community icon that Singaporeans can identify with, feel a part of in their social or sporting activities. We are thus planning regular Sports Hub and National Stadium Open Houses with activities for the young and old, and of course everyone else in between," he added.
"We are also working with MOE to host even more National School Games, such as the track and field, netball, rugby competitions, as well as Singapore Youth Festival performances, or even sports days for schools, at the Sports Hub."
Responding to a question from Member of Parliament Darryl David (PAP-Ang Mo Kio) who asked if there were plans for a regular schedule of National Day Parades (NDPs) at the Sports Hub in the future, Mr Tong said that it would be considered.
"We will certainly be open to it. I think what this taking back of the ownership and management of Sports Hub is designed to do is to give us more flexibility and the ability to not let costs, which was otherwise a serious prohibitive factor, constraint the organisation of events like NDP at Sports Hub," said Mr Tong.
"At the same time, we also want to be circumspect about having it there every year or even every other year, because there is a five- to seven-month lead time before and after where much of the facilities will have to be decked up for rehearsals and can't be used."
The 35-hectare Sports Hub was built at a cost of S$1.33 billion. Apart from the 55,000-capacity limit in the National Stadium, it also includes an indoor aquatics arena, the multi-purpose OCBC Arena, a water sports centre, the Singapore Indoor Stadium and Kallang Wave Mall.
The project is a public-private partnership between the Government and SHPL, a consortium made up of four companies namely Infrared Capital Partners, Dragages Singapore, Cushman & Wakefield Facilities & Engineering and Global Spectrum Asia.
SHPL was engaged in 2010 and has a 25-year contract to design, build, finance and operate the Sports Hub.
RETAINING CURRENT EMPLOYEES
Mr Tong also announced that SportSG will incorporate a holding company to own and operate the various "pieces of assets" within Kallang Alive. A subsidiary of this holding company will be set up specifically to own and manage the Sports Hub, he added.
"Where necessary, it can be operated as a single, integrated entity, able to reap synergies and economies of scale across the entire suite of sporting and lifestyle assets of Kallang Alive," said Mr Tong. 
All SHPL employees have also been offered an opportunity to cross over into the new corporate entity, he added.
"Beyond the internal capabilities of SportSG, we value the expertise and experience of existing SHPL employees, and would like to retain them," Mr Tong said.
The next chapter for Sports Hub will be about sports being a part of the everyday lives of Singaporeans, he added.
"I am certainly excited about the potential we will be unlocking, as we build on what has been achieved, to turn Kallang Alive into a larger, more diverse, and more vibrant sporting and lifestyle hub for everyone," Mr Tong said.
"The Sports Hub will be a place where our students grow to be resilient as they deal with wins or losses in their school colours, where we bond with our family and friends as we enjoy running around the jogging track participating in the community sports events, and enjoying international concerts. And we cheer our athletes on, as they take on their competitors from all over the world."