Quality, volume of Singapore Sports Hub's events calendar, programming fell short of expectations: Edwin Tong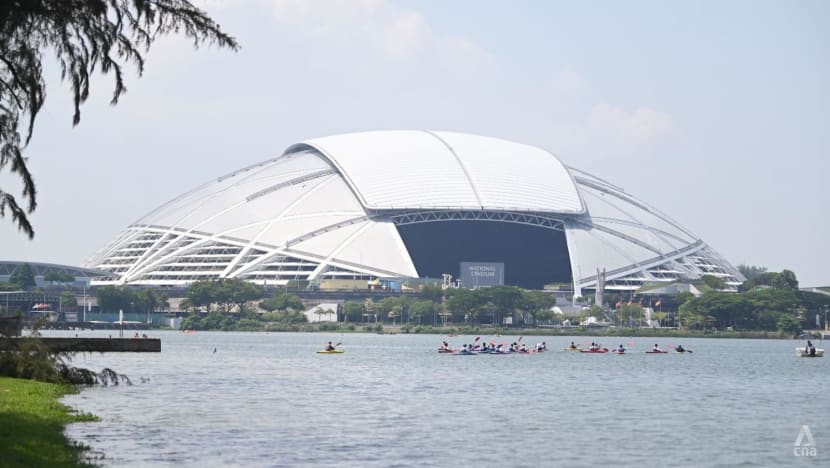 SINGAPORE: The quality and volume of the Singapore Sports Hub's calendar of events fell short of what was envisaged, and the project did not do so well in promoting and enhancing the vibrancy of community sports and lifestyle activities, said Minister for Culture, Community, Youth and Sports Edwin Tong in Parliament on Monday (Aug 1).
In a ministerial statement, Mr Tong said that while the current arrangement achieves "world-class sporting infrastructure", it has not done enough to promote sufficient "community vibrancy" in and around the Sports Hub. 
From Dec 9, the government agency Sport Singapore (SportSG) will take over the ownership and management of the Sports Hub, an announcement that was made in June.
SportSG said then it had reached a mutual agreement with current operator SportsHub Pte Ltd (SHPL) to terminate their public-private partnership.
The 35-hectare Singapore Sports Hub was built at a cost of S$1.33 billion. Apart from the 55,000-capacity National Stadium, it also includes an indoor aquatics arena, the multi-purpose OCBC Arena, a water sports centre, the Singapore Indoor Stadium and Kallang Wave Mall.
The project is a public-private partnership between the Government and SHPL, a consortium made up of four companies: Infrared Capital Partners, Dragages Singapore, Cushman & Wakefield Facilities & Engineering and Global Spectrum Asia.
SHPL was engaged in 2010 and has a 25-year contract to design, build, finance and operate the Sports Hub.
WHY THE GOVERNMENT DECIDED TO TAKE OVER
Responding to questions from Members of Parliament, Mr Tong said that there was a "confluence of several reasons", which led to the decision to terminate the partnership. 
"In terms of getting a world-class sporting infrastructure ... I think we have achieved that. When we set out to redevelop the current National Stadium, the intent was to have a Sports Hub capable of staging major events," Mr Tong explained.
"And through the PPP (public-private partnership), which worked well, we have now a world-class Sports Hub structure. It has won international accolades for its architectural design, has hosted multiple major international events including the International Champions Cup, HSBC Rugby 7s, and also more in line with today's concert-goers - BTS, U2 and Coldplay."
While there were some initial infrastructural problems such as the National Stadium's sandy pitch, leaking roof and lighting failures, Mr Tong said the Government imposed financial penalties to hold SHPL accountable.
"However, when it came to promoting and enhancing the vibrancy of community sports and lifestyle activities at the Sports Hub, the project did not do so well," he said. "The quality and volume of its calendar of events and programming fell short of what we had envisaged, even taking into account the private sector interest in this project."
In a supplementary question, Workers' Party chief Pritam Singh asked Mr Tong how much the Government has charged SHPL for non-performance since 2014, given that there is a provision for such deductions in the agreement between both parties.
In 2014, Mr Singh had asked a related question following concerns over the quality of the National Stadium pitch during a much-publicised friendly football match between Brazil and Japan. 
Mr Tong responded that he believed the amount was around S$44 million, but he would check on the precise figure.
The minister noted that the Government wanted to see SHPL invest in the creation of their own new event intellectual properties and build on existing event properties, but these did not come to fruition. 
"The Sports Hub is a world-class sporting facility, and of course international marquee events are important. But it is also an iconic, national sporting asset, and there must be a strong sense of affinity and connection between Singaporeans and the Sports Hub," the minister said.
"There ought to have been more community participation and activation around the Sports Hub." 
This could have been in the form of grassroots, schools, or junior national athletes having more access to the Sports Hub, Mr Tong noted.
Mr Tong added that this was where the profit-driven model of the SHPL consortium, which had worked well in the infrastructure phase of the project, was not "sufficiently aligned" in the current phase of the project, where greater emphasis was needed on community programming and driving social outcomes, even if such programs did not always resonate with commercial return. 
"Our assessment is that this would be difficult to change by just adjusting some KPIs (key performance indicators) or trying to improve the outcomes, with SHPL via negotiation. We had in fact tried this for some time, but the difficulty lies in the inherent structure of the project terms," he added.
"Accordingly, terminating the present arrangement, taking over the infrastructure on a clean break basis, would allow us better flexibility and discretion, in being able to drive our policy outcomes."
MATURE SPORTING AND ENTERTAINMENT ECOSYSTEM
Another reason for SportSG taking over the Sports Hub is that the sporting and entertainment ecosystem has now grown and matured, said Mr Tong. 
One of the key factors for working with SHPL had been their expertise and networks with major international players in the sport and entertainment space to bring in marquee events to Singapore, and grow the sector, said Mr Tong.
"Over these years ... our own sector in Singapore has grown and matured, and we are now much better placed to continue making Sports Hub a premier hub for sports and entertainment events," he pointed out.
"Overall, the limitations of the current arrangements, the changing environment, and our growing capabilities and ambition were factors we considered when deciding on terminating the relationship. And I would add that this was not a decision taken lightly, but we felt that having done our due diligence .... and a confluence of all these factors in the ecosystem coming together, this was a right time for the Government to exercise the right to step in, take over ownership and continue the management of the Sports Hub."