International cruises possible by end of the year, says STB as Royal Caribbean ship arrives in Singapore
SINGAPORE: Holidaymakers may be able to cruise to international destinations from Singapore by the end of the year, the Singapore Tourism Board (STB) said on Wednesday (Apr 6) as a new Royal Caribbean vessel prepares to begin its season here.
"We are in discussions with various governments of Southeast Asian countries to align on a set of safe cruise standards. Some possible destinations include Bali, Penang, Port Klang and Phuket," said STB director of cruise Annie Chang in response to a CNA query.
"We hope to be able to offer cruises out of Singapore with international destinations by end of this year."
For now, cruises will sail round-trips from Singapore with no ports of call.
The latest offering is Royal Caribbean International's Spectrum of the Seas, which arrived in Singapore waters in March for its first season in the region. It will begin three- and four-night "cruise to nowhere" sailings billed as "Ocean Getaways" on Apr 11.
It was previously announced that the ship would sail from Singapore to Malaysia, Thailand and Vietnam from Oct 21, subject to approval from Singapore authorities.
When asked by CNA, Royal Caribbean said this plan remains in place.
"Travellers can look forward to spectacular three- to nine-night sailings that will visit Malaysia, Thailand and Vietnam, starting Oct 21, 2022," the cruise operator said.
"The long-awaited comeback of cruising to destinations is subject to approval from the Singapore authorities based on the prevailing health situation and border measures."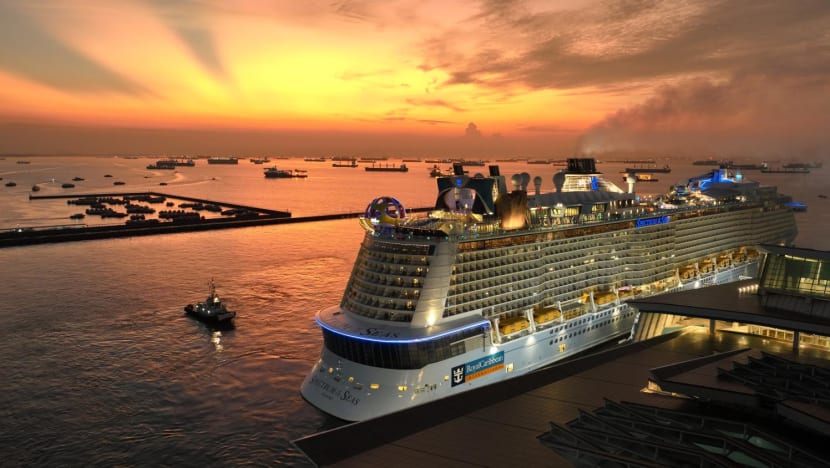 Ms Chang said it is not unusual for cruise lines to release sailings with destinations for bookings ahead of time for business reasons.
"We fully understand the excitement surrounding cruise itineraries with port calls and are cognisant that this is essential to the sustainability and appeal of cruises," she added.
From Apr 11, Royal Caribbean will be welcoming its first international guests since the COVID-19 pandemic. 
The brand's previous cruise to nowhere sailings out of Singapore were only available to Singapore residents and long-term pass holders.
BON VOYAGE, QUANTUM
Launched in 2019, Spectrum of the Seas was designed for the Asian cruise market and is able to accommodate up to 4,246 guests and 1,551 crew members, according to Royal Caribbean's website.
It has private suite accommodations in designated areas at the forward end of the ship, 19 dining options and features and activities "which have never before been seen at sea".
The ship is scheduled to operate out of Singapore until April 2023.
"We are excited that Spectrum of the Seas will call Singapore home for the year ahead; this Quantum Ultra Class ship brings a wealth of adventure across activities, entertainment and dining to our guests," said vice president and managing director Asia-Pacific of Royal Caribbean International Angie Stephen.
"Extending Spectrum's Singapore season for a full year demonstrates Royal Caribbean's commitment to the market and underscores the growth potential for cruising in the region.
"We are thrilled with our success in having returned to sailing with Quantum of the Seas, and Spectrum is the opportunity to showcase innovation and bring holidaymakers even more incredible and memorable holidays."
With the arrival of Spectrum of the Seas, Quantum of the Seas will conclude its season in Singapore, having operated cruises to nowhere from the Marina Bay Cruise Centre since late 2020.
Quantum of the Seas will head to Alaska for its next season.
According to STB, close to 500,000 people have set sail on cruises out of Singapore since they were reintroduced in November 2020.