Swensen's hires students with special needs. It doesn't expect customers to lower service expectations
Restaurant chain Swensen's makes it a point not to put up signs about its inclusive hiring policy to ensure all staff members are treated the same.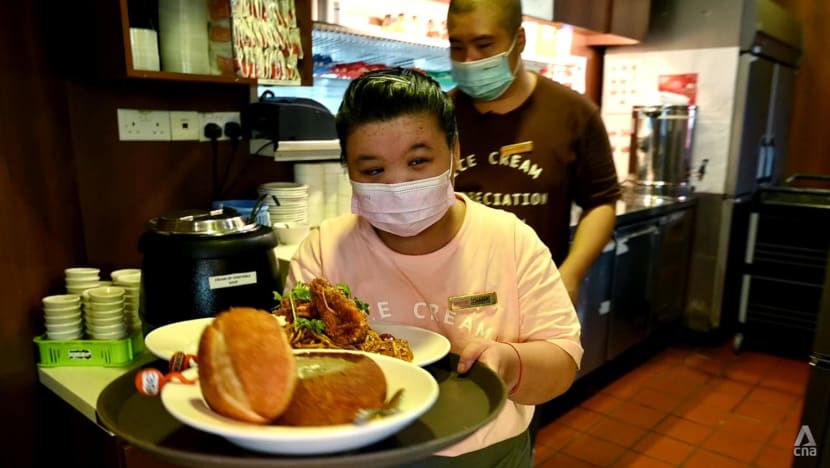 SINGAPORE: There is nothing particularly different about the service staff at the Swensen's outlet at Clementi Mall, or any of Swensen's 25 outlets islandwide for that matter.
The restaurant chain does not put out signs about its hiring practices, nor does it make some of its staff wear nametags that differentiate them from the rest. There are hardly any mainstream or social media articles about how it hires people with special needs.
"Inclusive hiring was not a thing back then," Swensen's Singapore CEO Teo Tong Loong told CNA on Sep 19 of the restaurant's decision to start this policy in 2008.
"The genesis of the whole thought process is that we never wanted to treat them any different. We thought we would be able to create some positive impact by allowing them a possible career."
Mr Teo said this aim has not changed more than a decade on, as he stressed that Swensen's does not want these employees - called customer service representatives - to be given exceptions. This also explains why there are no signs alluding to their conditions.
"The whole idea of being inclusive is that you don't discriminate ... At the end of the day, there isn't any difference in terms of the work that they're doing," he said.
"So I mean, if you label them, then what's the difference? You can be inclusive, but you won't be actually making a difference, in that they are still seen as different."
Beyond employment, Mr Teo highlighted that some parents worry about their special needs children's welfare, especially after they eventually pass on.
"So we take that very seriously, and as part of that we've always been trying to create a community where they can feel supported with or without their parents," he added.
"The hope is that we would be able to create that very safe environment and also a career that they can continue with throughout."
But from time to time, this policy - Swensen's offers jobs to about 20 to 40 students from special education schools each year - comes under the spotlight.
DON'T EXPECT ANYTHING LESS
On Aug 9, Facebook user Sindhu RK Johnson posted about her poor experience at the Swensen's outlet in Clementi Mall, describing how service staff did not wipe her table properly and ignored her request to redeem a free drink.
When Ms Sindhu raised her grievances with the manager, what she heard next "broke my heart", she said.
She was told that most of the waiters and waitresses at the outlet had special needs, adding in her post that she eventually apologised and suggested that this be somehow made known to patrons.
Ms Sindhu's post has been shared and reacted to more than 4,500 times, attracting more than 400 comments. Many praised her for being understanding, although some said she should have been kind to service staff regardless of their condition.
Others took a different perspective: "I am not in favour of accommodating shoddy service just because of inclusion," one netizen wrote.
Mr Teo said Swensen's has never tried to premise its inclusive hiring policy on customers expecting less or having to deal with it.
"In the context of responding to customers, we will always take the stance that it's never the case that we are trying to use that as an excuse," he said.
"If you've unfortunately been a victim of our poor service, then we apologise and we hope that next time you come, we'll be able to serve you better."
GIVING STUDENTS A JOB
Behind this mission of maintaining service standards is a rigorous training system that begins even before these students finish secondary school.
In Secondary 4, special needs students who want to get into the Workforce Skills Qualification programme at Delta Senior School will first be assessed on their academics, attendance and conduct.
Delta Senior is a post-secondary special education school under social service agency APSN that takes in students with mild intellectual disabilities.
It counts Swensen's as one of its 150 active employment partners across four vocational sectors: Food and beverage, horticulture, retail, as well as hotel and accommodation services.
After admission, students go through four years of education, comprising vocational skills training in school in years 1 and 2.
Year 3 will be a mix of on-the-job training, remedial lessons in school, and finally a five-day week work attachment. 
Students spend their fourth year working six days a week for a company, which can offer them employment at any time.
"At every phase, there are a lot of assessments," Delta Senior School principal Subash Lazar said, pointing to a potential "chopping and changing" of jobs for students. 
How special needs students get hired
To qualify for Delta Senior School's Workforce Skills Qualification programme, Secondary 4 students need to show baseline levels of literacy and numeracy. They must also have been present for 95 per cent of classes as a benchmark for attendance in future employment.
"Students must meet prescribed eligibility criteria for admission as we want to ensure that students are able to manage the demands of the programme," said school principal Subash Lazar.
Eligible students will then go through a four-hour vocational profiling exercise to determine their abilities in the four sectors and be assigned to one of them. Delta Senior School staff will speak to parents and consider the students' interests and preferences.
"What we're looking out for is not their raw competencies, but their affinity for the different types of tasks in the various industries," Mr Subash said, adding that students are asked to complete generic tasks in different stations to assess things like balance, agility, strength and fine motor skills.
In the first two years of the programme, students will take core subjects like literacy and numeracy as well as physical and character education. They will also go through vocational courses in school to be certified in a specific job for their assigned sector.
During this period, vocational trainers and job coaches will assess students on their work readiness before mapping them to a company.
"Here, there's no pressure because it's all in-house. They are taught everything, they can make all kinds of mistakes. They're not out there in the authentic stations," Mr Subash said.
Still, he stressed that the training will include a "sense of realism" to ensure students build towards competencies for actual jobs.
"We must be nice, caring and supporting but we cannot be overly caring and nice until we render them incompetent for the real world," he said.
"So if there are safety violations during training, we will not hesitate to remind them in a very stern manner that this must not happen in the worksite."
Vocational trainers will also give feedback to job coaches and identify students who need more support. These students will likely be assigned to back-end roles doing more routine tasks to ensure they are set up for success, Mr Subash said.
Front-facing customer service jobs involve a lot of "ambiguity", he explained, noting that food orders are unlikely to be simple and include requests like less sugar or more sauce. This could be challenging for special needs staff, who thrive on set routines and instructions.
In the first semester of the third year, students will undergo two days of training at the workplace - supervised by vocational trainers - and three days of training in school. Trainers will observe gaps in students' skills and brush up on them when they return to school.
The second semester will see students spend the full five-day week at the workplace and earn an allowance of around S$500 a month. Job coaches will drop by around once a week to check on their progress and whether they need more support.
"If the fella is coping well, I fade out. If the person is struggling and needs more support, I stay longer," Mr Subash said.
"This fading in and out is critical because once they are employed, there is no hand-holding. The system is such that you cannot be hand-holding them forever because you must let them realise that they can be independent."
In the fourth year, students will be attached to a company and work six days a week without supervision from the school, earning about S$720 a month.
This is when the employer can offer students a job at any point during the year, with a monthly salary of between S$1,500 and close to S$2,000, Mr Subash said. Those who do not get an offer throughout the year will go into a fifth year of work attachment.
Students who face a lot of challenges, including poor employer feedback, could be transferred to a slower-paced role in a different company.
"If the pace and intensity of the restaurant is very fast, and the employer also tries to make accommodations but the student is still struggling, we have to make a judgment call," he said.
"So let's say when it comes to hotel accommodation services, five-star hotels and all are not going to reduce their pace for my student."
One challenge that special needs students face, Mr Subash said, is the ability to transfer their skills to an unfamiliar environment surrounded by strangers.
"In school, the student is able to carry a pitcher of water and pour it smoothly into the glasses. No anxiety because the trainer is watching, a familiar figure," he added.
"You bring him to an F&B outlet, who is standing beside him? Supervisor - unfamiliar. Hands start shivering, the execution of the task is not as smooth."
DEALING WITH UNHAPPY CUSTOMERS
Back in the Swensen's outlet at Clementi Mall, there were not many customers. CNA observed a mix of four special needs staff members and neurotypical colleagues working the floor that day.
The staff occasionally asked their colleagues for help, but they worked largely independently to serve food, take customer requests and clean tables. Orders were done on an iPad.
While Swensen's employs special needs staff at all its outlets, there is no fixed percentage mix as this depends on each outlet's duty roster and staff schedules. The larger outlet in Clementi Mall is used for training, so most of the waiters and waitresses there have special needs.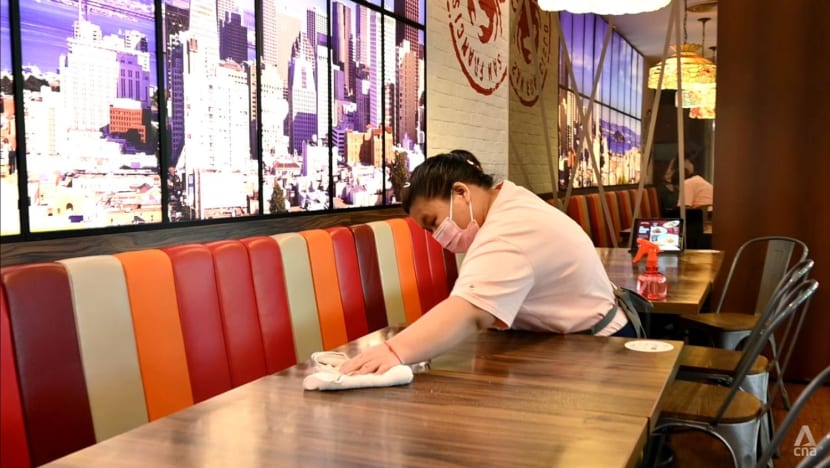 One of them is Delta Senior School graduate Diana Goh, who was wiping a table clean. A customer at another table asked for more sauce, so she went to the back and brought out some.
"My experience has been fun, I think, because I get to interact with customers and see what they need," said the 23-year-old, who has been at the restaurant for slightly more than a month. Depending on the roster, she works five hours a day most days of the week.
Ms Goh said she has encountered customers who got angry and shouted at her. When asked to describe the incident, she said they were "not happy".
"When we cannot handle the situation, we will ask the manager for help," she said.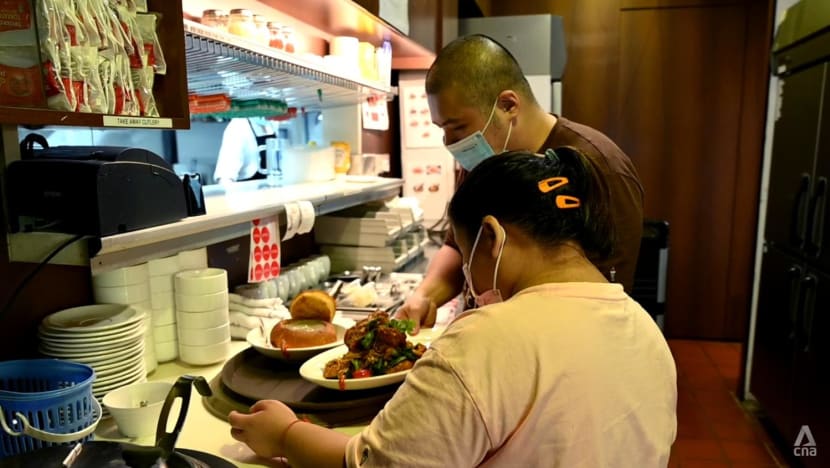 Ms Goh said she does not feel that customers treat her differently, adding that she prefers to be treated the same way anyway.
She initially had difficulties answering a question on how she maintained service standards at the restaurant, but with the encouragement of her job coach, who accompanied her during the interview, she said she greets customers when they enter and serves them water and cutlery.
"I enjoy working in the F&B industry because it is interesting and there are a lot of things to learn," she said, adding that she foresees staying in the sector for some time. "It helps me to improve in whatever I do ... to help people."
MAINTAINING SERVICE STANDARDS
Mr Teo, the Swensen's CEO, said jobs for special needs staff are scoped to their abilities. For instance, they are asked to tend to a certain number of tables first before moving on to more tables if they show they can handle it.
"To be fair, the approach for training is not too different from normal staff. The key difference would be the amount of time," he said, adding that some special needs staff will need more training on their communication skills.
"We spend a little bit more attention on their training, allowing the individual a little bit more leeway with regard to mastering certain tasks before moving on. Expectations are managed a little bit softer just because you want to be able to understand the individual."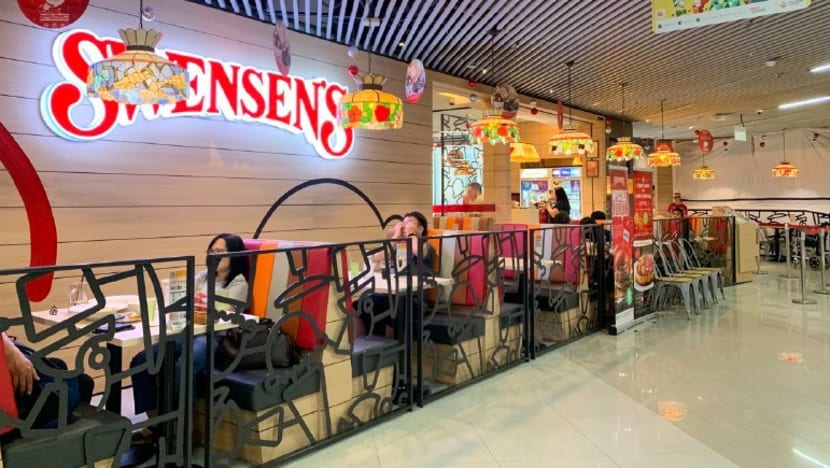 This "scoping" allows Swensen's to try and maintain service standards, he said, although he pointed out that neurotypical but introverted staff might have trouble communicating with customers too.
"There are a lot of challenges, but I won't go as far to say the challenges are a lot more because they are intellectually disabled," he said.
"I don't think there is that much more of an issue in terms of management, and I will go a bit further as to say some of our staff from these placement programmes are a lot more effective and more efficient in certain areas.
"An example would be ... there is no distraction from phones on the go. That is something that I would think any employer would be very happy about."
If customers have complaints about service standards, Mr Teo said restaurant managers can decide if they want to let customers know about the nature of their staff.
"More often than not, we don't just go to every single unhappy customer and tell them it's because this person (has a condition)," he said.
"We don't want to because at the end of the day, we want to treat everyone the same. So, there is no special treatment when it comes to showcasing it or using it as an excuse for a lack of a better description."
DEVELOPING JOB SKILLS
Regardless, the special needs staff have shown they can improve in the areas that are lacking.
Delta Senior School job coach Goh Wei Tin said students might face challenges in seemingly simple tasks, like counting the number of customers at a table or matching orders to table numbers.
Ms Diana Goh, for example, used to work in a retail job but had difficulties in an environment that required a lot of customer interaction.
"She had a soft skills issue but now she has the composure when interacting with customers," said Ms Goh Wei Tin, who is also in charge of the school's employer relations.
"She gets a little bit impatient sometimes, but now she knows what are the social norms, steps back a bit and adapts to the work and social environment."
Another special needs staff member at Swensen's in Clementi Mall, Albert Wong, started working in a back-end role before taking a few years to improve his communication skills and switch to a customer-facing job bussing tables.
"My experience has been great, but I still need to improve my skills, learn more things to help the company to grow," said the 27-year-old who has been at Swensen's for six years.
Mr Wong said he has had some bad experiences with customers, highlighting his difficulties interacting with them and reacting to their requests.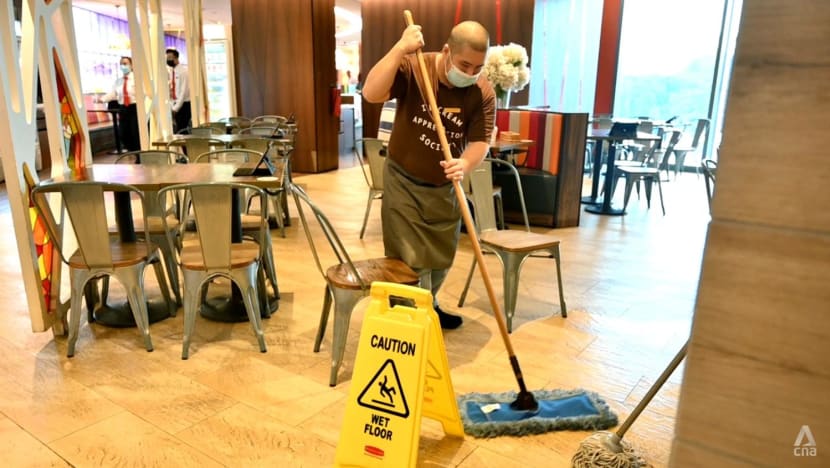 But he insisted that talking back to customers is a no-no, adding that he will apologise to them and ask the manager for help.
Mr Wong said he feels comfortable trusting his colleagues and seeing them every day. "If I have any problem, I will talk to them and they can help me," he said.
"VERY REWARDING FOR US"
Mr Subash said special needs students who have gone through his school's programme will be supported by alumni throughout the rest of their career.
For instance, a middle-aged former student who dropped out of his current job because he could not handle it can ask a fellow alumnus for help in finding a new one.
"Because every year, we are mapping out students to our partners. We can easily map a 40-year-old into one of our existing partners," Mr Subash said.
"Sometimes when we're supporting our current students, employment partners also do ask us if we have any ready-made employees."
Mr Subash is heartened to see parents of special needs children "jump for joy" when they see their kids getting jobs, saying that some of these parents were particularly anxious about whether their children could get employment.
"So, it's very rewarding for us when we uplift the children and the families."
Mr Teo believes that the hiring programme at Swensen's has achieved its aim of creating a safe community for those with special needs, although he downplayed any notions of success.
"I'm happy to say that we have some of these staff who have stayed on for a very long time, and the hope is that we can continue to keep doing this and facilitate this community to continue to grow," he said.
Ultimately, he said the main objective for Swensen's is to ensure that customers "can't tell the difference" between their staff members.
"That will be our greatest achievement, (when) we've been able to assimilate someone who didn't seem like he could get equal opportunity."