Tasers, batons or firearms: How do police officers decide which to use?
Following a string of incidents in which Tasers and firearms were used to subdue a subject, CNA's Vanessa Lim went behind the scenes to understand how the decision to use force is made.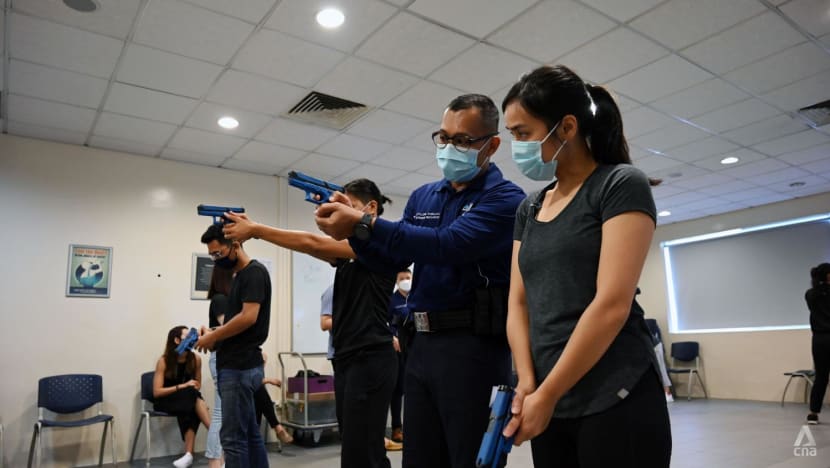 SINGAPORE: A week ago, when my editor asked if I would be interested in undergoing a police training session that included live firing, I had my doubts: I am not a trained police officer, what would that prove?
The session – a condensed version, I was told – would offer a rare behind-the-scenes look at how officers are trained for situations that require them to use force.
A string of high-profile incidents had taken place in Singapore recently, in which police officers were seen using Tasers and in one instance, a pistol. 
Last month, videos circulating on social media showed police officers firing a Taser at a man inside a restaurant at Beach Road after he had attacked a woman with a chopper. 
In March, the police shot dead a 64-year-old man at a housing block in Bendemeer Road when he continued advancing towards officers with a knife. Officers had earlier fired three Taser shots at him.
The second incident raised questions about the use of lethal force, drawing comments on social media, including from some who asked if the shooting was necessary and justified, and if police officers should have shot the man in his limbs or even at his knife, instead of his chest.
Was this even possible? I wondered. And that was when I knew I had to give the training session a go.
TRAINING KICKS OFF
On a rainy morning on Thursday (May 19), I arrived at the Home Team Academy in Choa Chu Kang. Among its facilities: A mock-up of a "heartland"' neighbourhood, a gun range and plenty of equipment.
But it would be hours before I would fire off any rounds. First up, the basics of gun safety and handling a firearm. This included learning the proper stance, how to rack a pistol and the proper way to aim one. 
After five hours of classroom learning and a practice session at the shooting range, it was time to put my newfound knowledge to the test.
We were ushered into a purpose-built facility housing fake residential and commercial areas. Each reporter was paired up with a police officer and given the same scenario: A knife-wielding man suddenly appears from behind a crowd - depicted using cardboard cut-outs - and charges towards us. 
In that split second, we would each need to decide whether to shoot or not, and when to do so, with the man just four to five metres away from us.
To make it easier for reporters, we would stand in position with our Glock19 Gen 5 simulation pistols ready and loaded with the paint-marking cartridge. This meant that all we had to do was to release the safety catch, aim and squeeze the trigger. 
Meanwhile, our partners would have to draw their simulation pistol from their belt, rack it, release the safety catch, aim and shoot.
I was the first to go and so, I did not know what to expect. 
When a police officer, who was role-playing the suspect, bolted towards me with a fake knife while shouting, I froze.
Before I could recover, the whistle went off, signalling the end of the scenario. I had failed to fire my pistol to stop the attacker from reaching me. All it took was four seconds and had this been for real, I could have been seriously injured or even died.
I was not the only one. Of the 13 reporters there, only five managed to hit the suspect's body. The rest either missed or did not fire their simulation pistols at all. 
Some who tried to shoot the suspect's limb instead of chest, had also ended up shooting the cardboard cut-outs behind the moving target, in effect, hitting innocent bystanders.
According to the Singapore Police Force (SPF), officers are trained to fire at the centre of the body if they have to stop an imminent threat of grievous hurt or death.
"In dynamic situations, this offers a higher probability of hitting, and the shot is more likely to stop the person. This also reduces the risk of injuries to innocent bystanders from stray bullets," said the SPF.
During the training session, reporters also had the chance to try using the Taser X26P on a cardboard cut-out of a man.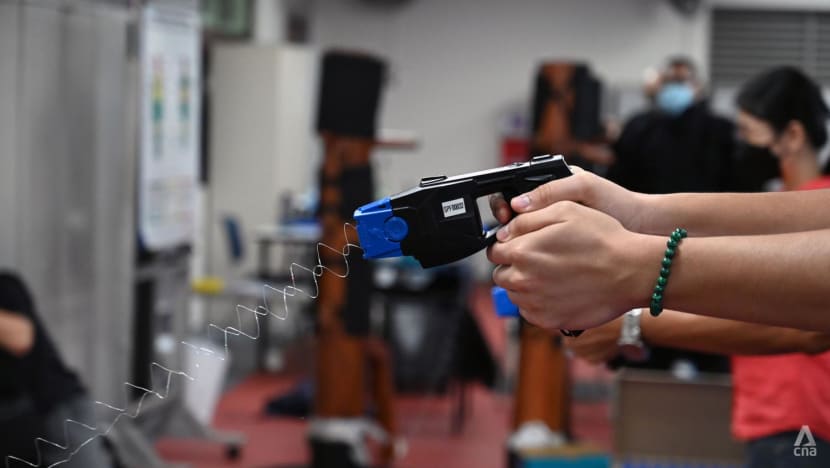 For safety reasons, we used a live simulation cartridge, which only deploys probes that do not carry any electrical output.
Compared to the simulation pistol, using the Taser on a stationary subject was easier as the device is equipped with a laser showing exactly where the stun gun will hit.
However, in real-life situations where the officer or the suspect may be in motion, this becomes more challenging as one or both probes may miss the subject, or not get embedded properly. And even in the event that they do, probes may get dislodged.
"The attire the person is in, the distance between the person and the officer, and the degree of movement by the person may affect the successful deployment of the Taser," said the police.
WHEN DO THE POLICE USE LETHAL FORCE?
While situations may vary, SPF said officers generally use force, when necessary, to make an arrest or handle a threat to life and property.
"Police officers face a myriad of dynamic and potentially precarious situations to protect life and property. A situation that requires intervention by our officers by force is usually dynamic in nature," said SPF. 
In applying force techniques, the officers consider the proportionality of the force to be applied to the perceived threat as well as the safety of the subject, the people in the area and themselves.
For instance, if a suspect is violent and non-compliant but is unarmed, police officers may choose to apply force techniques such as defence tactics, batons or Tasers, instead of lethal force, to try and de-escalate and contain the situation first. 
However, if the situation escalates and there is an imminent threat of grievous hurt or death, officers might have to take decisive action and deploy their firearms to stop the threat.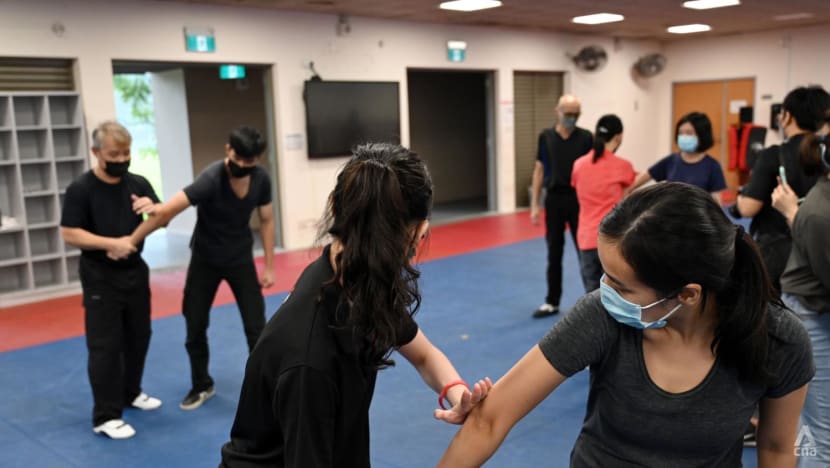 "The police's priority in any situation is to ensure the safety of all persons involved and to resolve the situation with minimal harm to persons and minimal damage to property, while ensuring that the criminals are apprehended," said the SPF. 
"Officers undergo a six-month Police Officer Basic Course, which includes theory as well as practical lessons, and covers various topics including police contact tactics, basic combat shoot, incident management, public order and public security incident management," said Superintendent of Police Toh Pei Lian, commanding officer of the Frontline Policing Training School.
She added that officers are also required to undergo annual recertifications tests and training in order to remain "competent" in the use of firearms and Tasers.