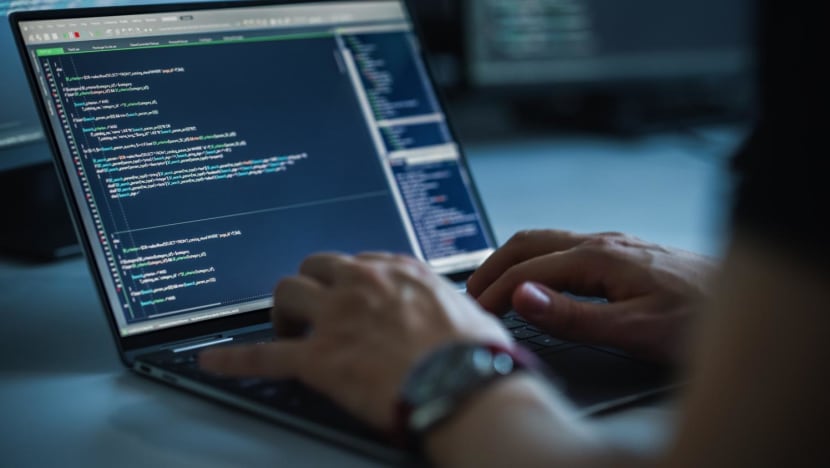 SINGAPORE: Despite layoffs from big tech companies making the headlines, there is still a high number of job vacancies for tech talent, the Ministry of Manpower (MOM) said on Thursday (Mar 30).
"The recent news of retrenchments by the big tech companies has caused some concern ... however, in our survey, we found that technology talents continue to be sought after," said Mr Ang Boon Heng, director of MOM's research and statistics department.
"Employers on average are also willing to pay more for these positions due to the shortage of such specialised skills."
Responding to questions from reporters, Mr Ang added that the tech layoffs were "not so widespread" and pointed out that tech jobs may not be in the technology sector, but span across all industries.
While tech jobs continue to rank among the top 10 vacancies in MOM's annual Job Vacancies Report for 2022, the job with the most vacancies was management executive, overtaking software web and multimedia developer, which was the top job vacancy in 2021.
An MOM spokesperson said that the majority of the vacancies for management executive in this survey were mainly in public administration and education.
For non-PMETs, the top job in demand continued to be construction labourer. This was followed by general office clerk.
In all, the number of job vacancies declined for the third consecutive quarter in December 2022 to 104,500, said MOM. But the level remains elevated compared with 51,100 in December 2019, before the COVID-19 pandemic.
MOM expects job vacancies to moderate with hiring sentiments remaining positive and global economic headwinds weighing on labour demand going forward.
While the total number of job vacancies rose in 2022, the proportion of vacancies unfilled for at least six months declined from 35 per cent in 2021 to 27 per cent in 2022.
Top PMET Job Vacancies in 2022

| Rank | Occupation | |
| --- | --- | --- |
| 1 | Management executive | |
| 2 | Software, web and multimedia developer | |
| 3 | Commercial and marketing sales executive | |
| 4 | Teaching and training professional | |
| 5 | Administration manager | |
| 6 | Software and applications manager | |
| 7 | Registered nurse and other nursing professional | |
| 8 | Systems analyst | |
| 9 | Business development manager | |
| 10  | Mechanical Engineer | |
Source: Job Vacancies Report 2022, Ministry of Manpower
This decline was for both PMET and non-PMET vacancies, but the latter registered a sharper decline as employers were able to hire foreign workers to backfill these vacancies, said MOM.
PMET positions made up a growing majority of job vacancies, or 56 per cent, up from 53 per cent in 2021.
This reflects manpower demand for skilled workers from the growth sectors of information and communications, financial and insurance services, professional services, and health and social services, said MOM.
WHY IS IT HARD TO HIRE?
While the PMET share of vacancies has yet to recover to pre-pandemic level in 2019, the number of PMET vacancies in 2022 was almost double that in 2019, said MOM.
Technology talents such as software, web and multimedia developers, and software and applications managers continued to be highly sought after, as ongoing digitalisation trends have led to sustained demand for technological skills, the ministry added.
Other jobs in demand are commercial and marketing sales executive, teaching and training professional and administration manager.
And while the share of non-PMET job vacancies dipped, the number of these vacancies also increased in 2022. Jobs like waiter, shop sales assistant and cleaner continue to be hard to fill, making up the top five non-PMET roles unfilled.
For PMET roles that were difficult to fill, the main reasons cited by employers were unattractive pay, lack of specialised skills and lack of necessary work experience, particularly for positions requiring specialised, technical knowledge.
For non-PMET positions, employers commonly indicated reasons such as a physically strenuous job nature, and a "non-conductive work environment".
Top NON-PMET Job Vacancies in 2022

| Rank | Occupation | |
| --- | --- | --- |
| 1 | Construction labourer | |
| 2 | General office clerk | |
| 3 | Waiter | |
| 4 | Shop sales assistant | |
| 5 | Cleaner | |
| 6 | Security guard | |
| 7 | Receptionist, customer service and information clerk | |
| 8 | Bus driver | |
| 9 | Car, taxi, van and light goods vehicle driver  | |
| 10  | Heavy truck and lorry driver | |
Source: Job Vacancies Report 2022, Ministry of Manpower
The share of non-PMET vacancies unfilled for at least six months has been on the decline but some sectors, such as transportation and storage, and accommodation and food services continue to see a higher share of longer-term vacancies.
This reflects in part efforts to raise wages through the Progressive Wage Model and to redesign jobs, said MOM. The tight labour market has also spurred employers to raise wages for some non-PMET jobs.
MOM said that following the relaxation of border restrictions in April 2022, employers have backfilled their vacancies as foreign labour returned.
Other findings from the survey were that the number of job vacancies for remote working have declined and that academic qualifications are becoming less important when it comes to hiring.
The proportion of vacancies which involved work that can be done remotely fell from 31 per cent in 2021 to 21 per cent in 2022, said the report.
For 74 per cent of vacancies in 2022, academic qualifications are not the main determinant in hiring, rising from 73 per cent in 2021. Instead, skills and work attitude of the job applicant were the key considerations, said MOM.
"This has trended up over the years, from 67 per cent in 2017 when we started collecting this data to 74 per cent. This highlights a shift in employers' attitude towards hiring," said Mr Ang.
The findings from the annual report are based on a comprehensive survey carried out in September. In the 2022 survey, a total of 15,500 establishments employing more than 2 million employees responded.