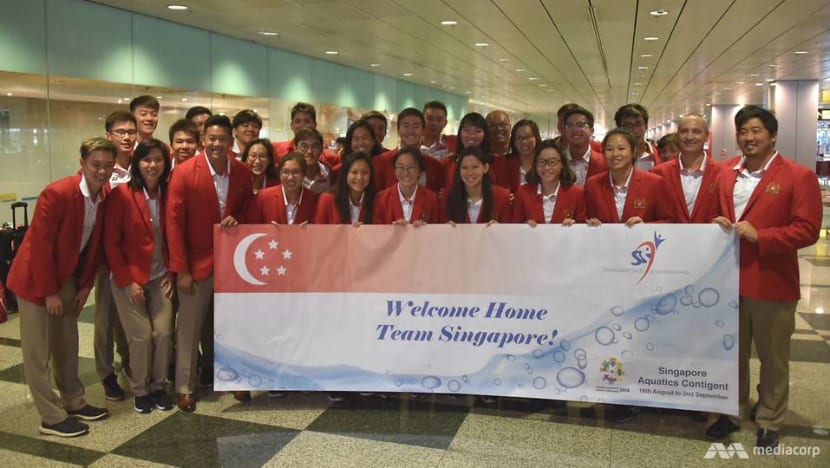 SINGAPORE: Olympic champ Joseph Schooling may have set pulses racing with his exploits at the 2018 Asian Games, but what got him pumped at the meet were two standout swims from young Singaporeans - 18-year-old Darren Chua and 16-year-old Jonathan Tan.

Speaking to reporters after the arrival of Singapore's swimming, gymnastics and fencing teams at Changi Airport on Saturday (Aug 25), Schooling paid tribute to his younger team-mates.

"We have a lot of young talent coming up - relays were great, I was very excited about that," said Schooling. "The future of Singapore swimming is very bright and we have time before (the) Tokyo (Olympics). I think we're going to get better and better every year."

Singapore national swimmers ended their Asian Games campaign on Friday with six medals - two golds, a silver and three bronzes.

Schooling won gold in both the 50m and 100m butterfly, and helped the men's 4x100m and 4x200m freestyle relay teams to bronze.

Roanne Ho, 25, won a silver in the women's 50m breaststroke after Japan's Miho Teramura was disqualified, while the women's 4x100m medley relay won a bronze, also after disqualifications.

Schooling, 23, was quick to single out two youngsters, Chua and Tan, for their standout showings.

The quartet of Schooling, Quah Zheng Wen, Chua and Darren Lim set a new national record in the men's 4x100m freestyle relay while Tan, Schooling, Quah and Danny Yeo combined to clock a new national record in the men's 4x200m freestyle relay.

"Those two swims among a lot of other swims really stood out for me - I actually feel very excited talking about it right now," Schooling added.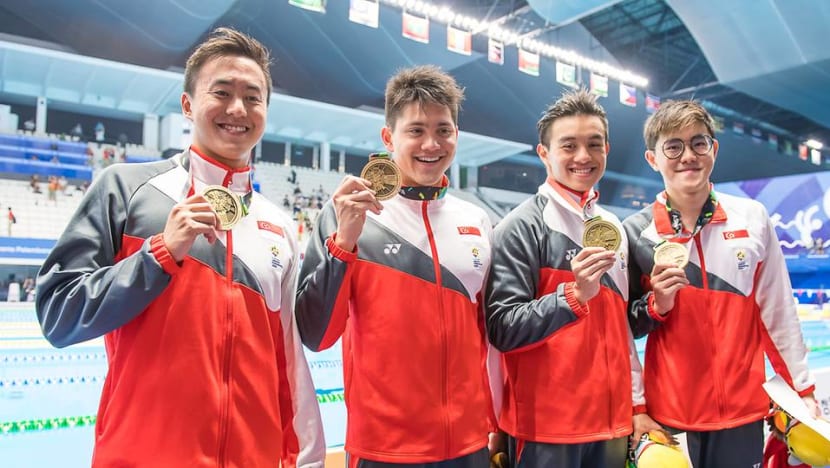 According to national head coach Stephan Widmer, Schooling's gold medal at the 2016 Rio Olympics was a catalyst for these successes.

"Joseph had started to give Singaporeans the belief that Singaporeans can compete with the best in the world," said Widmer. "Now you can see coaches believe, swimmers believe and it's a great momentum.

"These kids have prepared, they not just have physical abilities but they have mental abilities and they did really well and (did) the nation proud."

For Tan - a Games debutant and the anchor of his relay team - the achievements of his seniors, including Schooling, have given him new confidence.

"Before I knew them or trained with them, I always thought that SEA Games was the maximum you can go. After Jo won ... it just gives you the belief that it is possible. Singapore has the capability of producing such athletes."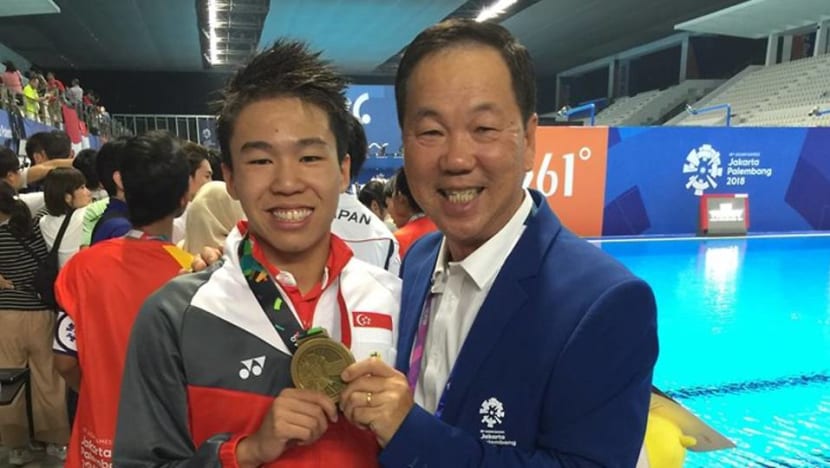 But with powerhouses China and Japan finishing the swimming competition with 19 gold medals apiece, part of the challenge will now be for the next generation of Singapore swimmers to bridge the gap. 

"They have a great sporting history - those two countries are sports powerhouses," said Schooling. "I think Stefan brought up a good point - he said that we got the third highest medal count behind China and Japan. So, we're getting there, right?"

For the young swimmers, Schooling's exploits remind them that they can challenge swimmers from regional powerhouses.

"It pushes us a lot. Seeing him being able to win a gold medal, it's like - any Singaporean can do it," said Chua. "It helps to motivate us to want to win a medal, to train even harder and get into the Olympic level."

Added fellow youngster Cherlyn Yeoh: "He has excellent work ethic, the way he trains is really hard and he is not complacent about his Olympic gold medal. 

"You always see him training hard - pushing himself in training and it motivates you. If he's pushing himself so hard, then why can't I?"
Get the widest coverage of the 18th Asian Games (Aug 18 – Sep 2) from Jakarta and Palembang, Indonesia on Mediacorp. Go to toggle.sg/AsianGames2018 for details.