Threats mentioning 9/11 attacks made against Singapore by Indonesian preacher's supporters: Shanmugam
Some people who had been investigated under the Internal Security Act were followers of Somad, including a 17-year-old who was detained in January 2020, says Law and Home Affairs Minister K Shanmugam.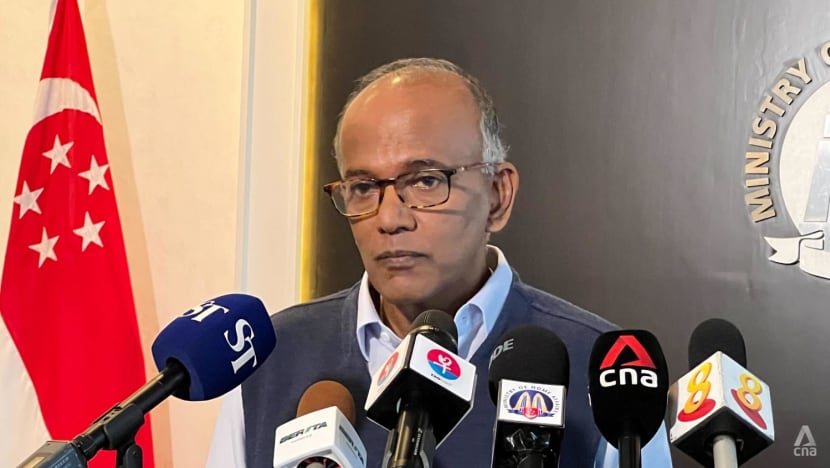 SINGAPORE: Threats mentioning the 9/11 attacks have been made against Singapore by supporters of a preacher who was barred from entering the country, said Law and Home Affairs Minister K Shanmugam on Monday (May 23).
Indonesian preacher Abdul Somad Batubara, as well as six people who were travelling with him, arrived at Singapore's Tanah Merah Ferry Terminal on May 16 but was denied entry and sent back to Batam.
Singapore's Ministry of Home Affairs (MHA) said the following day that Somad has been known to preach "extremist and segregationist" teachings, which are "unacceptable in Singapore's multi-racial and multi-religious society".
Speaking to reporters on Monday, Mr Shanmugam highlighted one example of a threat posted on Instagram that called Singapore an "Islamophobic country" and said its leaders had 48 hours to apologise to Muslims and the people of Indonesia.
The Instagram user threatened to expel Singapore's ambassador to Indonesia and send troops including the Islamic Defenders Front – an Indonesian hardline Islamist organisation – to attack the country "like 9/11 in New York 2001" if their demands were ignored.
The platform has since removed the post and disabled the account for violating community standards.
Responding to questions from the media about whether Singaporeans should be concerned, Mr Shanmugam said the threats should not be dismissed.
"Parallels are being drawn with 9/11, parallels are being drawn with Singaporeans being led by non-Islamic leaders and that Singapore should be attacked, Singaporean interests should be attacked," he said. "So I wouldn't be dismissive of the comments."
Mr Shanmugam also revealed that some people who had been investigated under the Internal Security Act were followers of Somad. This includes a 17-year-old who was detained in January 2020.
The teenager had watched Somad's lectures about suicide bombings on YouTube and began to believe that if he fought for Islamic State and was a suicide bomber, he would die as a martyr. 
"So you can see, Somad's preachings have real world consequences," said Mr Shanmugam.
Following the decision to bar Somad, protesters gathered at the Singapore embassy in Jakarta and the Singapore consulate-general in Medan on Friday.
The Jakarta protesters, who were members of the Islamic Sharia Ideology Defenders (Perisai), demanded that the Singapore embassy clarify the incident and apologise openly.
The group also called for Singapore's ambassador to Indonesia to be asked to leave the country.
In Medan, protesters gathered at a mosque and marched towards the Singapore consulate-general, demanding that Singapore be held accountable over the "deportation" of Somad.
Mr Shanmugam said the denial of Somad's entry into Singapore has given publicity to the Indonesian preacher, who already has a large online following.
"He's making maximum use of the publicity and he (is) now, in my view, engaging in more publicity stunts," the minister said.
Last week, Somad said he would not give up trying to visit Singapore, describing the country as Malay land similar to Riau where he is from. In a YouTube video, he said that people in Riau see Singapore as part of their land because Singapore was part of the Temasek Malay kingdom.
"We are not a separate country from his perspective and many of his supporters, mostly in Indonesia, have been riled up," said Mr Shanmugam.
"They say Singapore is being, I quote, disrespectful towards Muslims and Islamic religious scholars," he said.
"They've flooded social media pages of the Singapore government agencies, including that of political office holders, including mine, with threats.
"His supporters have called for cyberattacks on Singapore on government websites, social media accounts, boycott of Singapore products, and for Indonesians to stop visiting Singapore – all because we exercised our right to deny someone entry into Singapore."
"POSITION APPLIES EQUALLY TO ALL"
Mr Shanmugam said Somad has publicly promoted extremist divisive teachings, including that suicide bombing attacks are "legitimate martyrdom operations".
He has also publicly referred to non-Muslims as kafirs or infidels, and made derogatory and denigrating remarks about Christianity by describing the Christian crucifix as the dwelling place of an "infidel jinn (spirit/demon)".
Somad has even told Muslims not to travel in Red Cross ambulances that have the crucifix symbol. They should also cover up any crucifixes displayed to avoid dying as an "infidel", and not wish others "Merry Christmas". 
"He has preached that Muslims should not accept non-Muslims as their leaders, given that he says non-Muslims could conspire to oppress Muslims and, I quote, "slit their throats". You consider that acceptable in Singapore?" Mr Shanmugam said.
The preacher has previously been denied entry to Hong Kong, Timor Leste, Britain, Germany and Switzerland, the minister added.
He pointed out that Singapore takes a "zero tolerance" and "even-handed" approach towards any form of hate speech and divisive ideology.
"It's not directed at any specific individual or any specific religion, or any specific nationality. Our position applies equally to all."
He cited examples including American foreign preacher Lou Engle and two foreign Christian preachers who were banned from preaching in Singapore, as they had made derogatory comments towards other religions including Islam and Buddhism.
Earlier this month, Singapore announced that it has banned a movie on the exodus of Hindus from the disputed Muslim-majority Kashmir region due to its provocative portrayal of Muslims. 
"Many people in India criticised us for banning this film, but I make no apologies for our approach," Mr Shanmugam said.
"We will not allow persons like Somad any opportunity to build up a local following, or engage in activities that threaten our security and communal harmony."
INDONESIAN GOVERNMENT'S RESPONSE "VERY PROPER"
Commenting on the Indonesian government's response following Singapore's denial of entry to Somad, Mr Shanmugam said it has been "very proper".
"(The Indonesian government) accepts that it is for Singapore to decide who can come into Singapore, it's absolutely right just like it is for Indonesia to decide who can go into Indonesia," he said.
"It's for every country to decide who can go into that country – basic aspect of sovereignty. You can't deny and threaten," he added. "So the Indonesian government has been very, very correct about this."
He said that the majority of Indonesians recognise what Somad and his supporters are "really up to".  
"I'm grateful that so many Indonesian officials as well as commentators have rejected these claims and have defended Singapore. They know the accusations against Singapore are false," he said.
Following the incident, Indonesia's counter-terror agency told CNA that Singapore's decision to deny entry to Somad is an important lesson for Indonesia to take precautions in prohibiting radical views. 
CNA understands that the Indonesian government has reaffirmed Singapore's sovereign right to decide who it would allow entry, and that the country's Ambassador to Singapore Suryopratomo said on May 19 that the Indonesian government "could not intervene" with regard to Singapore's decision. 
He also called on Indonesians to understand that in international relations, the right to enter a country was determined by the receiving state. As such, there was "no basis to ask Singapore for an apology".