Twitter still a tenant at CapitaGreen, says building's developer after reports that staff were asked to leave
Twitter's Asia-Pacific headquarters are at CapitaGreen building in Singapore.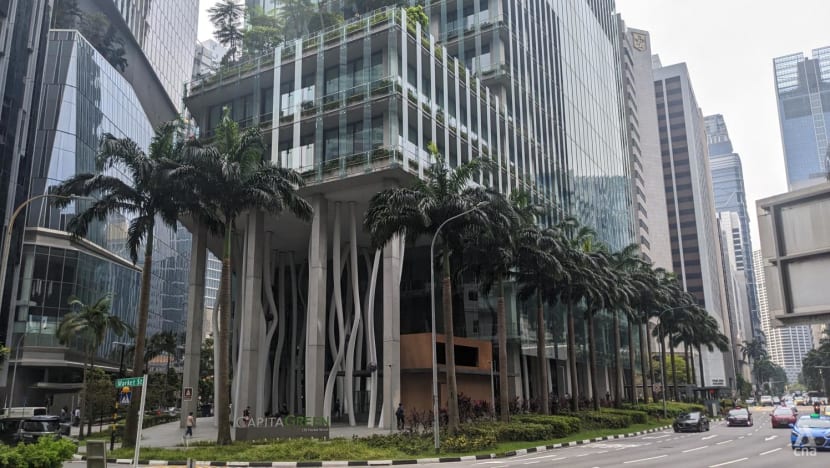 SINGAPORE: Twitter remains a tenant at CapitaGreen, the building in Singapore that houses its Asia-Pacific headquarters, even as staff were asked to clear the office by Wednesday evening (Jan 11).
A spokesperson for CapitaLand, the developer that owns the building, told CNA on Thursday afternoon: "Twitter has been a tenant of CapitaGreen since 2015, and it remains a tenant of CapitaGreen."
The confirmation came after media reports that there was an issue with the payment of rent for the office space at Market Street.
Business Insider reported that the Singapore office was being closed due to non-payment of rent, citing people familiar with the situation.
It reported that Twitter owner Elon Musk eventually paid the past due rent in the late afternoon on Thursday, Singapore time.
Employees who were asked to leave the office on Wednesday were then reportedly told to return to work, the report said, citing an unnamed source.
Platformer reporter Casey Newton on Thursday morning tweeted that Twitter employees were "walked out" of its Singapore office over non-payment of rent.
Two Twitter employees told CNA that staff were told to leave the office by 5pm on Wednesday. Both spoke on condition of anonymity.
One employee said that the email informing staff to leave came "too late", and people did not have a chance to clear their belongings.
She said that staff were asked to leave but "not walked out".
Bloomberg also reported that Twitter workers were informed via email to leave the CapitaGreen building on Wednesday and resume work remotely from Thursday.
Singapore-based staff have reportedly been reassigned as remote workers in Twitter's internal system until further notice, Bloomberg reported, citing people familiar with the situation.
The employee who spoke to CNA said that staff were in the office on Thursday morning, but were also asked to leave. She added that employees were still working at home as of Thursday afternoon.
CNA has contacted Twitter for more information.
The employee added that some workers across the Asia-Pacific headquarters were laid off on Saturday morning.
At least a dozen more cuts last Friday night affected workers in Twitter's Dublin and Singapore offices, Bloomberg reported on Saturday. This came as the company made further staff cuts in the trust and safety team handling global content moderation and in the unit related to hate speech and harassment.
After Elon Musk took over as Twitter's owner in late October, top executives have been fired and the company has undergone at least two rounds of job cuts.