Unsold greens a persistent issue for Singapore's vegetable farms; businesses urge support for local produce
Reasons for the wastage include order cancellations, poor product displays at retailers, low awareness and a lack of support for the local farming scene, the farms said.
SINGAPORE: Some urban farms in Singapore are throwing away extra vegetables, after seeing a surge in leftover greens as supply overwhelms demand.
Reasons for the wastage include order cancellations from clients, poor product displays at retailers, and low awareness of the local farming scene, they said.
The businesses added they are hoping for more initiatives to boost recognition and support for locally farmed produce.
UNSOLD GREENS DONATED OR THROWN OUT
SG Veg Farms, which harvests up to 500 kg of hydroponically grown greens daily, has seen its volume of leftovers increase by about 40 per cent over the past few months.
This was largely due to cheaper imports from regional countries luring consumers away, said the farm's director Eyleen Goh.
The business usually donates leftover vegetables to nursing homes or needy families but as a last resort, some greens have to be thrown away.
"We spend a lot of time and effort growing these plants and we don't want our vegetables to go to waste," said Ms Goh.
"But sometimes it's more difficult for us to donate because we need to arrange logistics, etc., and it is easier for us to throw them away but it is such a waste."
At ComCrop, a rooftop urban farm along Woodlands Loop, about 30 per cent of its produce is donated to charities.
Still, the volume of unsold vegetables is an improvement from last year, when about half its harvest had to be given away.
"The leftovers are decreasing, but it's still a problem. We still have wastage that we are having to donate on a daily basis," said the company's chief executive officer Peter Barber.
The farm said poor product placement at stores is among the challenges faced.
"The biggest feedback we have had from Singaporeans is that they can't find our produce," said Mr Barber. "So, we have been working closely with (supermarkets) to get better shelf positioning."
ROOT OF THE PROBLEM
Both farms said low consumer awareness and a lack of support for local produce are major issues. SG Veg Farms, which is located atop a multi-storey carpark along Admiralty Drive, said that even residents in the neighbourhood are unaware of its presence.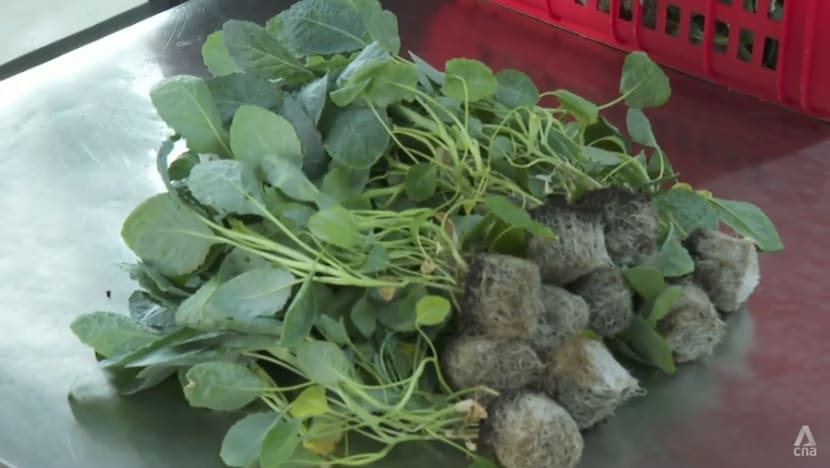 "Many residents told us they are not aware there's a commercial farm here. This is the kind of difficulty that we are facing – trying to reach out to even those nearby," Ms Goh said.
"Authorities told us we should reach out on our own to the consumers and the public on awareness, and also educate people about supporting local produce. But we are just a farm, it is very difficult for us to do everything on our own."
The price of local produce can also deter consumers, as they tend to cost about 30 per cent more compared to imported vegetables as a result of limited space for farming, and high labour and energy costs.
However, ComCrop's Mr Barber urged shoppers to understand that locally-grown crops from certified farms can be of higher standards due to quality assurance schemes.
"We're clean and green certified. This is a really hard qualification to achieve and so (we are) of a much higher standard than a lot of the stuff that are coming in from other countries," he said, referring to the Singapore Clean and Green Urban Farms initiative that awards farms that adopt sustainable practices.
"When buying local produce, people need to look at the quality as well as the price, then they will realise that actually, we are really value for money," he added.
FOOD SECURITY & SELF-SUSTAINABILITY
The farms have initiated activities and educational sessions to create awareness for their facilities and vegetables, as well as counted on word-of-mouth marketing from regular customers.
However, they hope authorities can do more to promote local greens by emphasising the importance of food security and self-sustainability.
"Singaporeans are not really used to having local farms and are very used to getting imported foods," said Ms Goh.
"But food is so important. It's just like security. I mean, there's no point having a very, very strong army if we don't already have our own food, right?
"Our farm is trying to help our country reach the 30 by 30 goal to produce our own food and make sure that we don't rely on external sources," she added, referring to the Singapore Food Agency's (SFA) plan to locally produce 30 per cent of the nation's nutritional needs by 2030.
Ms Goh also lauded initiatives such as the SFA's Farm-to-Table Recognition Programme, which acknowledges hotels, restaurants and caterers for using at least 15 per cent of local produce in their menus by awarding them a logo to display.
However, she said consumers do not seem motivated by the labels to throw their support behind those businesses.
"Businesses have told me, 'why would I want that sticker, since consumers don't really care?' The incentive to use local produce is actually not that strong," she noted.
"Still, it is a good programme – at least it is encouraging people and organisations to use more local produce. I hope these kinds of initiatives can be enhanced (to entice more people to support local greens)."