As Johor floods push up prices of Malaysia produce, Singapore vegetable sellers turn to other sources
"There is very little stock, and the vegetables that do come in aren't in good condition because of the bad weather," says a wet market stall owner.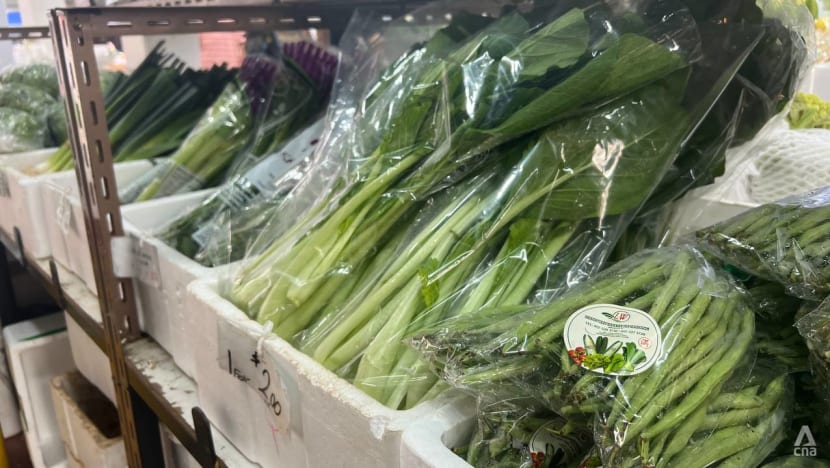 SINGAPORE: With the floods in Johor affecting the prices of produce in Malaysia, vegetable sellers in Singapore are turning to other sources while waiting out the bad weather. 
Wet market stall owners CNA spoke to on Tuesday (Mar 7) said that not only have their Malaysian suppliers raised prices, but the amount of stock available has also been dwindling because of the bad weather. 
Mr Ng, who only wanted to be known by his surname, has not raised prices for vegetables from Malaysia even though his suppliers have, by up to twice the usual price for some items.
"There is very little stock, and the vegetables that do come in aren't in good condition because of the bad weather," said Mr Ng, who runs a stall at Clementi 448 Market and Food Centre. He added that he is reluctant to sell vegetables that are in poor condition.
Instead of raising his prices, he decided to sell fewer vegetables imported from Malaysia and opt for vegetables from other countries instead. 
Malaysia is a major source of vegetables for Singapore. The southern state of Johor has been worst hit by flooding, with about 50,000 people displaced from their homes.
Lam's Vegetables in Clementi still sells vegetables from Melaka and the Cameron Highlands, but it has chosen to buy less Malaysian stock since suppliers have raised prices.
According to stall operator Mr Lam, he has not raised his prices and foresees that the bad weather will affect vegetables imported from Malaysia until April. 
"It's not like they raised prices by a lot. The economy is bad, if they raise it too much, people won't buy their stock," he told CNA.
"Because all the fields are flooded, so they can't harvest. They have to start again, then maybe the new stock will only come in in April."
He has opted to sell more vegetables from China or Thailand instead. On a normal day, about 50 per cent of the vegetables sold at his stall are imported from Malaysia.
"There isn't even a lot of stock coming in from Malaysia, so there isn't much to buy. The prices change every day, so it's hard to say how much they've increased," he added. 
Vegetable seller Ong Hock Ee is one stallholder who has raised the prices of produce from Malaysia.
He declined to reveal how much he increased his prices by, as his supplier's prices of each item are different every day. 
"I still buy from Malaysia, but that's if there's even any stock coming in. It can't be helped because most of Singapore's vegetables come from Malaysia. I can still buy from the Melaka side," said Mr Ong, whose stall is at Tiong Bahru Market.
He still prefers to sell vegetables from Malaysia because they arrive in better condition compared to those from further countries like Thailand or China. 
"Vegetables coming in from Malaysia, it's maybe one day after they're harvested. But for vegetables coming from Thailand or China, by the time they get here, it's already been two to three days," he added.
The stallholder of a fruits stall in Tiong Bahru Market, who declined to give her name, said only about 10 per cent of the fruits sold at her stall are from Malaysia. 
"There isn't even much stock we can buy, so we just stick to selling other fruits from other countries," she added. 
Vice-chairman of the Singapore Fruits and Vegetable Importers and Exporters Association Jerry Tan told CNA that most of the vegetables imported from Malaysia to Singapore come from the Cameron Highlands. 
"Wet weather in Malaysia is only affecting the Johor region … There are signs of increased production due to overplanting of produce, thus covering the losses in the south," he added. 
"At this juncture, very soon we will see oversupply than demand." 
Singapore's vegetable importers also have very diversified sources, and prices go up and down every day, he stressed. 
"Nobody can tell when the price will go up or down. It is based on supply and demand," said Mr Tan. 
"At times, items imported at high cost and demand is low, importers have to sell at a loss. Perishables cannot keep too long." 
Singapore's largest supermarket chain NTUC FairPrice is not looking to raise prices of vegetables at this point, said a spokesperson in response to CNA queries about the impact of the Johor floods. 
"We hope to be able to hold prices of Singapore's most commonly consumed vegetables. Over the years, we have built up strong relationships with suppliers who in turn prioritise their stocks to the group," the spokesperson said. 
"As green leafy vegetables are a staple in our diets, we hope to ensure that they remain affordable and available for households." 
On top of local produce, FairPrice imports vegetables from more than 15 markets, to diversify its sources and ensure availability, said its spokesperson 
BOOSTING LOCAL PRODUCTION
On Sunday, Minister for Sustainability and the Environment Grace Fu urged consumers to buy locally produced food items whenever they can, noting the impact of the floods on Malaysia.
"Vegetable prices in Malaysia may rise, and we will likely feel its impact," she wrote in a Facebook post. 
"We have been working with the agri-food industry to ramp up local production, but consumers doing their part to support local produce is an equally important part of the equation. This keeps our local farms in business and encourages them to produce more, which mitigates the impact of future supply shocks."
However, local farmers said it would be difficult to ramp up production on short notice because vegetables take time to grow. 
"We're not planning to ramp up production because these products take time, it probably takes about 25 days to two months to produce them," said Mr Fabian Liao, a farmer with Quan Fa Organic Farms. 
"By that time, other countries will have excess supply to supply us already." 
Only microgreens and sprouts can be grown in a short time, taking seven to eight days to produce, said Mr Liao. 
Quan Fa Organic Farms supplies Sheng Siong supermarkets, RedMart, wholesalers, wet markets and retail outlets. Their vegetables are also for sale online. 
Local demand for homegrown vegetables has been stagnant, he added. If there is more demand for local produce, this will assure local farmers that they can produce more. 
"Then we are more assured that we can produce this amount of vegetables sufficiently, monthly, on a stable basis," said Mr Liao. 
Mr Nicholas Goh, the founder of Nature's International Commodity, which focuses on urban farming, said demand and supply for their products have been consistent and stable. 
"The immediate (call) to increase our production could be a kneejerk reaction, which we will probably not participate in," he said. 
"But we do have some spares and some extras where we can actually scale up in the short term. There's an option to scale up, but we're not dependent on such crises or such unknown circumstances." 
Singapore's demand for vegetables mostly comprises leafy greens like xiao bai cai, cai xin and nai bai, said Mr Goh. 
"We will always find ways to make sure that these vegetables are always available so that the general public still has access to it," he added.
You may also be interested in: