Spy balloon saga a 'setback' for US-China interactions: Singapore FM Vivian Balakrishnan
Foreign Affairs Minister Vivian Balakrishnan, who is on an official visit in Beijing, said the experience of COVID-19 has "deepened the reservoir of goodwill and trust" between China and Singapore.
SINGAPORE: The saga involving a suspected Chinese spy balloon being shot down over the United States was a "setback" for interactions between the two nations, Singapore's Foreign Affairs Minister Vivian Balakrishnan said on Tuesday (Feb 21).
Dr Balakrishnan said he was very glad that US Secretary of State Antony Blinken and China's top diplomat Wang Yi met face-to-face on Saturday and had "what appears to be an open, candid and frank discussion".
"I hope this will restore the very necessary engagement and collaboration and cooperation between the United States and China," said the minister.
"This may be a matter for two superpowers to resolve. But for the rest of us in the world, we want them to achieve a modus vivendi. It will bring a measure of stability and calm, which is necessary for the world at this point."
A modus vivendi refers to an arrangement or agreement allowing conflicting parties to coexist peacefully, either indefinitely or until a final settlement is reached.
Mr Blinken abruptly cancelled a visit to China over the alleged spy balloon, which China claims was for weather research. Washington has called the incident a "clear violation" of its sovereignty, while Mr Wang has accused the United States of having a "hysterical and absurd" reaction.
Dr Balakrishnan was answering questions from reporters at the end of a three-day visit to Beijing, made at the invitation of his Chinese counterpart Qin Gang.
He said that he and Mr Qin had discussed the spy balloon saga, but declined to reveal details of what was said.
Beijing appointed Mr Qin, formerly China's ambassador to the United States, as foreign minister in December last year.
Monday's introductory meeting between the two foreign ministers was "excellent" and lasted in total about three-and-a-half hours, Dr Balakrishnan told reporters.
Dr Balakrishnan also said that he expected continuity rather than a shift in China's approach towards Southeast Asia under the new foreign minister.
"I expect China's interactions and engagement with Southeast Asia to in fact accelerate in the years ahead," he said.
He pointed out that in-person negotiations on a Code of Conduct in the South China Sea have commenced, and that China and the Association of Southeast Asian Nations (ASEAN) are in negotiations to further upgrade their free trade agreement after doing so in 2015.
SINGAPORE-CHINA RELATIONS
Noting that this was his fifth visit to China since the pandemic began, Dr Balakrishnan said that the experience of COVID-19 has "deepened the reservoir of goodwill and trust" between Singapore and China.
With China lifting its "zero-COVID" policies and Singapore lowering its alert level to green in February, the next steps are about accelerating the pace of return to normalcy, he said.
Restoring full air connectivity with China is a key prerequisite for that, said Dr Balakrishnan, who pointed out that there are currently about 56 flights a week between the two countries, or 15 per cent of pre-pandemic levels.
The minister said he discussed with Chinese counterparts the need to restore flights to pre-pandemic levels as soon as possible, but did not indicate a timeline for this to happen.
He also pointed to the importance of business and people-to-people links, with Singapore students and business people "raring" to engage China.
"We still have a few students who are still in the queue waiting, we want to quickly resolve that," said Dr Balakrishnan, adding that he has raised this with Chinese authorities.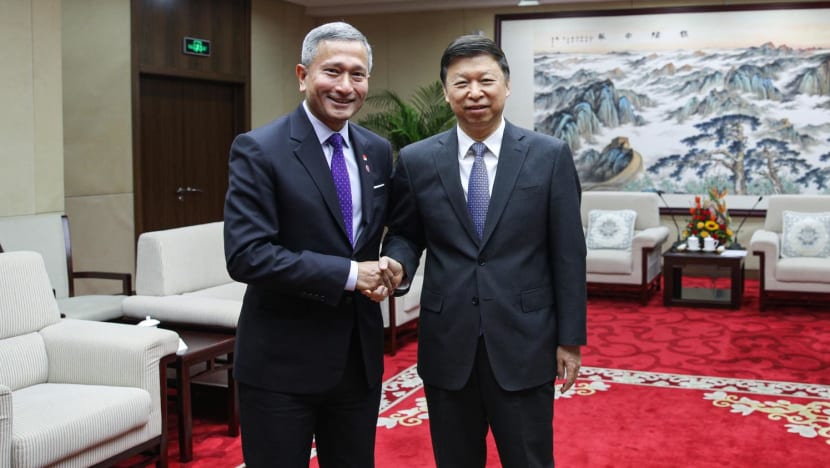 Apart from Mr Qin, Dr Balakrishnan also met Member of the Political Bureau of the Communist Party of China (CPC) and Secretary of the CPC Beijing Municipal Committee Yin Li, as well as Minister of the International Department of the CPC Liu Jianchao on Monday.
Before returning to Singapore on Tuesday, he met Director of the Taiwan Affairs Office (TAO) of the State Council Song Tao, who provided an update on the priorities of the TAO. 
Dr Balakrishnan reaffirmed Singapore's "One China" policy and consistent support for the peaceful development of cross-strait relations, Singapore's Ministry of Foreign Affairs said in a press statement.
UKRAINE CRISIS
In response to a reporter's question, Dr Balakrishnan also addressed the crisis in Ukraine and said he hoped that negotiations and perhaps a ceasefire could be worked out in the next few months.
"It will lower the global temperature for the very delicate interactions and relations between the superpowers," he said, referring to the United States, Russia, China and Europe. 
He added: "I have no illusions. The situation now is worrying and in fact looks like it will get worse before it gets better."