IN FOCUS: Is there a future for Singapore's wet markets?
When did you last visit a wet market? CNA explores why these places still appeal to some, and what Singapore could lose if they die out.
SINGAPORE: Unlike many of her friends, weekends are not for Xienny to sleep in. 
The resident of River Valley, who declined to give her surname, is up and out the door before 7am like clockwork. She heads to the nearby Tiong Bahru neighbourhood for her favourite weekly ritual that, despite it being routine, she still looks forward to. 
Xienny goes grocery shopping at Tiong Bahru Market every weekend, where she is a familiar face to vendors and stall holders. 
They regale her with stories about the past, teach her about fruits and vegetables from different countries and occasionally offer her free samples to get feedback. 
"There's this uncle whose stall only sells clams. If you go to Tiong Bahru, you will definitely see him. He's very nice, and he will tell me that last time when he was younger, all those clams were (much cheaper). Then when another auntie hears it, she will (agree), and they will start to talk about how prices are so different," she told CNA excitedly.
"I learnt a lot of things from (the stall holders). They will tell me how to pick the right vegetables, how to pick the nice cucumber, what's the difference, where it comes from." 
Xienny believes many "don't appreciate" such interactions that she enjoys and can't get from a trip to the supermarket, and they have the perception that "it's very 'auntie' to go to a wet market". She also notices there are barely any customers around her age at wet markets. 
The 32-year-old, whose love for wet markets has also taken her from Toa Payoh to Tekka, hopes that the decrease in demand would not spell the end of her weekly routine.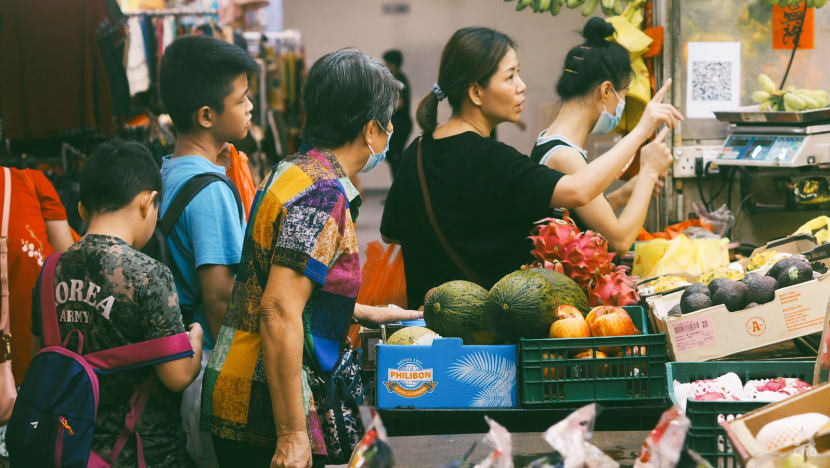 WET MARKETS BECOMING LESS POPULAR
Last month, some stall holders at Tekka Centre – home to one of the largest wet markets in Singapore – decided to call it quits when the complex closed its doors temporarily on Jul 3 for renovation for three months. The closure affected 284 market stalls and 119 hawkers. 
Only six stall holders from Tekka Centre have temporarily relocated to other hawker centres and markets, including in Toa Payoh, Geylang Bahru and Chinatown, a spokesperson for the National Environment Agency (NEA) told CNA.
Some may argue that the writing was on the wall – a 2018 survey conducted by NEA found decreasing public favour towards wet markets. 
It found that 39 per cent of respondents said they had not visited wet markets in the past year. In the same survey in 2016 and 2014, the corresponding figures were 33 per cent and 23 per cent respectively.  
Explaining that wet markets "in their current form have gradually become less popular", a spokesperson for NEA said that consumer trends and preferences have shifted due to changing demographics and the widespread availability of alternative options, such as supermarkets and online retailers. 
When the government announced in 2011 that it would restart the building of hawker centres, efforts have since been focused on increasing the number of cooked food – and not wet market – stalls in new estates or existing estates with insufficient affordable dining options, the spokesperson added.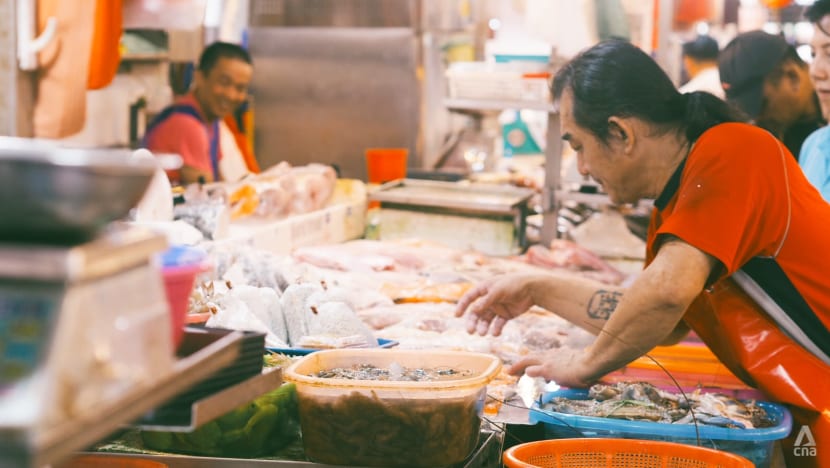 CHALLENGING WORK, FEWER YOUNG CUSTOMERS 
Assistant Professor Charlene Chen, a social and consumer psychologist from Nanyang Technological University, pointed out that the wet markets are "still very busy" as there is a segment that they cater to, such as the older generation and domestic helpers. 
But she observed that there is a "missing or smaller group" – the younger generation. 
Stall holders who spoke to CNA painted a similar picture of the lack of interest in wet markets among young people.
Owner of Joe's Butchery at Tekka Centre, Mr David Johari, chose not to make the move to a temporary location during the renovation period as he does not think it would be feasible to fork out a tidy sum "for only three months".  
This is despite NEA saying it will grant rental remission to the stalls during the three-month closure, and there will not be any increase in stall rents because of the renovation. 
Mr Johari's shop requires a huge stall front, and equipment such as chillers, freezers and a display case.
He would have to hack the walls in between each unit at the temporary site to create space for his equipment and then restore the site's original condition when he moves back to Tekka Centre, on top of engaging logistics companies to help him move.
Some of his equipment is expensive and he would have to build roller shutters to secure the premises, he said. 
Mr Johari added that his children are "not into" his business, but he has never been upset about their decision. The 69-year-old, who started helping out at a wet market when he was 12 as it was his passion, said there is no guarantee that the business will continue to succeed just because it is run by family.
Lim Chun Liang, 72, fears that wet markets could go extinct. The second-generation stall holder, who has been selling pork at Ghim Moh Road Market since 1977, has seen fewer customers over the years. 
While the preference for supermarkets "can't be helped", he still hopes the government will preserve wet markets, he told CNA in Mandarin. "Don't let this culture fade away. The more traditional it is, the better."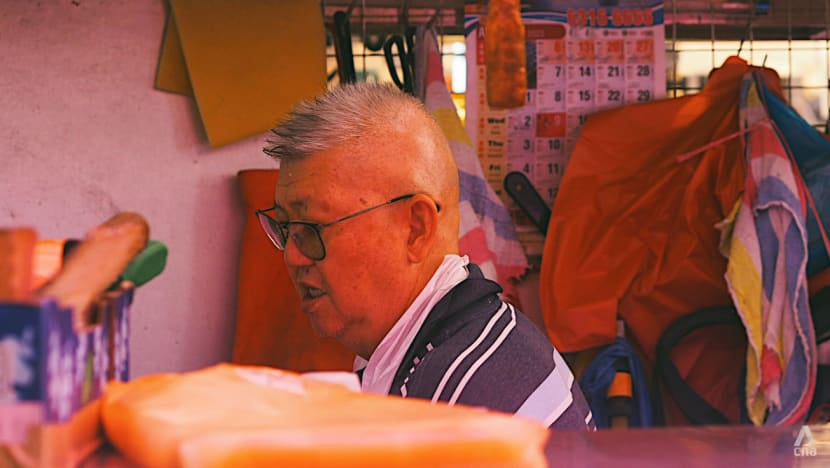 But having worked for decades, Mr Lim is optimistic that younger people will come back to wet markets when they get older. 
"Those in their 40s and 50s come to wet markets more often. You rarely see those in their 20s to 30s, but when their children grow up, they will think about returning to wet markets in their 40s and 50s," he said.
"They will remember what they experienced in their childhood, where their parents bought food from wet markets, and come back to do the same for their families.
"So it's not that younger people don't want to (shop in) the wet markets. It's just that their time isn't here yet." 
Running the business is a different matter. Mr Lim does not intend to pass on his stall to his three daughters as they have not expressed interest in taking over. The only way his business can continue is if he sells it to someone outside his family, he added.
His stall is nestled between two of his younger brothers' stalls, although none bear a stall name. The three of them sell pork, indicated by a sign on each stall that states "Malaysia Sarawak fresh pork", while another brother sells fishballs within the same market.
Like him, they do not have plans to let their children carry on the business. 
"More than 10 years later, this wet market culture will die. You can't find younger people to take over," said Mr Lim.
Some have less trouble finding a successor in their family. But even though a 25-year-old stall holder has entertained thoughts of taking over his parents' fishball stall, they are not keen to let him. 
Mr Delonix Tan, who has been helping out at SanDai Fishball at Kim Keat Palm Market in Toa Payoh for around six years, remains undeterred. He currently holds a full-time job in sales and helps out at his parents' stall on Sundays. 
Creating accounts on TikTok, Instagram and Facebook, Mr Tan often features behind-the-scenes vignettes of life as a wet market stall holder.
He admitted the attention has not translated into a significant increase in customers – nor has it swayed his parents, who find creating social media content "very troublesome and disruptive" and "don't like the attention".  
"They fear it is a dying trade. They've seen how stuff was very good in the past … Now it's getting slower and slower. 
"They actually expressed their concern that the footfall in wet markets and the prospects are not really there anymore. The time has passed, they say, for this business," he told CNA.
Mr Tan has also noticed fewer customers, particularly "as those from the older generation pass away" over the years. 
Occasional younger customers tend to be in their 30s – and they do not come by frequently as they may have more options compared with older folks who shop regularly at a place they are comfortable with, he said.
As a result, the stall is only open four days a week – Tuesday, Thursday, Saturday and Sunday – as "there's no point to open for so many days when the customer is just not there", he said. 
"In the past, hawkers and wet (market) mongers used to operate seven out of seven days per week. But now you see a lot of them … it's not uncommon to only work for four or five days."
The young stall holder suggested that the reasons those around his age don't visit wet markets can be summed up in three Cs: Cleanliness, convenience and comfort. 
CLEANLINESS, CONVENIENCE, COMFORT
Even frequent customers understand how wet market stereotypes can deter others. 
Xienny visited Tekka Centre before it closed for renovation and remembers it as being "not very hygienic, quite dirty and very smelly", especially around the seafood areas. And when she visited a wet market in Toa Payoh, its rundown appearance did not make her want to stay for a long time.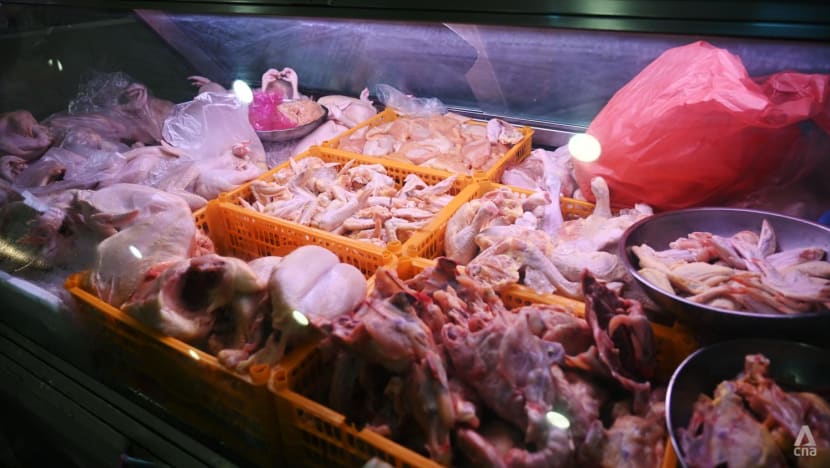 But she highlighted her regular haunt – Tiong Bahru Market – as the ideal middle ground between wet markets and supermarkets.
It is "a good example of how wet markets can be improved", she said, pointing to its vast selection of produce from across the world.
Another regular at wet markets, homemaker Siti Mariah, said she enjoys the fresher food at wet markets compared with supermarkets, but misses the "cleaner" wet market in her previous neighbourhood of Telok Blangah. 
The 47-year-old now visits Keat Hong Wet Market in Choa Chu Kang for vegetables. To get Halal meat, she prefers going to Jurong even though stalls in Bukit Gombak are nearer, as she "can't stand" the smell at the latter, she said. 
Mdm Siti, whose friends also shop at wet markets, agreed that she rarely sees younger customers. Her 20-year-old daughter told her that she goes to supermarkets instead as they have air-conditioning and more variety of goods, said the mother of two. 
"And (she also said the food is) pre-packed, so they look cleaner … But it's a perception. You must experience it yourself (to determine) whether it's fresh or not," she added.
The inconvenience of visiting a wet market is also an issue that Xienny has heard from her friends. Surprised that she visits wet markets religiously, they told her that supermarkets are "much more convenient" because some are open around the clock, she said. 
Young stall holder Mr Tan, who receives positive comments for his social media posts of his parents' fishball stall, added that many people have the habit of shopping online despite their support for preserving wet markets. 
"Why would you want to go down to a physical store? Once you get used to (online shopping), it's so convenient. You don't even need to go down. Just lie on your bed, press a few buttons – the supermarket is just below your house, you don't even need to make the effort to come (to a wet market)," he said. 
"We (wet markets) only operate within a limited time span, early in the morning." 
THE HUMAN TOUCH, COMMUNITY AND CAMARADERIE 
But this lack of comfort in a wet market extends beyond cleanliness and convenience. Cookbook author Pamelia Chia suggested that the younger generation may feel inadequate or intimidated in a wet market, and this may put them off visiting markets. 
"It puts you outside of your comfort zone, like 'oh this is how much I don't know' … because of the sheer range of produce. It doesn't (just) have your standard tomatoes, corn and things like that, but ingredients from Thailand, India, every part of our region. And so I think it's a bit confronting," she explained. 
"Even when I was a chef, I didn't know so many of these ingredients – and if you carry that kind of mindset that you don't want to be wrong, you don't want to feel like you don't know anything, then you're going to be very uncomfortable when you go to the wet market." 
A wet market is an environment where "you have to open your mouth and ask, you have to negotiate, you have to do all these uncomfortable things that school didn't teach you". 
When Ms Chia was writing her cookbook Wet Market to Table she assumed the language barrier was the biggest hurdle for the younger generation, as many stall holders tend to speak in their mother tongue or dialect rather than English. 
But she was reminded by local food critic KF Seetoh that domestic helpers who visit wet markets probably do not speak those languages either. 
"You know, I think it's really about developing that thick skin of putting yourself in a very foreign environment," she said. 
Chef and owner of the restaurant Mustard Seed Ming Kiat also told her that going to wet markets "really taught him to assert (himself) and understand his own value as a customer", she added. 
On the other hand, there is no need to speak to anyone in a supermarket, Ms Chia pointed out. "If I see a product I don't know, at least I can see its name (on the label) and then (search on) Google on my phone."
Those who spoke to CNA suggested that these same environmental factors form the backdrop against which customers and stall holders often develop camaraderie – the hallmark of a wet market experience. 
From a consumer behavioural perspective, the value of wet markets lies in this intimate relationship, Asst Prof Chen suggested. 
"It's a familiar person you trust selling to you. I trust him when he says (a fruit) is sweet, whereas on online platforms, I have to accept whatever's delivered to me."
At the wet market, there is "more sense of control, agency and trust in the seller".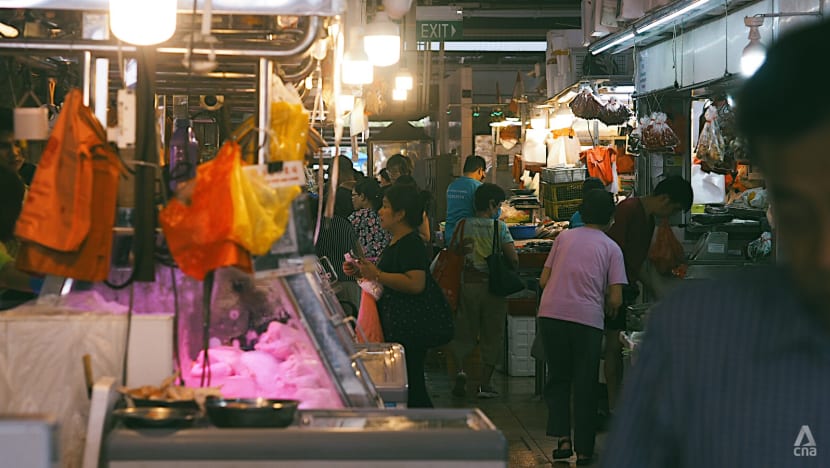 "A SINGAPOREAN EXPERIENCE"
The question is whether the younger generation will see wet markets as integral to Singapore's cultural identity. 
"It serves a very important part of our heritage. They're a symbol of modernisation from streets to having hawkers in enclosed compounds … And we still rely a little bit on the value that these stall holders provide, not just relational value but a lot of the younger generation rely on them to help us choose things too," said Asst Prof Chen.
Cookbook author Ms Chia described walking in a wet market as "a sensorial experience", visiting them whenever she returns to Singapore from the Netherlands. 
"Like you hear (the Mandarin radio station) YES 933 playing, you see the aunties plucking the bean sprouts, you smell the tofu or even the not-so-pleasant smells of the fish. That really is such a Singaporean experience," she said. 
"It's only when you move overseas and you come back that you really realise that it's something very precious that can never be captured in a book or in a TV series." 
Against the backdrop of Singapore being "a very efficient and transactional country where everything is processed very quickly", she added, wet markets are "really a space for you to slow down".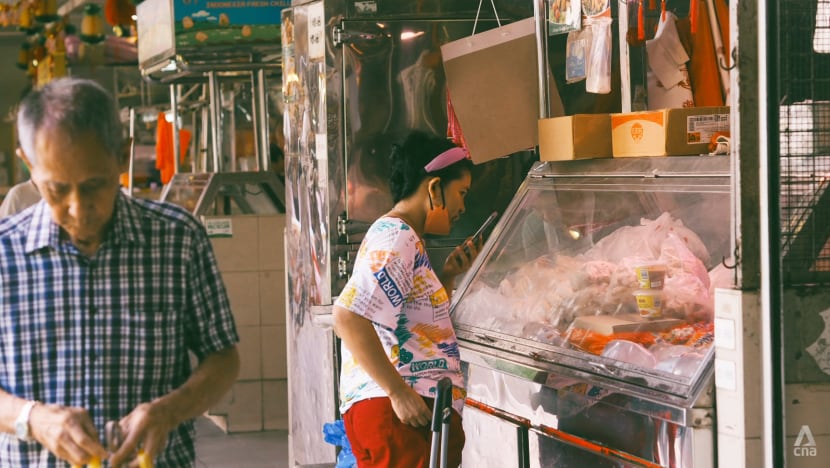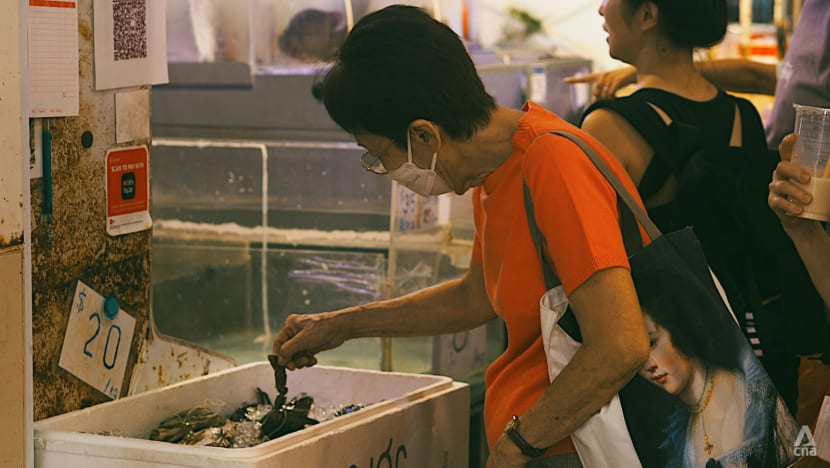 When Ms Chia first started writing her cookbook, wet markets were just a place to get ingredients. But the more she visited, the more "moved" she was by the "true connections" she developed with the stall holders. 
There were days when she did not bring enough cash, only for a stall holder to let her repay them another day, she recalled. 
"And this isn't even a vendor that I have a relationship with. It's someone who I met for the very first time. So it made me feel like (this kind of relationship is) something that's very precious, that kind of kampung spirit," she said. 
Building these relationships also allows Ms Chia to get the most out of wet markets. For instance, she requests personalised goods from stall holders, such as spices specifically blended for the curry she wants to cook or a certain cut of pork that would go well with burgers. 
But a lot of young people do not cook, she suggested, so they do not see how the wet markets can "make their lives easier in so many ways" or are able to discern the freshness of ingredients.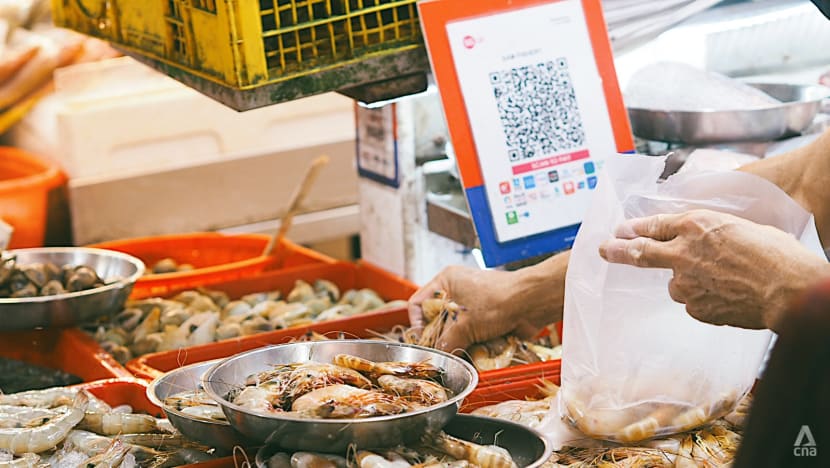 Fellow wet market lover Xienny cooks dinner for herself daily and keeps a "very strict diet", so she can tell the difference between fresher goods at a wet market compared with those in a supermarket. 
As she lives alone, she finds it a waste to buy in bulk from supermarkets. At a wet market, not least because she has built a bond with the stall holders, she can occasionally get a couple of stalks of lemongrass or a single chilli for free. 
This bonding is absent in supermarkets, according to homemaker Mdm Siti. Her husband and 25-year-old son, unlike her daughter, also love visiting wet markets. 
Once they step into a wet market, her friendly husband "disappears in a split second" to interact with fishmongers. He is never as excitable in a supermarket, where he simply tags along, she added. 
Echoing similar sentiments, Mr Johari, the butcher from Tekka Centre, found it difficult to foster closer relationships with customers in supermarkets where he had worked. When you have many customers waiting in line, "you cannot chit chat", he added. "It's just packing up, pricing (the items) and saying bye." 
In comparison, a wet market allows him to get to know his customers better. After more than 20 years in Tekka, he has served countless, seeing some grow up and start their own families. Some customers are anticipating his stall's reopening on Oct 1.
"(They) keep calling me up … They just like my beef; they just want to purchase from me. I told them I can't help it. (But) they are very loyal … they told me, 'No worries, when you come back, we will come,'" he said.
HAWKER CENTRES, WET MARKETS "INTERCONNECTED"  
The sense of community is strong among stall holders, noted Mr Tan, who helps his parents at their fishball stall. 
"In this hawker culture and wet market culture, there is an unspoken community where people know each other … We have seen each other over a long period of time. Like somebody will tell me, 'I see your dad when he was a kid, now I'm seeing you,'" the third-generation stall holder said. 
Asked what can be done to preserve wet markets, Mr Tan said that in the short-term, the government could be "less restrictive" with hiring regulations, and allow stall holders to hire foreigners to help. 
Hawkers and wet market stall holders can only hire Singaporeans and permanent residents currently. But "most are not willing to do the job", he said.
In the long run, Mr Tan believes hawker centres and wet markets "go hand in hand". The wet market is connected to a hawker centre in many areas in Singapore, and many hawkers work together with the wet market stall holders, he said. 
"For example, if you sell curry fish head, you get the fish head from the fishmonger. It's a small community that's interconnected."
In the same vein, the 2018 survey by NEA, as well as its 2016 and 2014 surveys, found that hawker centres were consistently cited as respondents' top three most important amenities in a neighbourhood. 
A total of 91 per cent of respondents in the 2018 survey agreed that hawker centres promote interactions among all walks of life, and are "good places" for interaction with friends, family and neighbours. 
Mr Tan added that older people who come to hawker centres also want "a shopping experience" with their families. For instance, one of his customers would eat breakfast with their family first at the hawker centre before they shop for groceries at the adjacent wet market. 
"It's like an integrated experience, so I think it's just as important for wet markets to be preserved," he said.