7 men, 1 depraved sex network: Unravelling the full story behind the wife-sharing drug rapes
CNA breaks down what exactly happened in the wife-sharing rapes that judges have called "one of the most astonishing and atrocious cases of sexual assault" in Singapore.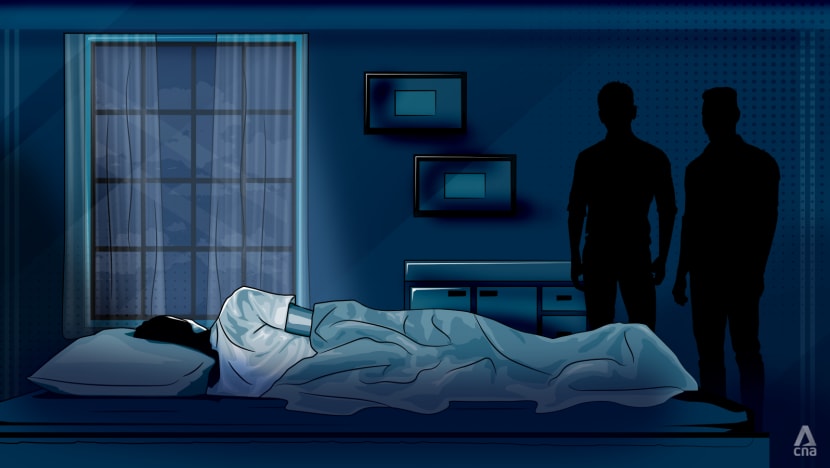 SINGAPORE: The man at the centre of a series of wife-swapping rapes was sentenced last week for multiple counts of abetting five other men to rape his wife, and for raping the wife and ex-wife of two accomplices.
What exactly happened in this labyrinthine saga? CNA unravels the threads to provide a fuller picture of the case.
Information for this article was gleaned from court hearings and papers. To prevent confusion, the men have been given pseudonyms rather than referring to them by the single letters used by the courts.
THE BEGINNING
In 2009, a young man who had just tied the knot about a year before was spending time on an explicit sex forum that would later yield court cases linked to all sorts of vice.
His online monikers contained a hint of what was to come: "CEJtz25", "Sick F***", "Tomwin25" and "Newbie2alltis".
The 27-year-old man - we'll call him John - began engaging in sordid conversations in threads where men shared their wife-sharing fantasies.
The other men involved
All the men involved met each other online on Sammyboy forum as early as 2010, where they discussed wife-sharing fantasies, except for Patrick, who was roped in by his colleague Lionel.
Business developer Ken, now 45, a married man also known as stysg
Business development manager Lionel, now 54, a married man with three children
Company director Matt, now 46, a father of three who was living with his ex-wife
Food deliveryman Nick, also known as Jayden, now 38, a single man who was living with his father
Oliver, now 44, also known as Kelvin, Brad Chan, UMIST and Sorros
Patrick, now 48, a sales manager and Lionel's colleague
In the secret threads they found online, the men eagerly discussed their common depraved interest – to watch other men use their wives.
John betrayed his wedding vows to his new wife, spilling to other strangers about their sex life and giving them explicit images and footage of his unsuspecting wife.
Soon, merely discussing the deviant acts was not enough. John tested the waters in real life. He showed his wife pornography of two men having sex with a woman, to see if she would be willing to participate in a threesome.
She scolded him and told him he was crazy, and John knew that his wife would not willingly – or consciously – participate in his schemes. 
Instead of abandoning the idea, he began plotting with his online "friends" to sedate each others' wives so they could be raped.
First came Oliver, whom John met on a thread in explicit online forum Sammyboy where they talked about wife-sharing. The pair later agreed on a plan – Oliver was to approach John's wife, to see if she was faithful to John, or if she would have an affair and be interested to do "other things".
THE DRUGS
Between 2010 and 2011, John's wife told him that she was not feeling well. This sparked a devious act from John – the first of many that were to come, that formed his modus operandi. He pretended to give her medication but handed her a sedative instead.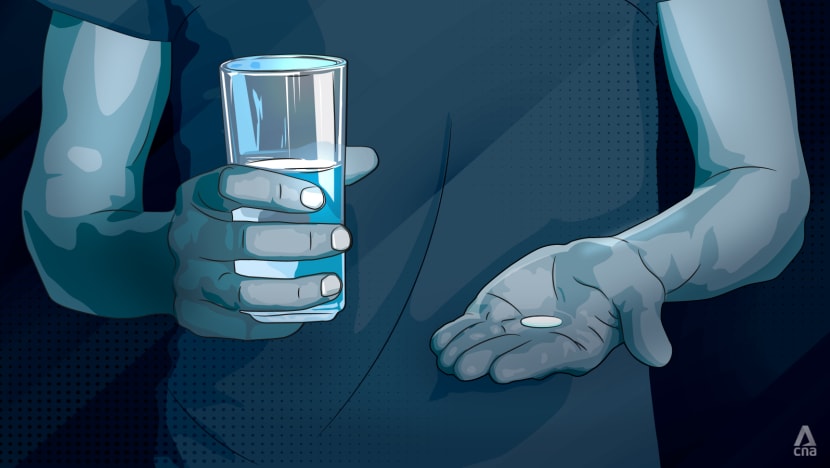 The sedative used was dormicum sleeping pills. The idea of using dormicum came from an online discussion between John and Ken, when they agreed to sedate their wives so the other could rape her.
The drug was obtained from various sources. One of them was Lionel, who offered the pills to Ken, whom he had also met online in wife-sharing threads.
But instead of Ken, it was John who met Lionel – and Lionel later became one of the men who participated in the rapes of John's wife.
On another occasion, John procured his own drugs from an unknown seller in Geylang and drew from this stash over several incidents.
The 2010-2014 rapes
Sometime between 2010 and 2011, John drugged his wife and invited Oliver over to rape his wife. John watched, feeling a mixture of guilt and arousal.
After Matt learnt about the rape, he wanted to do it too. So John drugged his wife again so Matt could rape her while John took photos and a video.
Matt molested John's wife on a second occasion in 2011 after John spiked her wine with a drug.
In 2012, John gave Ken some dormicum to sedate Ken's wife. Ken had similarly asked his wife before if she would have sex with another man, and she had refused.
After Ken drugged his wife, John came over and raped her while Ken watched and took photos.
John raped Ken's wife a second time in 2012 in the same way. This time, Ken took a video of the acts and raped his own wife after John was done.
John raped Ken's wife a third time in 2013. That same year, he sedated his wife again so that Lionel could rape her while John took videos.
The videos were later disseminated and found in Nick's possession, even though Nick had never met Lionel personally.
In 2014, Ken raped John's wife again. He sent some of the images from the rapes to Lionel.
THE POST-RAPE MESSAGES
Dissatisfied with merely violating their wives, Ken and John would prolong the "experience" by chatting feverishly afterwards via texts about their encounters. In chats later retrieved by investigators, Ken told John that his wife was "always yours".
He said it would be "nice" if John "managed to knock" Ken's wife up. They shared plans to get their wives to be "sluts", raped and impregnated by other men.
In one excerpt from April 2015, John said: "Woman like (John's wife) and (Ken's wife), no matter how smart they think themselves are, eventually also kanna outsmart by her man. Hehe."
John also referred to his own wife in crude language, saying she was raped by multiple men.
"Bet both of them still thinking they are their husband's chaste and loyal wife."
There was a lull of two years after this – in 2015 and 2016, no rape was committed by the men in the group.
THE LIVE CAMS
In this same period, John installed an internet-linked closed-circuit television camera in his master bedroom.
He did this to livestream his sexual activities with his wife and images of her naked to whoever had the password. Those who watched include Ken, Lionel and another family friend.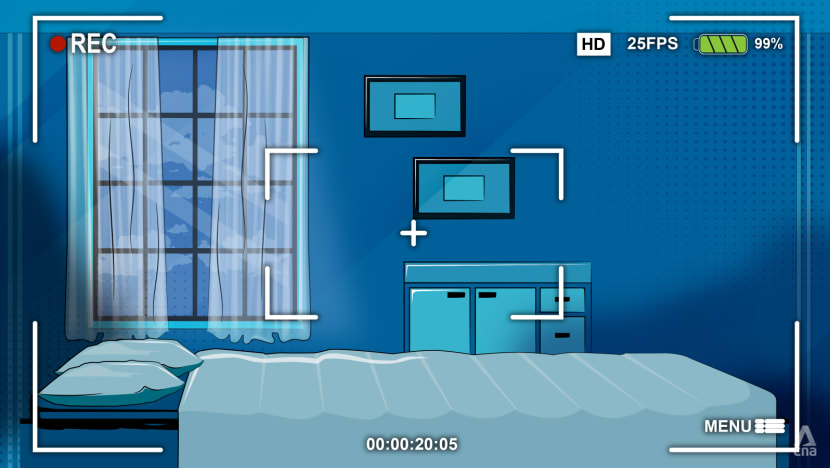 John researched concealed microphones, wanting to enhance these "live shows" with audio, but did not install any in the end.
Ken also put in a web camera in his master bedroom, which he similarly livestreamed to others including John and Lionel. 
If John or Ken watched, they would record the acts on occasion, and commend each other on a "nice show" afterwards.
The depravity did not stop with them. It had spread, like an infection, outside of the main wife-sharing ring, with Lionel roping in his colleague, Patrick.
In the wee hours of Sep 1, 2017, Lionel drugged his wife with a sex enhancement drug while they were drinking alcohol to make her fall asleep.
Lionel then had sex with his wife, but she lost consciousness halfway. He then told Patrick to come over, while his children and maid were sleeping in another room. 
However, Patrick was predisposed to erectile dysfunction and was unable to commit the rape. He molested Lionel's wife and tried to rape her, but the woman began stirring.
Caught in the act, Patrick fled, but Lionel's wife was furious and got both men to write letters confessing to what they had done.
After the lull of two years, the live cams were not enough for John again. He roped Nick into the perverse ring in 2017, meeting up with him at coffee shops to discuss their sick fantasies.
Between 2017 and 2018, John again drugged his wife when she was ill. Nick went over while John's children were asleep and raped her. They arranged for a second rape session soon after.
Nick kept the images John sent him of the sexual assault. One of the images included a caption John added: "Happy birthday ... I will always be knockout waiting in my bed for you ... your sexdoll, John's wife."
In 2018, John asked Matt if he could rape Matt's ex-wife, since Matt had raped John's wife.
THE EX-WIFE
They waited for National Day in 2018, when John's wife went overseas.
John invited Matt and Matt's ex-wife over to his home for what the men said was a networking meeting.
At his home, John offered Matt's ex-wife wine that was spiked with dormicum. She became drowsy and started slurring. Matt then propped her up and John raped her, while Matt took photos.
Aside from having his wife raped and humiliating her by broadcasting her nude images and their sexual activities to internet users, John also gave her underwear and clothes to Nick.
The illicit offences would have gone uncovered had it not been for John and Ken continuing to reminisce about their depraved acts, years after.
THE DISCOVERY
In the early hours of Jan 1, 2020, while John was sleeping, his wife noticed that his phone was playing a video.
She picked it up to turn it off but chanced upon a Skype chat with Ken. The chat contained explicit images of her, including one of her naked with a blindfold, and another of her unconscious.
She realised that John and Ken had been exchanging wives through the use of "drugs, charms and stimulants".
Shocked, the mother of four slapped her husband awake. John confessed.
Knowing that the gig was up, John deleted the incriminating chats from his phone. On his wife's insistence, he brought her to Ken's home where a confrontation ensued.
Ken admitted that he had raped John's wife while she was unconscious, and that he had also made his own wife unconscious so that John could rape her.
John's wife lodged a police report the next day. John and Ken were arrested a day later. Through digital storage media found on the men, the police identified the other accomplices.
In her victim impact statement, John's wife said she felt appeased at first when her husband apologised to her.
"At the start, I only thought that there was only one co-accused," she said.
Subsequently, when there were more and more accused being charged to court, only did I realise how bad this case was. I kept thinking about how cruel he was to do this to me.
She said she felt "so hurt, angry, disappointed and overwhelmed by the sense of betrayal" and thought she would be "better off dead" after the incident came to light.
As time went by, she said she began to feel numb about the whole case and chose not to feel anything.
Ken's wife said she felt like dying, but has tried to manage her emotions by not thinking about the incident at all.
Despite this, John's wife did not get a divorce. She spoke to his psychiatrist in his case for the defence, saying that John had made "frequent" requests to have sex with her every other day and seemed to be watching pornography whenever he was free.
She said John had sex with other women when she was pregnant with their first daughter, but described this as a one-time encounter. 
She also said she had suspicions that John was sending videos of them having sex to others, and had once tried to let someone hear them have sex over his phone.
IN COURT
John, who was known online as CEJtz25, became referred to as CEJ in court papers prepared by the prosecution.
In March 2020, the first whiffs of the case came to the noses of reporters in court, when some of the men appeared in court to face their charges.
Because so much of the charge sheets were redacted, the reporters were left confused by who raped whom, and whose wife it was.
The sheer complexity and scale of it were revealed only when the men came to court to plead guilty.
The first was Patrick, the man with the most tenuous link to the saga, as he was drawn into it only through his colleague Lionel.
He pleaded guilty in January 2022 and was sentenced to three years' jail for attempted conspiracy to commit rape.
Months later in October 2022, four of the men were escorted by prison staff to the High Court, where they sat behind glass jostling for space with their hands in cuffs.
In a lengthy court hearing that spilled over into the late evening because of the sheer volume of facts that had to be gone through, each of the men confessed to their roles.
Ken, Lionel, Matt and Nick returned a month later and were sentenced after their defence lawyers put in pleas for them.
Lionel, who was the oldest, was the only one who did not receive caning due to his age. His lawyer said he now had a good relationship with his wife.
The prosecution was a three-woman strong team, led by seasoned sex crime prosecutor Gail Wong, who had put away criminals from upskirters to men who shared obscene materials on Sammyboy forum. In her sentencing submissions, Ms Wong emphatically said:
When a woman enters into marriage, she entrusts herself to her husband: She trusts that the man she sleeps beside will not harm her every night as she sleeps.
She trusts that in sickness, the father of her children will not poison her with drugs passed off as medicine, she trusts that her husband will keep private their most intimate sexual moments together.
In each of the court hearings, reporters heard whispers about what was to happen to John – he had first hired a set of lawyers and was supposedly set to plead guilty, but later was set for trial with a fresh set of lawyers.
However, his case was changed again to a criminal mention in the High Court, which usually refers to a guilty plea.
Reporters waited outside the courtroom for about one-and-a-half hours on the day he was supposed to plead guilty.
JOHN'S GUILTY PLEA
Auxiliary police officers kept the reporters outside, saying it was a chamber hearing. It turned out that John was submitting arguments to the judge on his own, because he was now self-represented.
Peeks through the glass window showed him standing up in the dock, reading to Justice See Kee Oon from stacks of paper he had with him. Throughout – and through the rest of the hearing – he had a pained, sorry expression on his face.
When the hearing started proper and reporters were allowed in, John avoided looking anyone in the eye.
His mitigation was akin to grasping at straws – he tendered letters from his daughters which were not read out, and one from his mother, a woman in her 60s.
She wrote that her son was filial and a loving, good and responsible father who always took his wife and four daughters out.
John blamed his wife for his actions – claiming she had been unfaithful to him twice, that they hurt each other mutually, talking about how his repressed anger and jealousy had built up inside him until he vented them in the form of the offences.
He tried unsuccessfully to ask the judge to have him sent for more mental assessments. Psychiatrists had already assessed him and found that he was sound.
The judge tossed out the report of the one psychiatrist who diagnosed John with sex addiction. This, along with his purported low self-esteem and self-doubt about his masculinity, contributed to his actions, the psychiatrist claimed.
Justice See found the report neither reliable nor relevant. Even if John's diagnosis was proper, he was able to work, judge, plan and make decisions.
He said:
The prosecution's reply puts it well – 'no mitigating weight can or should be given to a rapist who claims he is addicted to sex'.
After John was sentenced to 29 years' jail and the maximum 24 strokes of the cane, Justice See asked him if he had anything to say.
John stood crestfallen and stuttered for a bit before finally mumbling: "No."
Oliver remains the last key in the puzzle. He is set to claim trial, and little is known about his full involvement because of that.