IN FOCUS: Dealing with the Sammyboy sex forum's role in illegal activity
Several users of the Sammyboy website have been prosecuted for acts involving the sex-themed forum. CNA explores the site's grey areas that make it difficult for authorities to shut it down.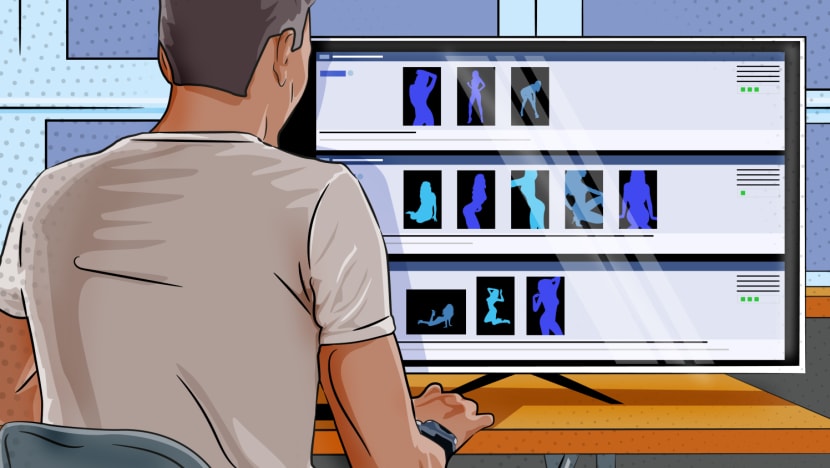 SINGAPORE: Brian's polytechnic years were some of the best of his life — something he largely attributes to his discovery of the Sammyboy website.
At the age of 18, a classmate introduced him to the predominantly sex-themed online forum. He initially saw no appeal in it until the other teenager told him how to access lewd images of women and even sexually explicit "stories" written by forum members.
While some of the photos were seemingly taken with consent, many, including upskirt images, were clearly not.
This did not bother Brian at all, who requested that his real name not be used in this article. In fact, it elevated Sammyboy to a step higher than "conventional porn sites" and led him to frequent it, he told CNA.
"I began logging in every day, multiple times a day. I guess you can say I was addicted to it.
"I was awkward and shy and never had a girlfriend at the time ... plus, it never got shut down like some other sites."
Brian, now aged 25 and a student at Nanyang Technological University, is just one among thousands of members of the infamous Sammyboy forum.
The website, which has attracted the authorities' attention over the years due to its sexually provocative and occasionally illegal content, has also led members of the public to question why it continues to operate. Its role in high-profile court cases has resulted in further attention. 
Lawyers told CNA that advances in technology and its servers being based abroad may limit what action can be taken against it. Not all parts of the forum run afoul of the law either.
WHAT HAS SAMMYBOY BEEN IMPLICATED IN?
Over the past half-decade, Sammyboy has been thrust into the spotlight when it was found to have played a major role in a range of high-profile criminal cases.
Most recently, seven men who met on the forum as far back as 2010 exchanged wife-sharing fantasies, then shared explicit images and video footage with one another. This escalated into them raping their accomplices' drugged wives.
The case only came to light in January 2020 when a victim discovered images of herself naked in a chat on her husband's phone. Five of the men have been sentenced so far.
In late 2019, an obscene chat group on messaging platform Telegram surfaced in the public eye.
The group "Sam's lot of CB collection", which had about 25,000 members at one point exchanging obscene material, was linked to Sammyboy. The forum contained hyperlinks allowing users to join the Telegram group.
Three administrators of the chat group were among four men who have been prosecuted for various offences, including transmitting obscene material.
Also in 2019, a man was jailed for three years for installing hidden cameras disguised as wall hooks in toilets to film females relieving themselves. He was the last of five, all of whom had met through Sammyboy, to be dealt with over the case.
Some of the voyeuristic video clips involving schoolgirls circulated on Sammyboy, Google Groups and another file-sharing website.
Men have not been the sole offenders. TODAY reported that in 2017, a 29-year-old woman was sentenced to 30 weeks' jail for filming other female gym members in a changing room and selling the video footage to at least 22 Sammyboy forum users.
BEGAN AS COMMERCIAL SEX SITE
Sammyboy dates back to 1997 when it was founded by a Singaporean man named Samuel Leong, according to a 2000 report by The New Paper.
It is unclear if that is his real name, while information in an interview he gave to The New Paper would put his current age as 58. Multiple attempts by CNA to reach Mr Leong through his Twitter page were unsuccessful.
According to an online FAQ that was last updated in 2001, Sammyboy began as a list of recommendations for massage establishments and brothels in Singapore.
Mr Leong wrote that the primary purpose of the forum was to exchange commercial sex information, but all discussions which are sexual in nature were allowed.
At the time, Mr Leong also said that he would delete certain posts — including those that "reveal information or discuss the lives of private individuals" — if he comes across them, but that they do not go through "any vetting process".
In the present day, Sammyboy comprises two main parts. Its landing page, "Sam's Alfresco Coffee Shop", caters to non-sexual content. The message threads here cover a wide range of trending topics from religion to emigration.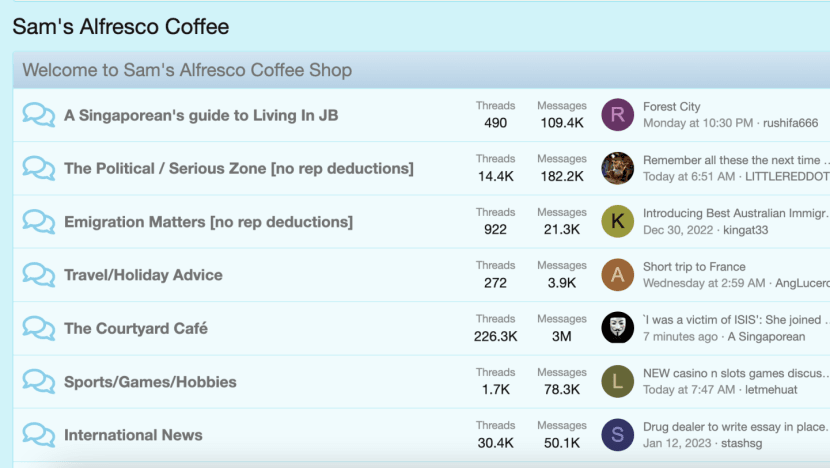 Users can then easily access the sex forum, named "The Asian Commercial Sex Scene", through a link at the top of the landing page. It also serves as an advertising platform for freelance commercial sex workers.
While Sammyboy on the whole is rife with vulgar language, the sex forum is more sexually explicit in nature. Close to the top of the page is a message thread titled "Pictures of our Sexual Escapades (PRIVATE SECTION)" along with a banner made up of photos of nude women.
Criminal lawyer Josephus Tan said that many users turn to this part of Sammyboy to predominantly look for sex workers or discuss their sexual exploits.
"Contrary to popular belief, Sammyboy is not just a sex forum although it's notorious for it," added the lawyer from Invictus Law Corporation.
While much of the material does not seem illegal on the surface, checks by CNA revealed multiple upskirt and voyeuristic images posted throughout the sex forum. 
Examples include a thread titled "Upskirt-ing my employer" and another one called "Come Share Your Wife Pic".
Members, who call the site "SBF" for short, have the option of paying a monthly "premium membership" of US$17.95 (S$23.80) a month.
For that amount, Sammyboy promises it will not moderate the member's posts and will provide "200 reputation points" to "enhance your standing and credibility in the forum".
The sex forum also boasts more than three times the number of members — about 180,000 — as compared to the other, which has close to 50,000.
HOW TO DEAL WITH IT?
Given that Sammyboy hosts unlawful content, could action be taken against it, or even blocked by the authorities here?
In response to questions from CNA, the Singapore Police Force (SPF) said it will look into reports where users of websites are suspected to be involved in criminal activities, and the perpetrators may subsequently be prosecuted. "This is no different for Sammyboy-related sites," SPF added.
Mr Mark Yeo, associate director of Kalco Law and a former prosecutor who specialised in sexual offences, said that it remains difficult to entirely outlaw the forum because its administrators and users can easily circumvent any blocks imposed.
"It's akin to playing whack-a-mole, whereby it's hard to keep up with ensuring that access to Sammyboy is restricted," he noted.
If Sammyboy's servers were based in Singapore, the authorities could seize them and arrest those involved in operating it, Mr Yeo added.
But veteran lawyer Gino Hardial Singh, founder of Abbots Chambers LLC, noted that Sammyboy is "almost impossible to demolish" precisely because its servers are based overseas.
CNA's checks showed that Sammyboy's Internet Protocol (IP) address originates from the Canadian city of Toronto as well as San Francisco in the United States. Mr Leong has long been rumoured to have moved to New Zealand.
This could mean that blocking local access to the site has a limited impact. Sammyboy also regularly changes the URL of its sex forum — a common tactic to avoid being blocked by local internet service providers.
In November 2019, Home Affairs and Law Minister K Shanmugam told Parliament that the police and Infocomm Media Development Authority (IMDA) regularly block vice websites targeting Singaporeans, with 202 such websites blocked as of then.
Ms Azeera Ali from IRB Law said that the IMDA does not monitor or track users' access to online sites, though it maintains a "symbolic ban" on a list of about 100 websites. Most of them are pornographic in nature and contain harmful content like child sexual abuse material.
Mr Yeo also made reference to this list, saying that from what he knew, IMDA has not publicly revealed it.
Ms Azeera added that the ban also prevents young children from accidentally accessing these sites, but "Internet users have since found effective software and programs to sidestep these bans, such as VPNs (virtual private networks)".
Ms Azeera further noted that if countries that host such servers comply with court orders that may be obtained and enforced, the servers can shift to another country.
"It may be difficult to control the existence of mirror sites or the use of VPNs to access these sites," she said.
Laksaboy, a vice website that was frequently mentioned in the same breath as Sammyboy, was reportedly taken down in 2017 but CNA was still able to access what looked like a mirror site.
To circumvent any ban, Mr Tan from Invictus said that foreign entities could continue changing their hosting names and IP addresses to evade detection and, as a result, Singapore authorities "will have to constantly monitor and ban its ever-evolving changes".
He gave another idiom — a perpetual game of "cat and mouse" that spans continents and jurisdictions.
While the authorities here have tried outlawing pornography, only some popular mainstream porn sites have been banned while others are "still widely accessible to the public", Mr Tan noted.
"In my personal view, the answer is not in banning (these sites) because that would be almost impossible given the advancement of our technology in this age," he added.
"It's about regulating it, which is what our authorities are already doing … I think this is the same approach we've taken towards prostitution in Singapore, where it is not illegal per se but tightly regulated by our authorities."
Mr Singh, who has practised criminal law for two decades after a stint in law enforcement, knows all too well how difficult it is to remove such obscene content online.
He said he was involved in a case where a heterosexual couple had filmed themselves "having raunchy sex". When they agreed to find another woman to join in, she asked to see the video footage which was more than an hour long.
It ended up being sold and leaked to multiple websites, and Mr Singh had to hire an IT specialist to "track, hunt down and destroy" it.
"Unfortunately, such content is akin to Hydra. You can never cut the head off. The footage gets passed along or sold and it pops up again on a number of different pornographic-related sites," Mr Singh added.
"We did manage to remove the content from some of the sites by liaising with the owners of the server and/or websites."
DO SUCH FORUMS BREED UNHEALTHY VIEWS?
While forums like Sammyboy generally grab the headlines only when they are cited in court cases, some observers say that their content can have a wider negative impact.
Ms Kelly Leow, senior communications manager from the Association of Women for Action and Research (AWARE), said that Sammyboy is part of the larger global "manosphere" — an online breeding ground for misogyny, male entitlement and objectification of women.
"Evidence suggests that the pipeline of engagement with misogynistic online communities to the active perpetration of violence, whether online or offline, is very real," she added.
Citing a 2011 US study on potential links between X-rated material and sexually aggressive behaviour among children and adolescents, Ms Leow said that being exposed to violent images and ideas may shape a viewer's behaviour and sexual expectations.
In regards to those who commit sexual offences with the help of technology, including Sammyboy users, Ms Leow noted that they have "spoken of a sense of bonding with the other participants in online groups and forums", such as scoring points or gaining acceptance with these communities.
This behaviour disregards the trauma that victims suffer and stems from toxic masculinity, said Ms Leow.
She added: "While many of these traits are not inherently 'healthy' or 'unhealthy', they are frequently taken to violent extremes in an effort to demonstrate and 'prove' one's affiliation with masculinity."
Dr Lim Boon Leng, a psychiatrist from Gleneagles Medical Centre, said that at best, forums like Sammyboy can only be seen as a "platform for like-minded people to gather and egg one another" on to perform deviant sexual acts.
"While it may be possible that youths may be more easily influenced by media or social media, adults must surely be able to discern right or wrong, cannot blame what they read online, and must take full responsibility for their wrongful behaviour," he noted.
POSSIBLE PENALTIES
Those involved in creating or sharing lewd content can be in breach of Singapore's laws.
Those who advertise commercial sex services on Sammyboy or earn money from sex work run the risk of flouting the Women's Charter, which criminalises using a remote communication service  to offer or facilitate sexual services in return for payment or a reward.
Other offences under the Women's Charter include living on the earnings of prostitution and procuring women for prostitution.
In one case, a 38-year-old Singaporean pimp who advertised Thai sex workers' services on Sammyboy and managed three brothels, among other offences, was prosecuted in 2019. He was nabbed in police raids the year before.
Lee Si Hong, who managed the main business operation line of a syndicate, made profits of roughly S$43,800 over about two years.
Meanwhile, due to amendments in the Penal Code that took effect in January 2020, voyeurism and related crimes have been specific offences since then. This includes possessing, gaining access to, distributing or threatening to distribute intimate images or recordings.
More commonly, those who share video recordings can be convicted under the Films Act of an offence of distributing obscene films. This attracts a maximum two-year jail term, a fine of up to S$80,000 or both punishments.
Those who share photographs on websites like Sammyboy can be convicted of distributing obscene publications.
Alternatively, they can be convicted under the Penal Code of transmitting obscene material by electronic means.
This was the case for a married man, then 41, who was jailed and fined in 2020 for planting pinhole cameras in his home to secretly record his wife, sister-in-law, fellow church members, mentor and family friends showering.
He used screenshots from the video footage to supplement a sexual fantasy story he was penning on Sammyboy.
He frequented the forum and began posting comments as he "felt accepted" by the community, the court heard. After several years, he was arrested after one of his victim's friends told her that her picture was on Sammyboy.
For such victims, legal recourse can go two ways — reporting it to the police, which can result in criminal prosecution, or filing a civil lawsuit.
SPF said that Internet users who come across objectionable content may make their concerns known to the website administrators. "Members of the public can lodge a police report if the content is suspected to be criminal in nature," it added.
The civil lawsuit will involve bringing a claim for damages under the Protection from Harassment Act for causing alarm or distress.
Mr Tan said that if people find material pertaining to them on Sammyboy, whether they were recorded or taken with or without consent, they should "always report to the police at the first instance".
For Brian, any guilt over potentially unwitting victims showing up in the obscene content that he views is eclipsed by one reason — even if he does not look at it, others will. He also said that the authorities only go after those who "use it illegally".
"I know it's wrong but what can they do to me?" he questioned.
Nevertheless, publicity over the wife-sharing case made him stop using the forum for a short period of time. This was when four of the men were sentenced late last year.
Still, the allure proved too strong for him and he returned to the site barely two weeks later.
When asked what would make him stop surfing it, such as a girlfriend, he said simply: "Maybe only when I die."