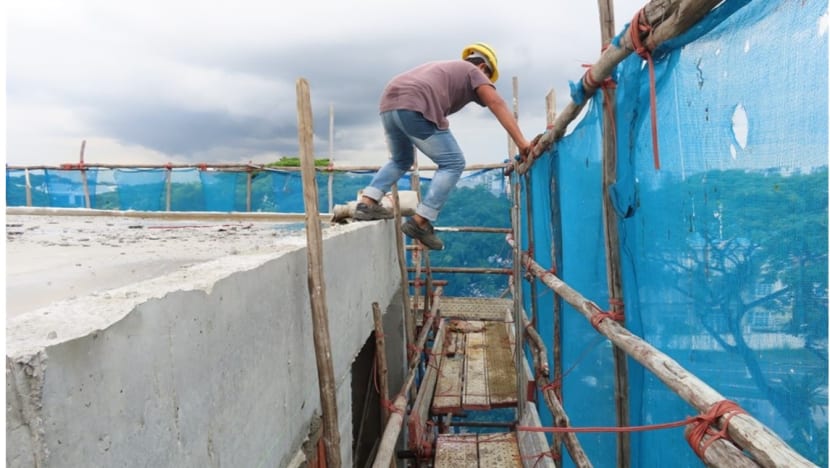 SINGAPORE: Five months into a heightened safety period imposed by the Ministry of Manpower (MOM), the rate of workplace fatalities is down.
But an uptick in major injuries suggests that workplace accidents are still occurring as a result of post-COVID-19 pressures on businesses.
In 2022, there were 46 workplace deaths, higher than the 37 recorded in 2021, 30 in 2020 and 39 in 2019. The number was the highest since 2016, when there were 66 fatalities at work.
After the number of deaths in a month hit 10 in April 2022, MOM began to tighten safety measures and increase engagement with companies to improve workplace safety.
The ministry then introduced, from Sep 1, a six-month heightened safety period with further measures to increase penalties and improve accountability from company management.
Since then, the number of fatalities has gone down from an average of 4.5 per month in the first eight months of 2022, to 2.5 per month from September to December.
These figures were shared by MOM on Thursday (Jan 19) at the closing of the 8th meeting of the International Advisory Panel (IAP) for Workplace Safety and Health (WSH).
Speaking at a media briefing, Senior Minister of State for Manpower Zaqy Mohamad likened the heightened safety period to Singapore's pandemic "circuit breaker" of lockdown measures in 2020.
It has provided an opportunity "to take a step back and review the learning points, as well as analyse the root causes of the fatalities and major injuries across various sectors, so that we can improve our practices and strengthen regulations and enforcement if required", said Mr Zaqy.
MORE SME WORKERS INJURED
Still, the number of major injuries suffered at the workplace went from an average of 49.1 per month from January to August last year, to 55.3 per month in the last four months of 2022.
A breakdown of the numbers showed that safety records for fatalities and major injuries in the construction industry improved. Performance was mixed within other high-risk industries.
There was also some improvement in the manufacturing sector. But in sectors like admin and support as well as wholesale and retail, the number of major injuries went up.
An MOM spokesperson highlighted that for the three industries with the highest risk of workplace injuries - construction, manufacturing and transport and storage - more workers from small- and medium-sized companies suffered injuries, compared with those from large firms.
This was not the case for other industries including accommodation and food services, and wholesale and retail.
But across sectors, the injured workers tended to have less experience on the job, with a greater proportion having less than three years in the firm.
MOM noted that many companies - especially SMEs - continue to be challenged by pandemic-induced project delays, manpower shortages and supply chain disruptions, which have in turn created "upward pressure" for increased workplace injuries.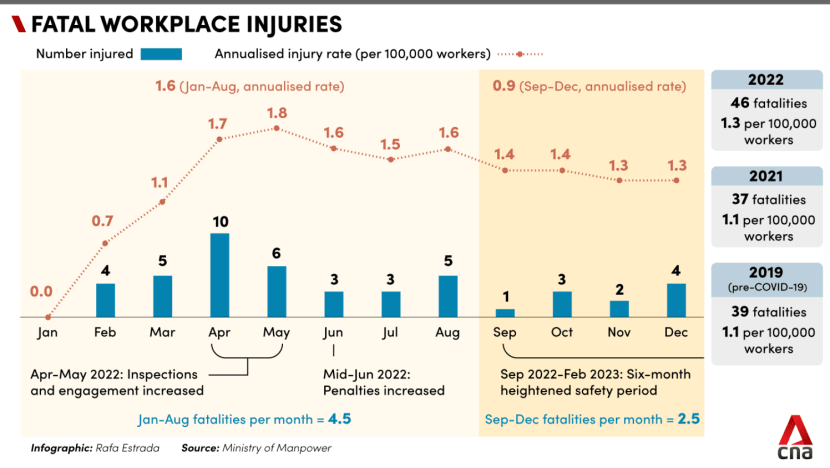 While workplace accidents spiked post-COVID-19, the IAP's report noted that workplace fatalities in Singapore went from 3.1 per 100,000 workers in 2006 down to 1.1 per 100,000 workers in 2021.
The latest spike brought the rate up to 1.3 per 100,000 workers last year.
MOM said 2022's spate of workplace fatalities were largely due to "basic safety lapses".
"We need to prevent such workplace incidents from happening. In the longer term, Singapore also needs to better support our ageing workforce and be prepared for potential WSH (workplace safety and health) hazards that may arise with new technologies," said a spokesperson.
The IAP offered eight recommendations to generate stronger motivation for companies and workers to adopt WSH practices and build up their knowledge and awareness.
The recommendations, which the Singapore Government has accepted, are to:
Emphasise top management's responsibility for WSH
Extend WSH oversight to contractors in the whole supply chain
Bring interest of business into greater alignment with WSH
Build workplaces where workers feel safe to speak up
Inculcate a more pervasive training culture beyond foundation training and level up WSH practices
Improve WSH know-how of SMEs
Promote age-friendly workplace safety practices and designs
Pre-emptively address WSH risks arising from climate change and green technology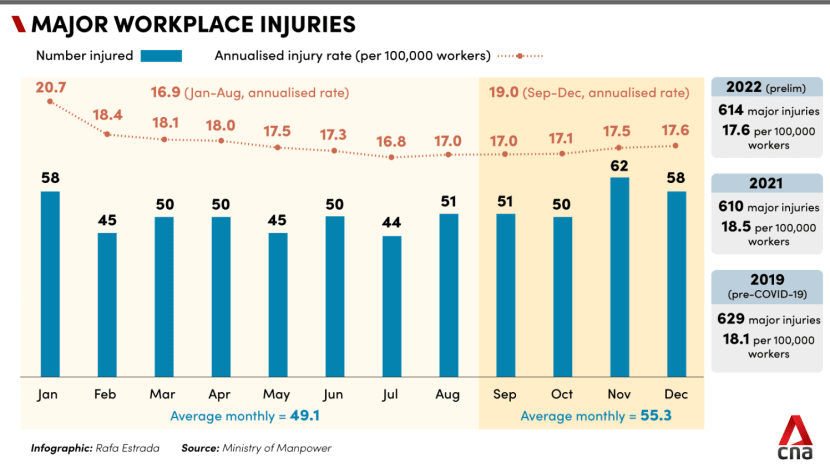 Mr Zaqy stressed that top management must "take responsibility" to strengthen WSH by integrating safety into all operations, and fostering a safe operations culture.
"You must also build workplaces where workers feel safe to speak up and empower them to raise WSH concerns without fear of repercussions," he said.
"This way, the workers can confidently take care of themselves and their fellow workers."
BRIGHT SPOTS AND AREAS OF CONCERN
To help SMEs digest reams of information about safety practices, authorities and regulators will distil and simplify existing safety guidelines and materials into bite-sized content, said Mr Zaqy.
He said the Multi-Agency Workplace Safety Taskforce (MAST), which was set up in October last year, will look into requirements for each sector to help improve safety standards that main contractors and sub-contractors must meet before they are awarded contracts.
"This will bring the interest of businesses into greater alignment with WSH. However, it is not always about the 'stick'," Mr Zaqy added.
"We would have to consider offering incentives for good WSH performance and practices as well, such as in procurement contracts, or work injury insurance."
Responding to the media on whether the heightened safety period would be extended, he said authorities were still considering the issue.
"We've seen certain bright spots, but there are also still areas of concern that we think we can improve, so we are watching the indicators quite closely," he said.
IAP panel members, comprising international and Singapore industry experts, also highlighted the need to ensure safety as a part of companies' operations and culture.
They commended Singapore's efforts in encouraging adoption of WSH technology and addressing WSH risks arising from climate change and green technology.
Mr Zaqy said Singapore had set out in 2017 its WSH 2028 vision, with targets in line with those of the safest countries in the world. The target set then was a workplace fatal injury rate at less than 1.0 per 100,000 workers by 2028.
"Last year, we faced some challenges as the economy reopened after COVID," he said. "We must do what it takes to bring our WSH performance back on target."