IN FOCUS: They get curious looks and are called 'uncle', but young bus drivers say the job has evolved
The job of driving a bus has been associated with middle-aged people working long hours for low pay, but a new generation of young drivers say things have changed for the better.
SINGAPORE: Mr Muhammad As-Syaqif Hasanus has been driving SMRT buses for four-and-a-half years, long enough for him to take all of the job's challenges in his stride.
The 29-year-old has dealt with drunk passengers, sucked on sweets to push him through long journeys, and navigated unpredictable traffic conditions to keep to a tight schedule.
There is one thing, however, that still gets under his skin: Commuters, often middle-aged women, calling him "uncle".
"Uncle? What uncle? I am ah boy," he joked about how he would respond. "If (an older man) calls me uncle, I will say: 'Not me uncle. You uncle.'"
Mr As-Syaqif is part of a still small but growing group of younger bus drivers in Singapore, a testament to how the industry and perceptions of it have changed in recent years.
His TikTok channel yourbuscaptain, started in 2021 during the pandemic, has 30,000 followers and features videos of his daily life on the job and educational pointers on buses.
He said his videos, which regularly attract tens of thousands of views, try to tell the public that his job is "not just about driving".
"I think it has changed over the years," he told CNA at the Kranji bus depot on Oct 13, when asked about perceptions of the job as low-paying with long hours.
"I think everything is quite attractive now in terms of benefits and stuff like that. There are good prospects in the public transport industry. Public transport is everywhere."
NOT MANY YOUNG DRIVERS
Still, being a public bus driver in Singapore is not what people would normally associate with someone below 30 years old.
SMRT told CNA that only a "small percentage" of its bus captains are under 30, and that while it has seen a "surge of interest" in the job in recent years, majority of these people are older.
"From our experience, we have found that many young adults are not looking for shift work and prefer fixed office hours," said SMRT Buses deputy managing director Vincent Gay.
Fellow public transport operator SBS Transit said it recognises that being a bus captain can be challenging due to the "operational" nature of the job.
The operator has more than 350 drivers who are younger than 30, although it did not give a percentage figure or say how many of these drivers are local. Its youngest driver is 21 years old, the minimum age for the job.
"Shift work, work schedules that can start as early as 4.30am or end as late as 1.30am and being on the road all the time are the norm," said Mrs Grace Wu, vice-president (special grade) of customer experience and communications at SBS Transit.
Public bus drivers usually work six days a week across different shifts. Two common ones are the AM and PM shift, which run from 5am to 12.20pm and 1.30pm to 8pm respectively.
Drivers, however, can work more than 10 hours per shift. Anything above seven hours and 20 minutes is considered overtime.
SALARY EVOLUTION
Then there is that notion that being a bus driver is a low-paying job.
When private bus driver Muhammad Naz Farihin Muhammad Farhan, 25, first entered the industry full-time in 2020, he said some family members doubted if it would be a viable long-term career.
"School friends probably thought it would be a waste of time or a low-end job as what most people would say," the former SMRT bus driver told CNA.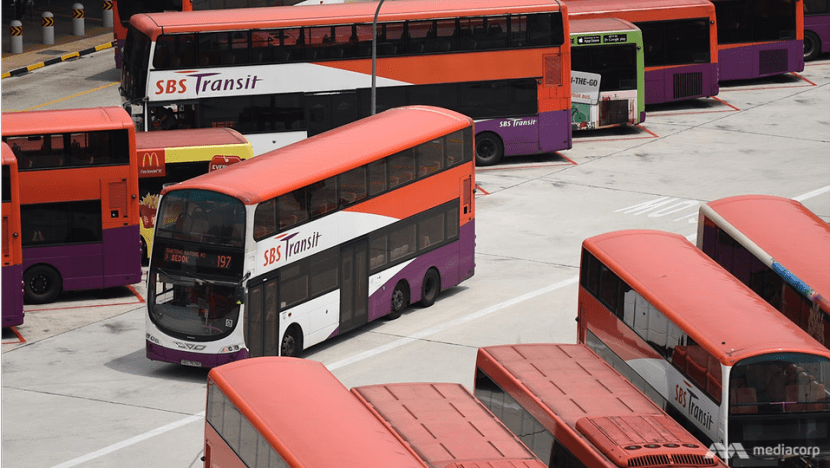 On a Reddit thread posted in September last year, a user who said they worked as a bus driver highlighted that monthly entry salaries were less than S$1,600 before the Land Transport Authority (LTA) introduced the bus contracting model in 2016.
The model brings all public buses and related infrastructure under government ownership, while public transport operators bid for the right to run bus services along different routes, LTA said on its website.
"The tendering process drives competition in the bus industry and encourages operators to become more responsive to changes in ridership and commuter needs," the authority said.
After the change, bus driver salaries "shot up" to S$1,900 and have increased to more than S$2,000 a month for first-time drivers today, the Reddit user wrote.
This is backed up by Mr Naz, who said public bus drivers can now earn a starting salary of between S$2,000 and S$2,200 a month, excluding a joining bonus, incentives and overtime pay.
SBS Transit said on its website that entry-level bus captains can get an all-in gross salary of up to S$4,000 a month, with a sign-on bonus of S$6,000 for locals who get the job.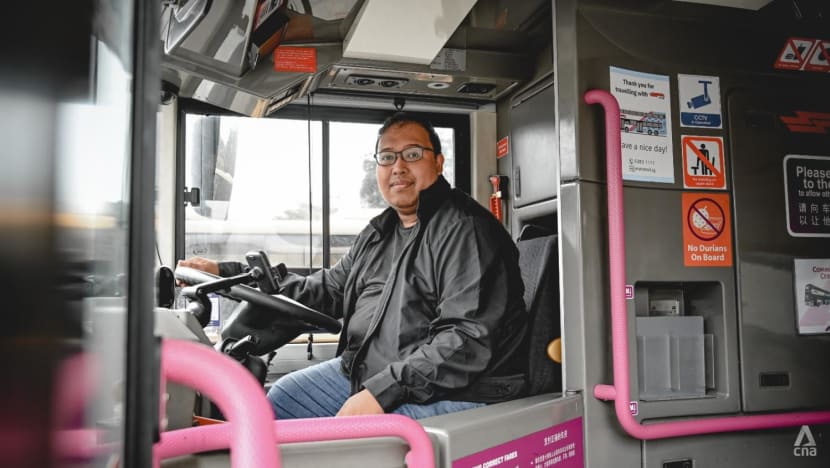 Mr Naz said the "key takeaway" of working with older, long-time drivers at SMRT was seeing how the industry has progressed since years back.
"Bus drivers were being paid below 'minimum wage' back then, and knowing how times have changed for the better for most of us, it definitely shows that the industry has come a long way," he said.
"There are many more opportunities that a bus captain can do, and it's not just a standard blue-collar job as what has been described by many."
Public transport operator Tower Transit said it has seen a 64 per cent increase in the number of bus drivers below 30 years old joining the company since the first quarter of this year, although only slightly over 2 per cent of its drivers fall in this age bracket.
"The challenge is that people don't typically aspire to become a bus captain until they start driving and realise that it can be a fulfilling career, that they are respected and that there are career progression opportunities," said Mr Winston Toh, managing director of Tower Transit Singapore.
Mr Toh, highlighting a perception that all drivers do is drive, said the job has evolved into a "multi-faceted role" that involves interacting with hundreds of people daily.
"It is as much a customer service job as a driving one, and because road conditions and human interactions are so dynamic, no two days are the same," he added.
"Many of our younger bus captains enjoy that dynamism and a few have even moved into supervisory and managerial roles."
CAREER PROGRESSION
Mrs Wu of SBS Transit said the operator has introduced a progressive wage model and career progression paths for its bus captains. For instance, "good performers" can be promoted to senior bus captains and then chief bus captains.
Drivers can also opt for a management track with non-driving roles, which include executive and managerial roles in bus interchange and depot operations and management, bus operations control centres and training.
"In recent years, we have also introduced new work schemes such as part-time and five-day work week to make it more attractive for job applicants to consider joining the profession," she said.
Public transport operator Go-Ahead said it has observed an "encouraging trend" of younger bus captains coming on board in recent years.
Among them is a 23-year-old who joined in June in what is his first full-time job after graduating from the Institute of Technical Education with a Higher Nitec.
"Younger bus captains contribute to the sustainability and diversity of our public transport workforce," a Go-Ahead spokesperson said.
"They bring with them fresh experience and new perspectives in an industry that has seen rapid development through the years."
STARTING YOUNG
This is echoed by A&S Transit, a private bus charter company that Mr Naz is currently working for.
As the pandemic eased, the company bought over old public buses that were converted to transport COVID-19 patients, attracting the interest of young bus enthusiasts who followed these rarer buses through their service.
"They started to interact with us and take care of this fleet on their own accord," said A&S Transit general manager Dexter Ang, 36, adding that the company eventually offered some of them part-time driving jobs.
"Through that process, we started to see that actually there's a lot of potential in this community, because they come from different backgrounds. Some of them were studying engineering, some were from a business studies background."
The bus enthusiasts knew a lot about the buses, to the extent of understanding how to track their petrol usage and manage their maintenance, Mr Ang said.
"We thought why not take this as a chance to revolutionise the industry and try to change people's perception that it's not an 'uncle' kind of industry anymore," he added.
"There might be a future where you have young people coming to drive buses and it starts from the fundamentals of knowing about the buses."
A&S Transit, whose jobs include ferrying students on school trips and foreign workers to their dorms, has around seven part-time and full-time bus drivers between 21 and 25 years old.
The youngest is 21-year-old polytechnic student and bus enthusiast Dionte Lee, who decided to drive buses part-time after Mr Naz introduced him to the industry two years ago.
"It kind of suits my school schedule, because it's a very flexible job that accommodates my timing," he said.
As the clock struck midnight on his 21st birthday, Mr Lee went online to apply for his bus driver's vocational licence, a requirement to drive a private-hire bus.
In the morning, he dragged his bus enthusiast friends to the Singapore Safety Driving Centre in Woodlands to apply for a Class 4 driving licence, which he needed to drive the type of buses in A&S Transit's fleet.
AGE IS A NUMBER
Mr Lee took about a month to get both licences and started driving for A&S on Aug 16. These first two months have been "very stressful", he said, citing congestion on Singapore roads.
"Driving such a big vehicle, you get very tense. I have to manoeuvre this around town," he said, noting that private buses, unlike their public counterparts, do not ply fixed and vetted routes.
"So, it's kind of really based on our own judgment to see whether the buses can pass through all those small roads."
Mr Lee said he has received curious looks from passengers due to his young appearance, recounting how this happened when he drove tourists to sites like Fort Canning.
"The tour guide boarded the bus and during her free time, she came forward and asked me: 'Are you sure you're a bus captain? You don't really look like a middle-aged guy,'" he said.
"I said yes, I am 21 years old. She was very shocked and gave me that stunned look. It was a very funny situation, to be honest. There are definitely more similar situations which happened throughout my career in this company."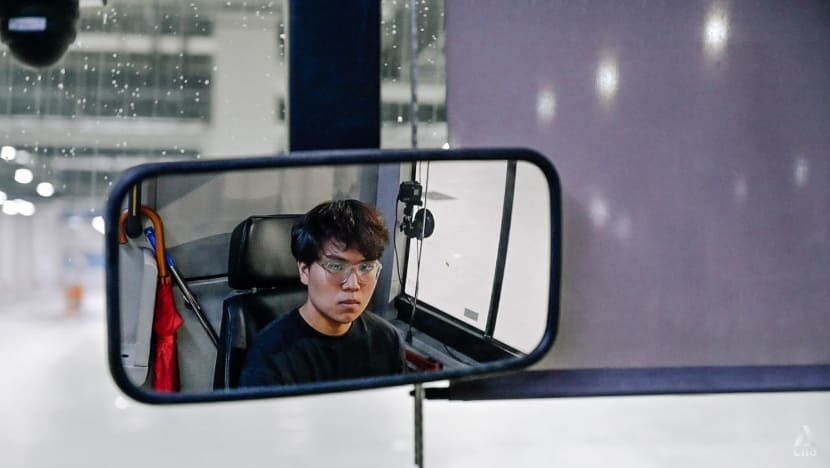 Mr Ang, the A&S general manager, acknowledged that the company initially had reservations about whether these drivers could do a good job given their young age and lack of experience.
"But as time goes by, they really proved us wrong. Like I mentioned, the background that they bring with them and the kind of knowledge that they have on buses, a lot of times they become almost like our adviser," he said.
"Even in terms of their safety and driving skill, because of their knowledge of the buses, a lot of times they actually even perform better than our older drivers."
These young drivers have also created their own community within the company and started posting TikTok videos about their profession, and Mr Ang said these efforts seem to be "slowly changing" how the job is perceived.
"Sometimes during our events we have kids as young as like six years old coming to see the buses," he said.
"Their parents will find out more about bus driving and the industry, and they start to have the perception that maybe it's not that bad that young people, potentially their children, can consider this industry in the future."
Mr Ang hopes parents see that a viable career could be carved out of driving buses, as he encouraged the industry as a whole to embrace younger drivers.
"We hope that the industry can see the potential in them and see what they can bring with them, with their background and their passion," he added.
"GETTING PAID IS JUST A BONUS"
Indeed, Mr Naz's passion for buses started as an eight-year-old asking his dad to take him out for joyrides around the island. He grew up collecting bus toys and when social media popped up, he joined a bus enthusiast community.
The members attended launch events for new models and services, snapped photos of older buses that were being phased out, and documented their journeys on these workhorses. But Mr Naz wanted more.
"The dream of getting behind the wheel of a bus was definitely a thriller for me. Especially after taking the older-generation bendy buses out of Woodlands, it would be nice to sit behind the wheel and drive out of your own town to serve passengers," he said.
"I'm someone who actually likes meeting new people every day and getting to know people on my trips. Having that mentality is something that pushed me to join the public transport operator industry."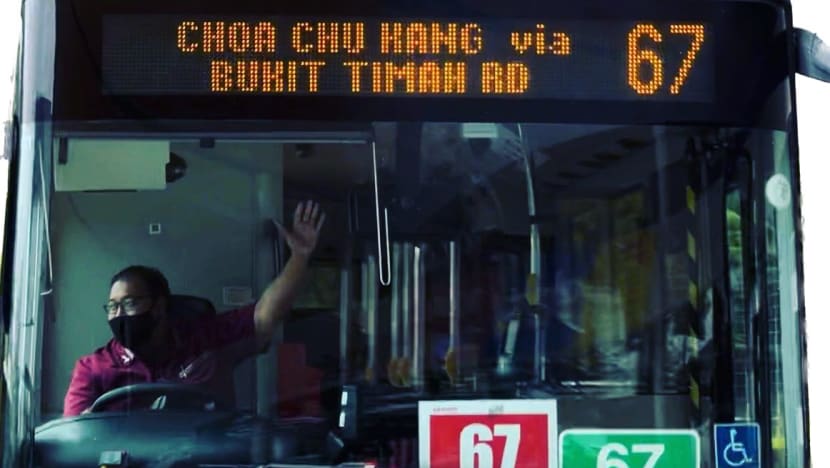 In 2020, Mr Naz joined SMRT as a bus captain, a job that came with its own set of challenges.
He has reported to bus depots at 3.30am and handled passengers who complained about wait times. Some of the routes he was on dragged on for more than two hours, and he often found himself counting down the stops to the end of the journey.
But he said bus drivers are trained to handle a range of situations in a job where no single day is "ordinary".
"If you put your heart and mind into it, especially doing something you love, getting paid is just a bonus," he said, recalling how he fulfilled a childhood dream by driving service 911 out of Woodlands bus interchange - a route he frequented while growing up.
Earlier this year, Mr Naz left SMRT for A&S Transit because the new job had more flexible hours. It also paid more and offered him a chance to progress into areas like transport planning. On top of his driving duties, he currently manages A&S' fleet of former public buses.
Like SMRT bus captain Mr As-Syaqif, Mr Naz gets called "uncle" too. But he accepts that this is part of the job.
"Sadly, this is just one of the few things I signed up for the moment I get behind the wheel. Normally, people don't really see the age characteristic before they start speaking," he said. 
"But I think it's just a way of life for me as of now. But if people do know the real age, some of them may be very, very surprised."
NO ORDINARY DAY
Unlike Mr Naz, Mr As-Syaqif did not decide to become a bus driver because he was an enthusiast.
The former nurse at a public hospital had grown tired of the job despite having a passion for it, so he decided to become a private-hire driver for Uber, which was still operating in Singapore at the time.
During this time, Mr As-Syaqif developed a fondness for driving, and it was on one of his Uber trips that he drove past SMRT's Ang Mo Kio bus depot and saw an advertisement for bus captains.
"The joining salary was okay, and I went for an interview and got the job on the spot," he said.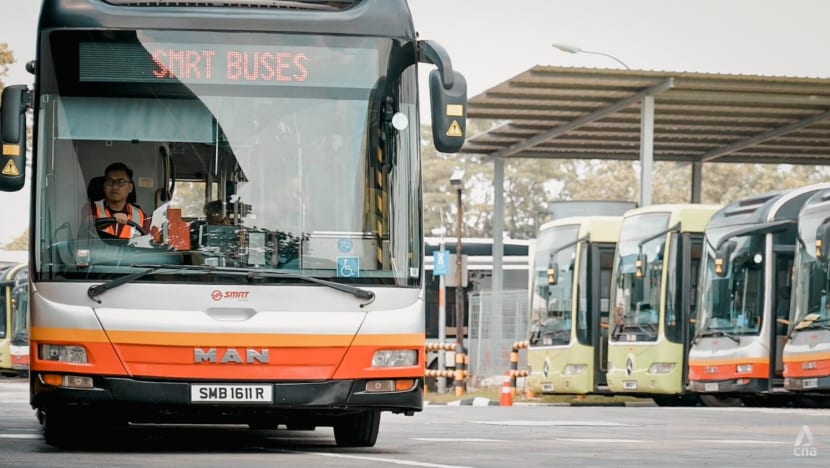 Mr As-Syaqif likened driving a bus to his former nursing job in that both professions serve the public, saying that his family had no issues with his choice of career. 
"My family is not the type that says bus captains have low education and no future. They're okay as long as I am happy and have a stable income," he said.
Mr As-Syaqif said he enjoys meeting new people on the job, especially tourists on service 972 that goes to Orchard Road. There are also commuters on feeder services that have taken a liking to him and specifically choose to board his bus.
He agreed that every day as a bus driver is different, recalling how he personally attended to an elderly commuter who was sleeping on the bus when he fell and injured his head.
In 2021, he was driving a full double-decker bus - service 190 - on the expressway when he heard a loud thud. He looked behind and saw a passenger lying flat on the floor, so he stopped the bus on the road shoulder.
Mr As-Syaqif called the police and Singapore Civil Defence Force (SCDF) before rendering first aid. When paramedics arrived, the passenger was already bandaged. Mr As-Syaqif, who also did his National Service with SCDF, told them he was a first-aider.
"People usually have the misconception that bus captains are uncles with low education, but I have a nursing certificate," he said.
"It's how you see the whole picture - sometimes your nursing certificate can bring you to a lot of places, like being a bus captain. So it's like to me, if you have a passion for driving and you don't want to work in an office, then go for it."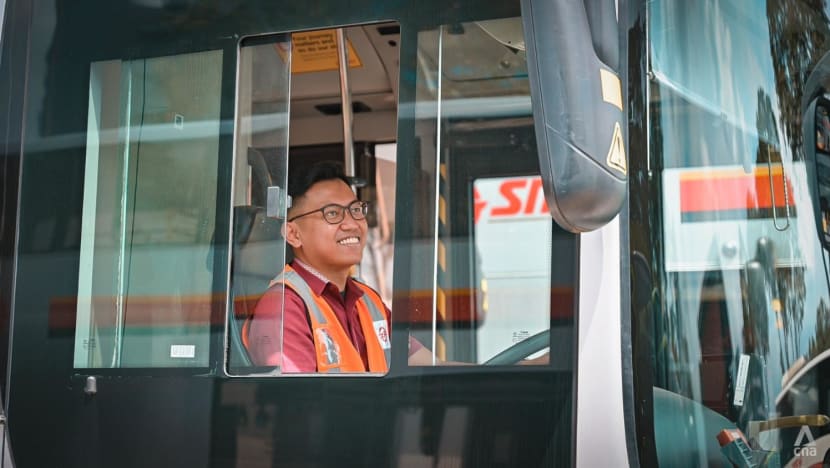 Mr Naz said it is not wrong to explore opportunities and try out something new, adding that people can learn new skills and earn a decent salary as a bus driver.
"There are no boundaries to how young or old you have to be to be driving a bus. Try to keep a clear mindset and be open to multiple opportunities," he added.
"For all you know, driving a bus can actually lead you somewhere further if you put your heart and mind to it."