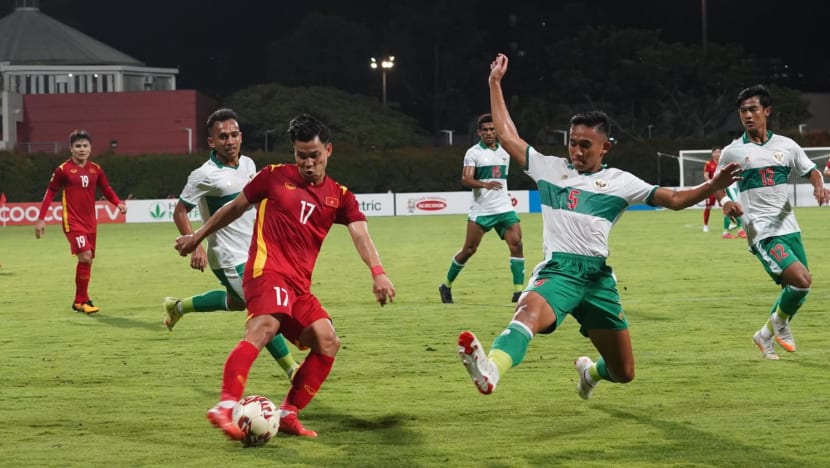 Defending champions Vietnam missed their chance to book an early semi-final berth after they were held to a goalless draw by Indonesia in their third Group B match of the AFF Suzuki Cup 2020 in Singapore on Wednesday (Dec 15).
Vietnam, who controlled the game from the first minute, were unable to break down Indonesia, who defended extremely well to fend off Park Hang-seo's side in the match at Bishan Stadium.
The Golden Dragon sounded an early warning in the ninth minute, but Nguyen Thanh Chung's attempt from outside the box was too high.
Then Nguyen Quang Hai's left-footed shot was saved in the centre of the goalmouth by Nadeo Argawinata in the 28th minute to end the first half without any goals.
After the game resumed, Vietnam continued their aggressive ways and were presented with their best chance in the 60th minute, but Phan Van Duc's left-footed strike went just inches wide of the bottom right corner.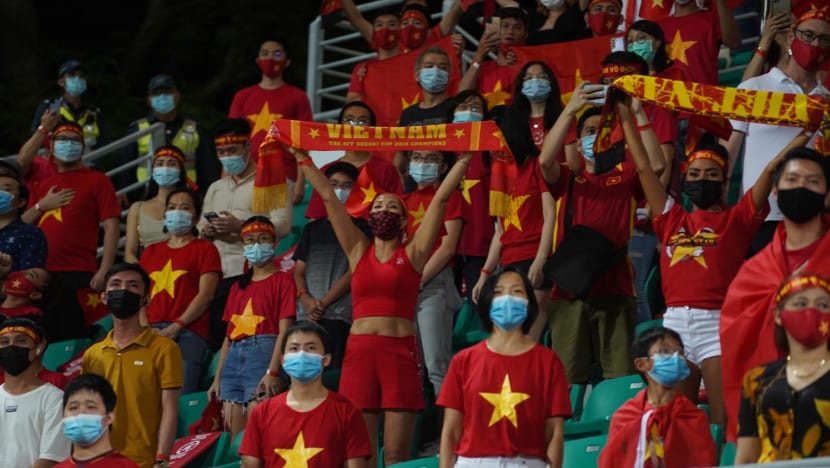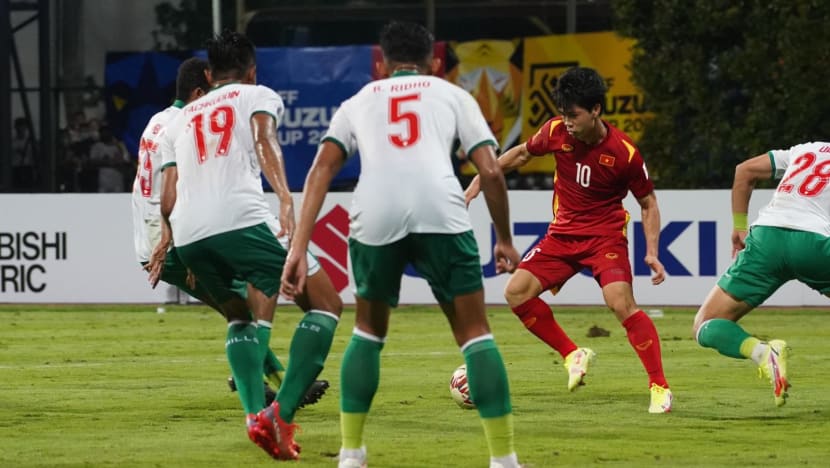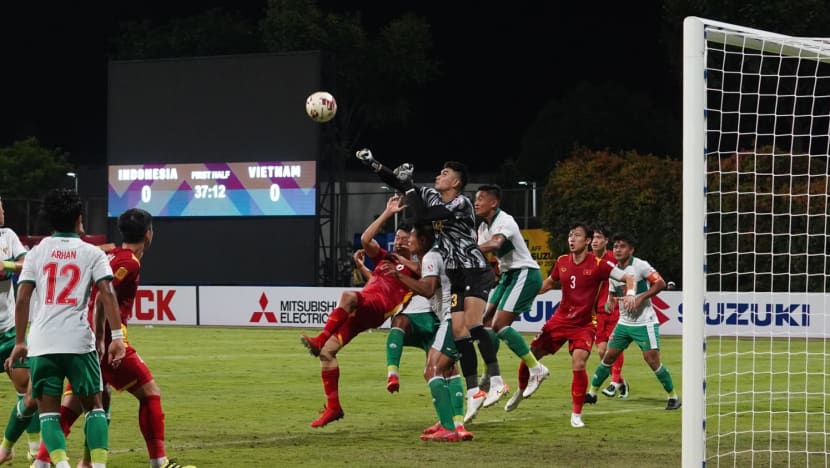 For Indonesia coach Shin Tae-yong, it was mission accomplished.
"Before coming to the match, I told the players that we must not lose, and that the minimum requirement was to get one point," he said.
"Vietnam is a good team and we might not be as good as them, performance-wise, just yet, but I told the team the importance of having a strong mentality, so I'm satisfied with the draw."
Vietnam coach Park did not see the draw as a setback.
"We can't be worried about Indonesia or what they might do when they play Malaysia, we can only focus on our team, and we will be doing all we can to win our final match," he said.
"Tonight, we did well, and if we could have scored it would be good, but not scoring doesn't have such a big effect."
Earlier on Wednesday, Laos concluded their campaign without a single point as they suffered another defeat, this time losing 3-0 to Cambodia.
Main forward Chan Vathanaka scored a brace in the 31st and 41st minutes before Sieng Changthea capped off a wonderful day for Japanese coach Ryu Hirose's side with their third goal in the 74th minute.
Hirose hailed his team's performance as he looked ahead to their concluding fixture against Vietnam.
"I'm very pleased for the win, and this was another match where we could keep possession, we also scored some good goals and kept a clean sheet," he said.
"We want to keep connecting possession with scoring goals and play a high line regardless of the opposition, and we will continue to do this in our final match against Vietnam."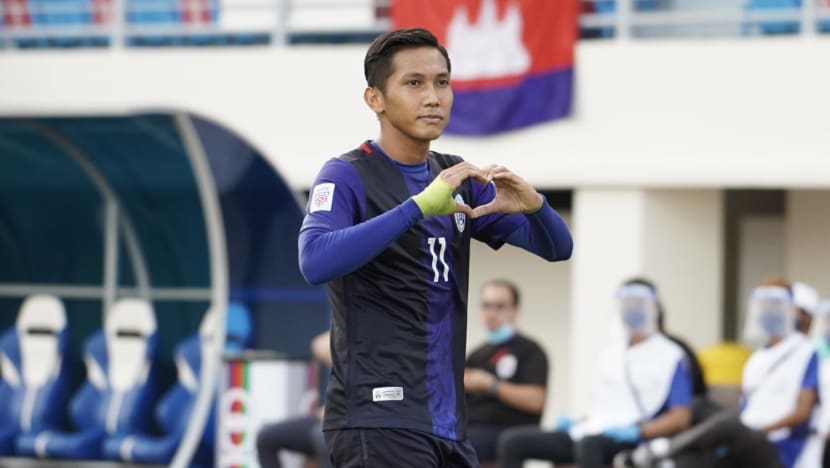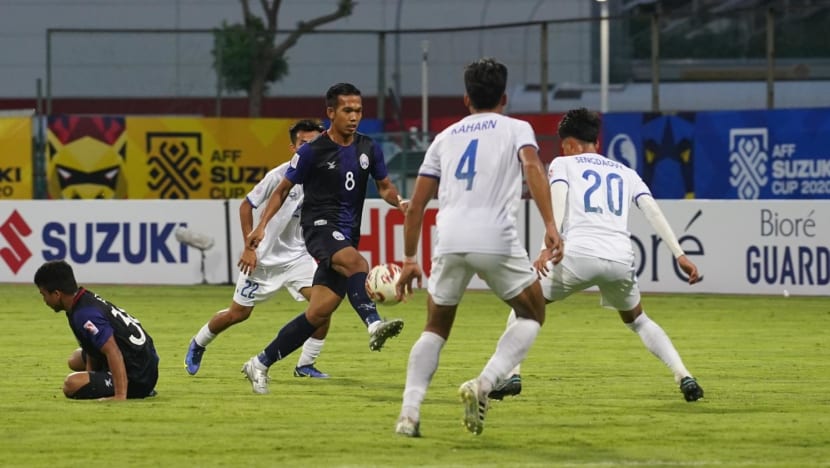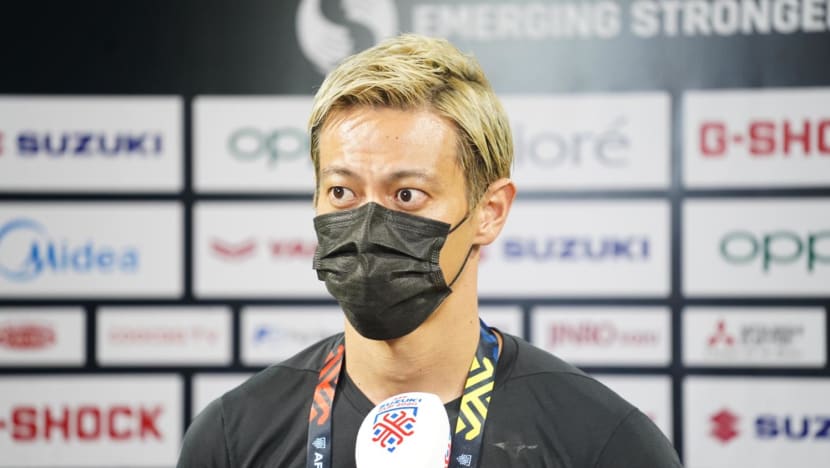 Though Laos finished their campaign with four losses, coach V Selvaraj said that the tournament gave his younger players some valuable experience.
"We came here with not much hope with no international friendlies and were unlucky to be drawn in this group with three top teams," he said.
"I don't want to put pressure on my players in terms of results, but as the tournament went on I wanted to give more younger players a chance to play and get them experience and show them that this is the level that we are up against for the future."
Vietnam and Indonesia both have seven points, but the Garuda remain on top of the group on goal difference.
Malaysia, who did not play on Wednesday, are third with six points, followed by Cambodia on three points and Laos with no points.
Indonesia will take on Malaysia in a mouthwatering final Group B clash at the National Stadium at 8.30pm on Sunday, with Vietnam facing Cambodia at the Bishan Stadium at the same time.
Catch the AFF Suzuki Cup 2020 LIVE on meWATCH. Sign in now at mewatch.sg/affsuzukicup2020 and get into the action with Mediacorp, Singapore's official broadcaster of the AFF Suzuki Cup 2020.
Source: CNA/Bernama/kg(ac)