Sacrifice pays off for Singapore bodybuilder who earned her chance to compete with the pros
Singaporean bodybuilder Amanda Lee, who won the NPC Worldwide British Bodybuilding Championships in July, tells CNA about chasing an unorthodox dream.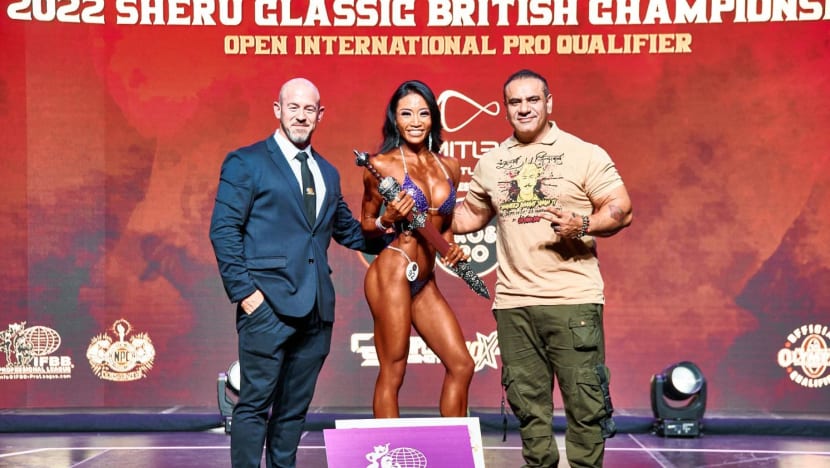 SINGAPORE: Amanda Lee's honeymoon in Paris was one unlike any other.
Before sunrise each day, she had her first cardio session.
While others chomped down on the hotel's sumptuous breakfast buffet, her first meal of the day consisted of five to six egg whites. Instead of dining at chic cafes and fancy restaurants in Paris, she had all five meals for the day packed in lunch boxes.
In between exploring the city with her husband, Lee would try to squeeze in a midday workout at the gym. If not, she would hit the gym in the evening and have a cardio session before an early night's rest.
Days before the biggest competition of her life, Lee left no room for chance.
"One of my favourite things is croissants, but I couldn't have it. We were on peak – within one week (of the competition) – so you don't want to complicate anything," she told CNA.
"By the end of the trip, I was peeling eggs like a pro. I don't know how many eggs I peeled."
These are some of the sacrifices which Lee has had to make as she chased an unorthodox dream.
In late July, she achieved her goal when she won the 2022 NPC Worldwide British Bodybuilding Championships, earning herself an IFBB (International Federation of Bodybuilding and Fitness) pro card in the process. This means that she will be able to compete at the highest level of the sport.
"I felt like I could get there, and I wanted to get there. That was just the goal. I deserved to get there," said Lee.
"I knew it was not easy. People who have been trying for pro cards, they have been trying for years … It's something that gives me validation that I can prove myself that I'm not just another competitor."
"CRAZY POTENTIAL"
A volleyball player during her school days, Lee decided to give up the sport after suffering a back injury. Instead, she started hitting the gym and became a personal trainer in 2014.
But after a few years of working out in the gym and lifting weights, Lee felt she had hit a plateau. 
She spoke to a friend who competed in bodybuilding competitions and learned more about the sport.
"I considered putting myself in 'prep' to be able to push myself to my limit, to see how far my body can go," explained Lee, who is also the co-founder of an activewear line.
Prep refers to the period where a bodybuilder gets stage-ready for a competition. This means adhering to a strict diet and following a particular gym and cardio routine.
In her first local show in 2018, Lee finished second in her height category.
It was a nervewracking experience for her as she gets stage fright, Lee said. But she decided that she would "just go on stage and see what happens".
"Yes, I got stage fright, I tripped a bit, that kind of thing, but after that it felt like an adrenaline rush. And I quite liked it. So I was like: 'Okay, I want to try and do better.'"
More importantly, the competition gave her the affirmation that she was on the right track.
She went on to compete in the Olympia Amateur Japan Pro Qualifier the following year, where she finished sixth out of more than 30 competitors. 
"After the Japan show, I went to reach out to the different international coaches who have Olympia athletes under them," Lee said.
Olympia is one of the world's biggest bodybuilding competitions.
"When I sent my photos, they officially confirmed that: 'You really have crazy potential. If you want to work on it, you should. You can get there.'"
MAKING TOUGH CHOICES
Pursuing her dream of a pro card has not been an easy one for Lee.
For one, her journey has been entirely self-funded, which means dipping into her own savings and making sacrifices.
Expenses include flights as well as accommodation costs while competing abroad, hiring a coach and paying for supplements such as multivitamins and fish oils.
"You have to pick and choose what you want to spend on. If you want to go out every day, go to restaurants and cafes and spend a lot of money on that, that's you. For me, I don't spend on that, I spend on this, so you give and take," said Lee.
The strict diet she has to adhere to while on "prep" is by no means easy, she added. A bodybuilder's diet while on prep varies based on their current body type and the look they want to achieve while at a competition.
"Sometimes your cardio can be super high – two to three hours a day – and your food can be super low," she said.
"Being on low food, it plays with your head, it is a mental game. It is telling yourself like if you are hungry, do you want extra food or do you want to win? If you have the extra food, will you win?"
And the question becomes – is that craving worth it?
"You're paying a lot of money to compete, to reach that goal of yours ... So if you were to eat that to sabotage yourself, you want to sabotage yourself like that?  And then on the show day when you don't look good, are you going to regret?" 
This is especially tough for athletes who enjoy eating.
"The funniest thing is that a lot of people think that people who go and compete, they are okay with not eating – that's why they are okay with competing, that's why they can not eat," said Lee.
"The thing is that most of the competitors I know, we all love food."
While on "prep", Lee is often unable to fully partake in meals with family and friends.
"It is a struggle when you go for dinners with friends and then you cannot eat at all and they are all eating. You just sit there like with your own food and after you're done with your little bit of food, they are still eating.
But she has a strong support system, Lee said.
"My husband, he's always been there with me. He was my main support system for every single prep."
Given how difficult it is to pursue the sport, some ask why she does it, Lee said.
"For some of us, it is something that we can focus on, to put our minds on. For some of us the gym is our 'me time', (it) helps with our mental health.
"When you're struggling with other aspects, you can focus on this and this is yours. There's nobody who can take this away."
Having a specific routine to follow is also something she enjoys, Lee added.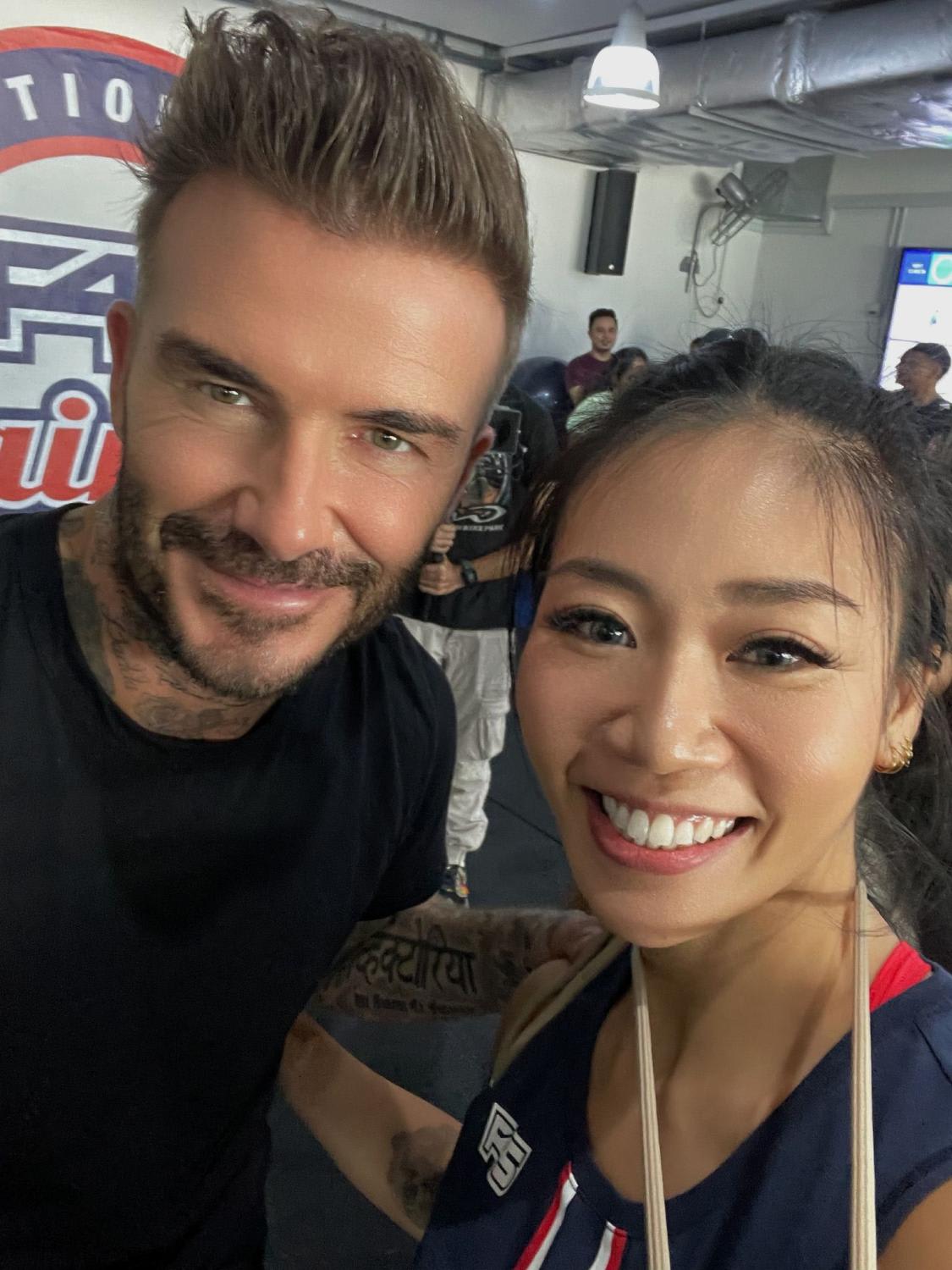 REACHING HER GOAL
Eight weeks before the NPC Worldwide British Bodybuilding Championships in late July, Lee tested positive for COVID-19, throwing a spanner in the works.
"(I was) on prep and when you're so depleted, your body doesn't have much body fat, you cannot recover … So I was down for two weeks."
But she bounced back and managed to make her way to the UK for the competition.
"I went into this show wanting to win the pro card and to win the invite, that was my main goal. I wanted to win, " Lee said.
"I knew I was bringing my best. (But) on the day itself I didn't feel my best … It's a common thing when (you are on prep). What you see is not what people see. You just look at yourself in the mirror and you nitpick at everything."
Lee resolved to follow her coach's instructions and just do her best. She eventually found herself in the finals of the competition, after winning her height category.
She went on to take the overall title.
"You will have very, very hard days, you will second guess yourself, you will tell yourself you want to give up, you don't want to do this anymore … There was so much in play and it really played into my emotions when I won."
Now that she has achieved this long-time goal of hers, Lee is looking to the future. She hopes to compete at Olympia by the end of next year.
To get there, she'll need to perform well at upcoming pro-level competitions.
"I never thought that I would achieve it like that, I never really thought of Olympia. I just wanted to get my pro card, and then do a few pro shows and see where it goes. But after I won, my coach was like: 'Olympia 2023, let's go!'
"We are all capable of anything, it is whether we have the time and we put the effort into it."