The coming of Joseph Schooling
Channel NewsAsia looks back at the 21-year-old Olympic champion's trajectory leading up to his crowning moment at Rio 2016.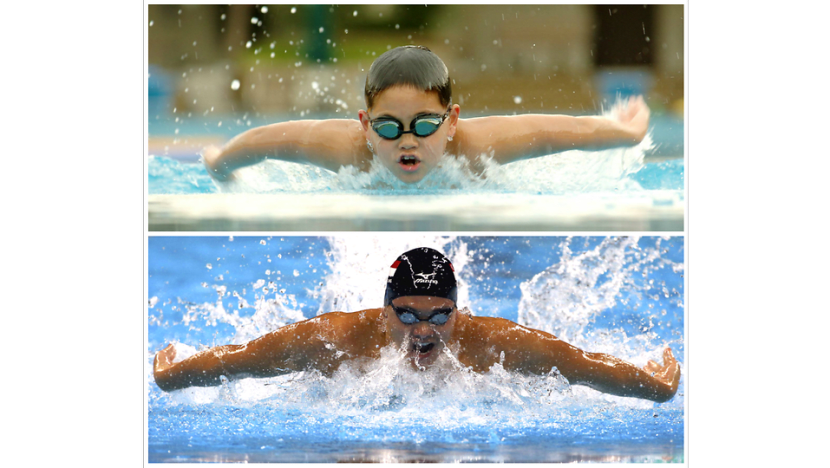 SINGAPORE: We've waited some time for this. Millions of strokes; thousands of laps; hundreds of press stories; dozens of wins and losses; and seven years since he first came to prominence, swimmer Joseph Isaac Schooling has finally landed Singapore's first-ever Olympic gold medal.
Yet before such headlines were wrought, he was better known in Olympic circles as the kid whose cap and goggles were deemed by an official as unsuitable for his 200m butterfly heat at London 2012. Replacement gear was found in the nick of time, but a shaken Schooling registered a poor race and did not progress to the next round. Out of the water, he received a consolatory hug from the third-place finisher in the heat, a certain Michael Phelps. "He said I'm still young and I've got a long way to go, just keep my head high and keep going on," Schooling told media afterwards.
And gone on, he has - to standing atop the podium at Rio 2016, a notch above Phelps, otherwise the greatest Olympian of all time with 22 gold medals to his name.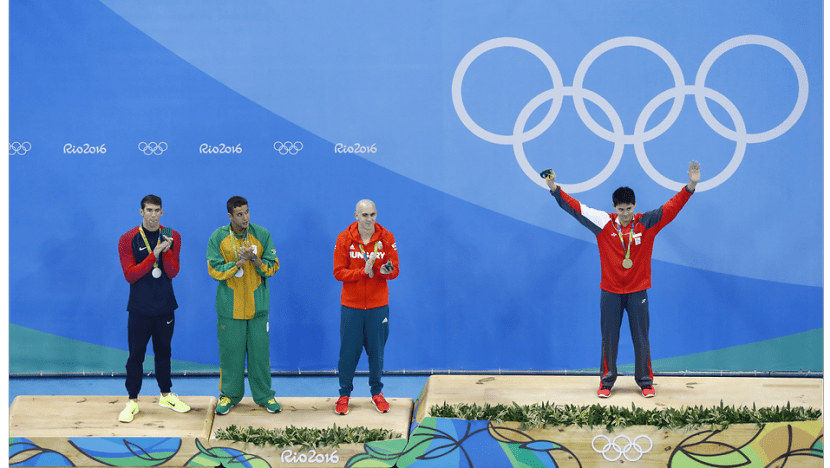 When their sensational 100m butterfly race was over – Schooling romped home in a Games record of 50.39s, nearly a second ahead of Phelps, Chad le Clos and Laszlo Cseh who tied for silver in 51.14s – the American and the Singaporean embraced again, this time on a congratulatory note.
It may well have signalled the end of 31-year-old Phelps' individual career – he still has a relay to swim at Rio – or if you like, a passing of the baton to the Singaporean, who at 21 is just hitting his stride.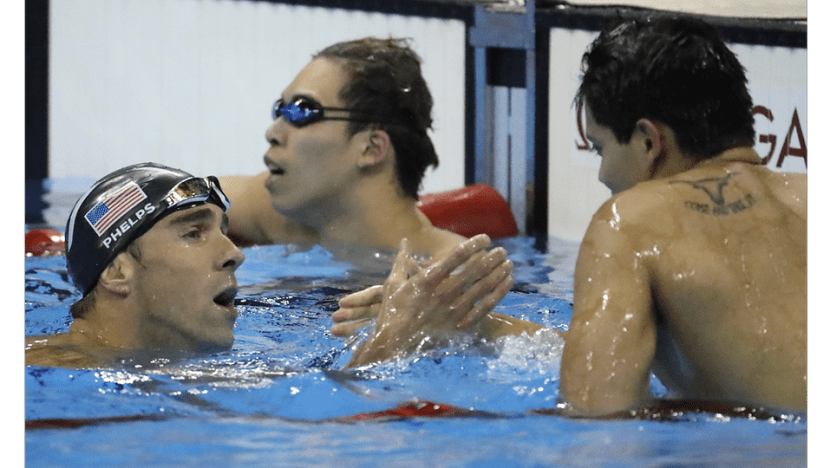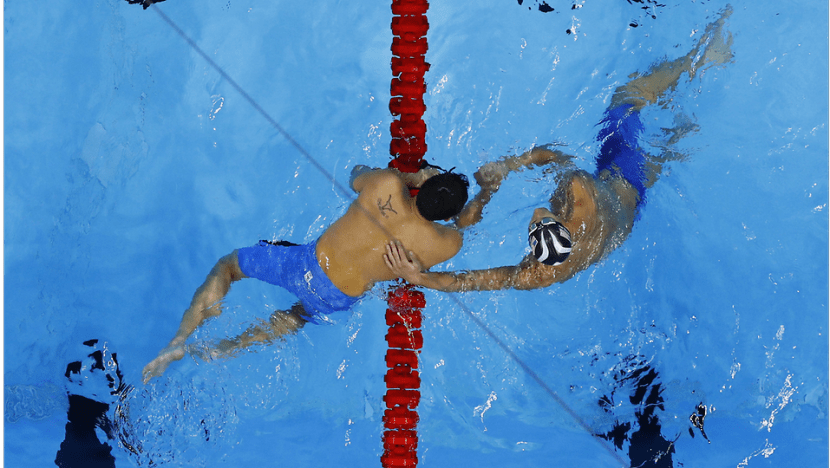 FIRST BLOOD
It started, as the legend goes, with Colin and May Schooling wanting their only son to learn how to tread water. "I was about two to three years old when they submerged me and put me under the water but unlike other kids, I wasn't afraid," Schooling once said. "I just used to giggle and found that I really liked being in the water."
Around the same time, his grand-uncle Lloyd Valberg - Singapore's first Olympian who competed in the high jump at London 1948 - was reported to have impressed upon him the idea of competing on the world's biggest stage.
Schooling kicked off by winning his first swimming medals as a precocious five-year-old; and it wasn't long before the Anglo-Chinese School Junior alumnus found himself dreaming of being a professional swimmer. His subsequent transfer to the Bolles high school in Florida, US set the wheels churning in motion.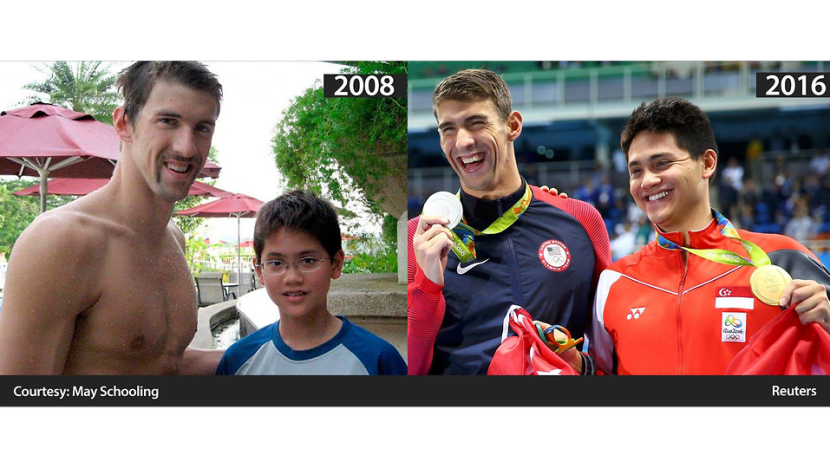 In 2009, Schooling, still forming muscle and bone en route to his current 6-feet-tall frame, burst onto the scene when he timed nearly three seconds faster than the American age-group mark for the 200m butterfly. A year later he was the fastest in the US over the 100 yards butterfly, eventually eclipsing Phelps' 15 to 16-year-old age-group record.
Schooling was then thrust into his first major spotlight overseas, representing Singapore at the 2011 Southeast Asian (SEA) Games in Indonesia. He has since prospered at the biennial meet, laying claim to a glut of golds and regional records across the butterfly; freestyle; individual medley and relay events.
In 2013, swimming heads sat up and took notice after Schooling defeated American superstar Ryan Lochte in the 100m butterfly, which was fast becoming his signature event. Later that year he was granted deferment from National Service until after Rio 2016, to aid in his pursuit of an Olympic medal. It was also his subsequent transition to the University of Texas, and tutelage under ex-US Olympic head coach Eddie Reese, which would pay off handsomely.
INTO HISTORY BOOKS ...
A slew of groundbreaking feats kicked off in 2014 with Schooling's silver finish in the 100m butterfly bagging Singapore's first-ever swimming medal at the Commonwealth Games.
Two months later, he grabbed gold in – no prizes for guessing – the 100m butterfly at the Asian Games in record time, becoming the first male swimmer from the Republic to do so since Ang Peng Siong in 1982.
The next year, Schooling descended on his homeground SEA Games for a walk in the park that saw nine events, nine golds and nine Games records picked apart by the rapidly-improving swimmer.
His times in the 100m buttery had been steadily dropping from the 53 to 51-second ranges, and culminated in his coming-out party at the 2015 World Championships – where he clocked 50.96s to win bronze, deliver Singapore's first-ever medal at that level and set a new Asian record.
Schooling topped that with his oft-referenced win over Phelps in an invitational race in June 2016, generating palpable excitement ahead of his Olympic campaign and for the first time, opening Singaporean eyes to the prospect of swimming success there.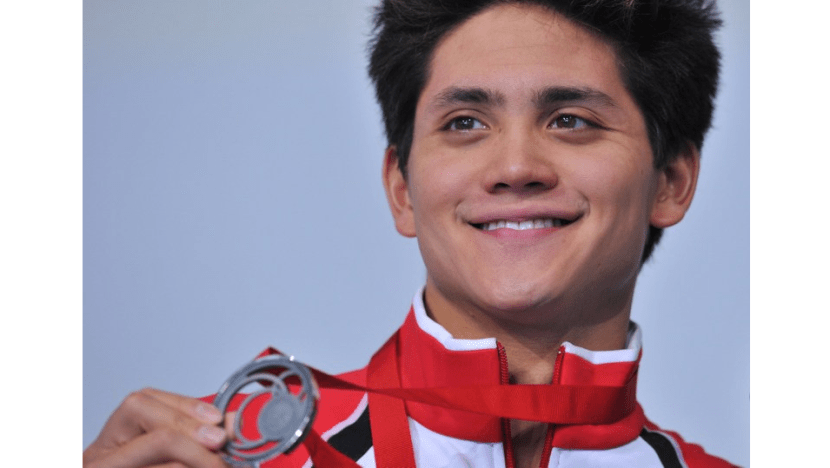 … AND THEN SOME
In Rio, after withdrawing from the 200m butterfly and missing out on the 100m freestyle finals, Schooling's racing began proper in the 100m butterfly - and he did not disappoint. Swimming side-by-side with Phelps in the heats, he pipped the American to the wall a second time to qualify quickest for the semi-finals, where Schooling topped the field again with a splendid 50.83s swim.
That unstoppable form extended into the finals with a 50.39s swim that wrested the 100m fly title from Phelps – who had won it at the past three Olympics – and cemented Schooling as the first-ever Southeast Asian swimming champion.
With his landmark Olympic title in the bag, the newly-minted Singaporean hero has now whiffed glory on the biggest scale and will undoubtedly thirst for more – perhaps even beyond his next global stage at Tokyo 2020, as foreshadowed by his own mother three years ago.
"He's good for two more Olympics after Rio 2016," said May Schooling then. "He'll be only 29."