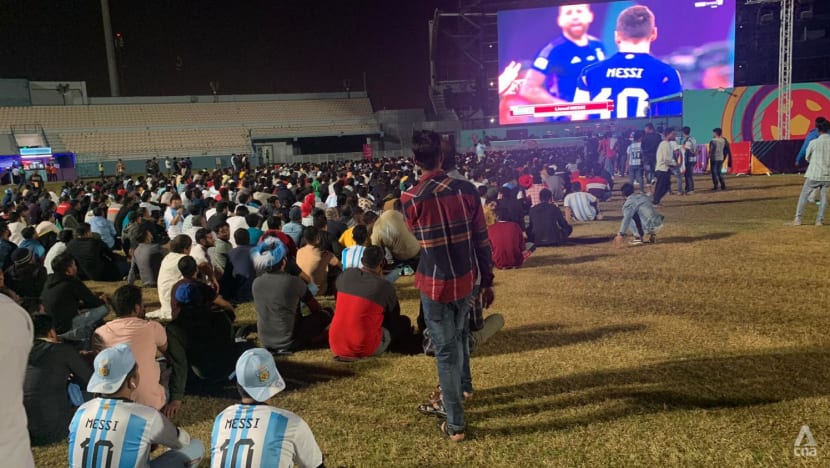 DOHA: "Where is Messi?" questioned the gleeful Saudi Arabia fans after their team's 2-1 stunner over Argentina.
It didn't matter if the Paris Saint Germain player had scored to put the Albiceleste ahead. It only mattered that he had failed to inspire his team to victory.
Was he no longer the same player? Was he mortal? Was he, as the youngsters these days say it ... washed?
But with one sweep of that magic left peg in a must-win tie against Mexico days later, Messi answered his critics. And the 2-0 win meant that Argentina stayed in the running to progress to the knock-out phase of the World Cup.
But first they would need to overcome a determinedly resolute Poland on Wednesday (Nov 30).
So, on my itinerary was a trip to Stadium 974, a lego-esque amalgamation of steel and shipping containers to see if Messi would, as a friend of mine had so eloquently put it, "carry his team like a backpack" once again.
But the trip was over even before it even began.
Journalists at the World Cup need to apply for press passes for each match. My request for this one was rejected. But this has happened on multiple occasions at this tournament - Singaporean journalists aren't a priority here (fair enough) - and there was a solution.
So I queued obediently in line for a press pass at the main media centre on the day of the game. The waiting list opens at 9am every day and I made sure to be there on Wednesday morning to wait my turn in line.
I had been successful on a number of past occasions, but I wouldn't be this time.
Time for plan B, which was to watch the match at one of the huge screens put up for fans.
But rather than head to downtown Doha, there was somewhere else I had been wanting to catch a game.
A DIFFERENT PERSPECTIVE
On the outskirts of Qatar's capital sits a cricket stadium where thousands of migrant workers have gathered to watch the tournament.
It was 9pm when I got to the Industrial Area Fan Zone, located in the sprawling neighbourhood of Asian Town, where camps have been built to house migrant workers from various countries. 
Around 85 per cent of Qatar's three million population are foreign workers, and Qatar has faced intense criticism from human rights groups over its treatment of them, especially those involved in the construction of the stadiums where matches are being held.
I'd seen and spoken to some of Qatar's migrant workers during my two weeks in the country, and when it had come to chatting about football, one nation is supported like none other.
Argentina.
Unlike the eight gleaming World Cup stadiums which the world sees on television, the cricket stadium is a spartan one. But the atmosphere was perhaps even more intense. Airhorns blared in the distance and a throng approached. Arms raised and voices united, one name was clear.
"Messi, Messi, Messi!"
One of those marching onward was Bangladeshi Masud, who has worked in Qatar for nine years.
"I've supported Argentina since I was a young boy. In my country, almost 95 percent are Argentina fans," he told me. "Argentina will win 2-0 and Messi and Lautaro Martinez will score."
Before kick-off, an emcee geed up the growing crowd.
There was a huge roar in response when she called for Argentina. Calls for Poland were met with silence.
MESSI MISSES
As the match began, there was a frisson of excitement whenever Messi was on the ball. More cheers whenever the camera panned to a close-up of him.
"I'm not sure if I've ever been to a neutral venue with this many fans for one team," said the TV commentator at Stadium 974.
She might as well have been speaking about where I was watching the match, where the passion and support for Argentina was loud and heartfelt.
There were huge cheers at the possibility of an Argentina penalty after Polish goalkeeper Wojciech Szczesny landed a fist on Messi's face with a flailing punch. And there were even louder whoops of joy when Lionel Scaloni's men were awarded a spot-kick. 
But the crowd was stunned as Szczesny pushed away the Messi attempt.
"Honestly, I felt very bad and I wanted to cry, I was so sad," said Nepalese worker Prabin Rai. "The penalty was very good but the keeper very good too."
An avid football player and Argentina fan, Prabin was at the cricket stadium with a group of his friends who support Brazil.
"Of course for sure Argentina will win," he said confidently. "Everybody knows that Messi is god gifted."
THE WORLD'S BEST PLAYER
As the crowd settled down for the second half, I met Abdisamad. The 20-year-old was wearing muddy red football boots and had his CV in hand.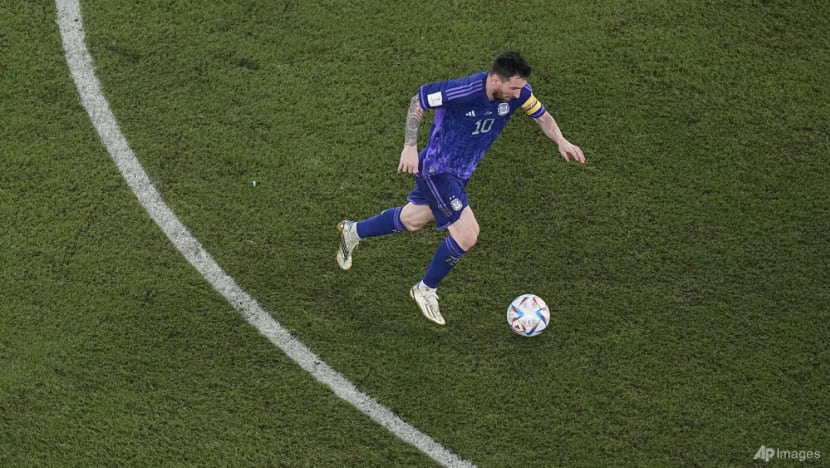 Seven months ago, he had arrived in Qatar along with his brother who works at a mosque.
But his dream is different. Abdisamad hopes to be a professional football player one day.
"Nothing I love more than football, bro. It's my life," he told me. "I was not always after girls, I was always after football!" 
Abdisamad is a Brazil fan, and his favourite player is Neymar.
"Ronaldo is a hard worker, Neymar is skillful player," he said. "But, Messi is a natural talent, the world's best player."
As Abdisamad showed me videos of himself playing football, the crowd exploded to life. Men leapt in the air for joy, others waved flags proudly.
Argentina was 1-0 up, courtesy of a 46th minute goal from Alexis Mac Allister.
Life in Qatar is not easy, said Abdisamad. He misses home, but his mother, whom he calls frequently, reminds him to keep faith in his dream.
So for now, he catches matches at the Industrial Area Fan Zone. The small-sided football pitch behind us is where Abdisamad plays football with his friends. 
"World Cup games are expensive (to watch) and I don't have that money," he added.
On the big screen in front of us, Messi was pulling the strings on the pitch.
For somebody like Abdisamad, Messi represents hope. Hope that one can come from nothing and achieve greatness. Hope that dreams can come true. Hope that talent will be rewarded.
After all, Messi wasn't featured in the popular FIFA video game until he was 18, the friendly Kenyan explained.
And away from the glitz and glamour of downtown Doha, on a large screen installed on a cricket pitch, I had witnessed the magic of Messi.
He may not have scored, but the man had once again inspired.
Catch free highlights and moments from the FIFA World Cup Qatar 2022™ at mewatch.sg/fifaworldcup