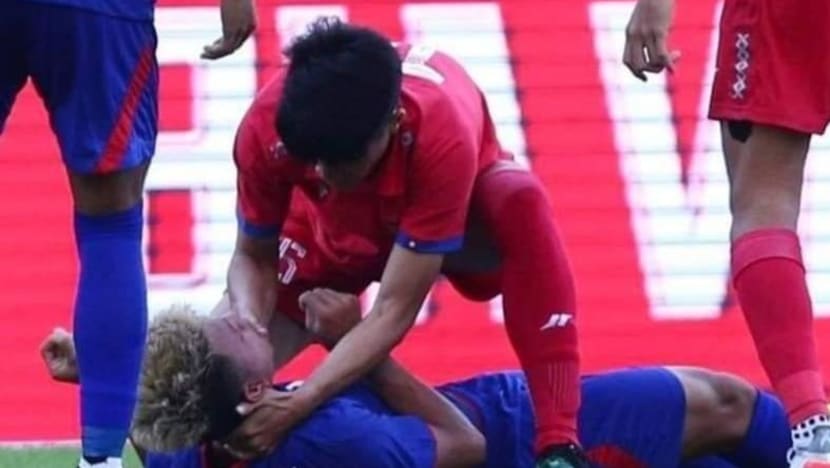 SINGAPORE: A Laos footballer has been lauded for his quick thinking and sportsmanship after helping a Cambodian player who was knocked out during a match.
The Group B tie between Laos and Cambodia on Monday (May 9) at the SEA Games took a turn for the worse as Cambodian player Phat Sokha and Laotian defender At Viengkham rose to challenge for a high ball at the Thien Truong Stadium in Nam Dinh.
The two players collided in mid-air, with the impact leaving Phat knocked out on the turf.
Realising what happened, Viengkham rushed to Phat's aid, placing his fingers inside the unconscious player's mouth to prevent him from swallowing his tongue, a video on VnExpress showed.
Players from both sides gathered around the pair, and a medical team rushed onto the pitch while Cambodia coach Keisuke Honda looked on with concern.
After more than a minute of medical attention, Phat began to stir, and his team mate Choun Chanchav gave a thumbs-up to the bench.
Phat was soon helped to his feet as his team mates and Viengkham expressed their relief. Viengkham was eventually booked for the initial challenge.
Leading 2-0 at the time, Cambodia went on to win the game 4-1.
A Facebook post by the ASEAN Football page about the incident drew hundreds of comments from fans, who praised Viengkham for his sportsmanship.
"SEA Games committee should consider to award him a special medal 'SEA Games Friendship Medal'," wrote one fan.
"Cambodia wins the game and Laos players win the (heart)," wrote another fan. "Sport is not just (about) the game but respect and solidarity ... we (are) all accountable for making a better world through sport."
"Great composure, great decision. Respect the kid," wrote one person.
Laos and Cambodia are both back in action on Wednesday, with Cambodia playing Singapore and Laos taking on Malaysia.