Not Schooling: Singapore head coach responds to media reports on SEA Games freestyle relay disqualification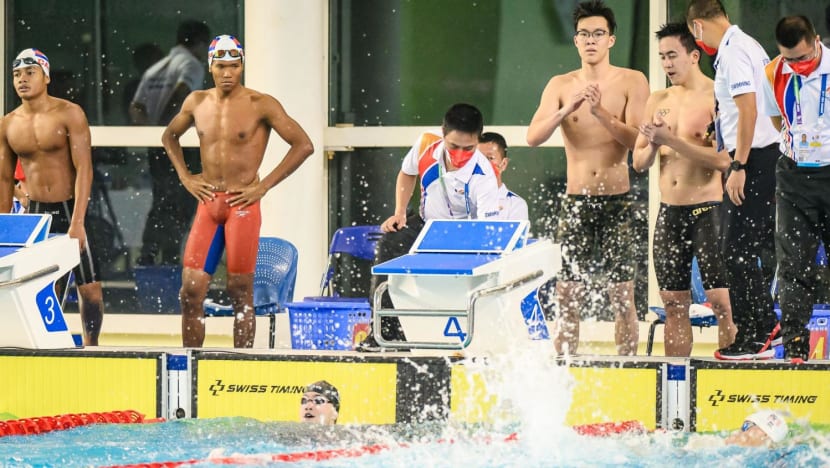 HANOI: Singapore's swimming national head coach Gary Tan on Sunday (May 15) said it was not Joseph Schooling who had taken off early from the blocks in the 4x100m freestyle relay, adding that the team had moved on from their disqualification the day before.
Speaking to the media on Sunday after Team Singapore won another four gold medals to bring their total up to eight gold in two days, Tan refuted reports by Vietnamese media that it was an error made by 2016 Olympic champion Joseph Schooling.
"We are over it already, we've moved on. It's not Joseph, but I will just leave it as that," he told reporters when asked about the reports.
"If you look at it, the team has already just moved on, on into a whole different mode of racing."
The Singapore team of Schooling, Quah Zheng Wen, Mikkel Lee and Jonathan Tan had won the race on Saturday evening with a time of 3:17.19 ahead of Malaysia and Vietnam. But official results later disqualified Singapore and Malaysia. 
This meant that Vietnam won gold, Indonesia the silver and Thailand the bronze.
CNA understands that the disqualification was due to a marginally early take-off from one of the swimmers on the team.
Reports by local media had named Schooling as having made an error.
Moving forward, Tan said the team will make sure that they are "safe" when starting and that there will be no reason for any possible disqualification.
"We're just making sure that our kids are safe, safer than yesterday. And I think that's what we are deploying as well as in terms of tactics to work with our swimmers," he explained.
"But I think the common message that has been going across to them is just be happy racing, have fun racing and really just enjoy the moment and the process."
He also noted how the members of the team have rebounded from the disqualification.
"Yesterday the boys were really quite down on themselves, but I think they really picked it up. If you look at (Quah) Zheng Wen and Johnny (Jonathan Tan). They both stepped it up," said Tan.
"They swam in the relay yesterday and then Mikkel as well. So coming out of that situation, they really pushed themself, and actually changed their mindset and put themselves in the right head space as well."