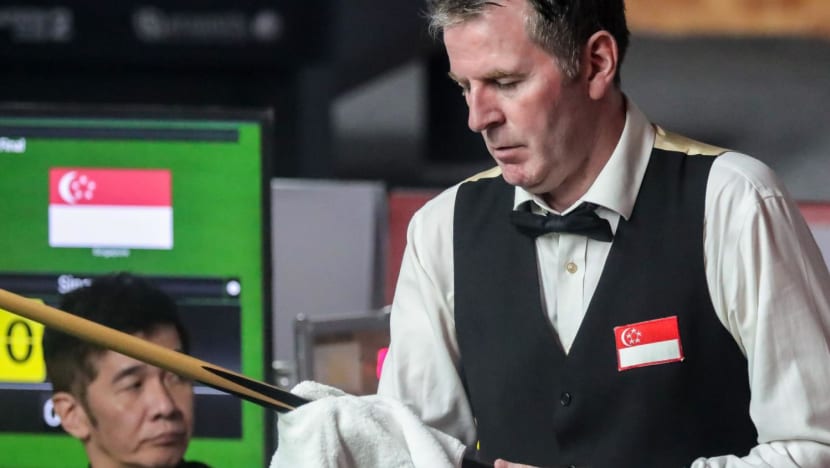 HANOI: Close to two decades after he coached Alex Puan and Keith E to a snooker doubles victory at the 2003 SEA Games in Vietnam, Peter Gilchrist would combine with Puan to win a historic English billiards doubles gold at the 31st SEA Games.
At the Ha Dong gymnasium in Hanoi on Friday (May 20), the duo beat Myanmar's Pauk Sa and Min Si Thu Tun 3-1 to clinch Singapore's first cuesports gold at this year's meet.
This is the first time a Singaporean pair has won the doubles at the Games and Gilchrist's eight Games gold in a stellar career.
"With him (Gilchrist) as a mentor, I think it helps," said Puan. "He has all the right answers for me and it's just amazing playing with the right partner."
Gilchrist also paid tribute to Puan, noting that he had kept his nerve and played "all the right shots".
"To play the way he did was just exemplary," added the 54-year-old who is the oldest athlete in Team Singapore's contingent at the Games. 
The victory follows Gilchrist's silver medal in the men's singles event earlier in the competition.
He had lost 1-3 to Pauk Sa in the finals of the event, putting an end to an unbeaten streak which stretched from 2009.
"This more than made up for it," said Gilchrist, who wins the doubles event at the sixth time of asking. 
"There's been three or four times (at the SEA Games) where we've lost the doubles like 3-2, and it's been down to like one shot and so it's always in the back of your mind that it's going to happen again. You can't get these negative thoughts out of your mind," he added.
"But fortunately, it didn't happen today. It's great ... It means more than the singles and it's a lot harder to win than the singles."