Peter Gilchrist's unbeaten SEA Games run ends, takes silver in English billiards men's singles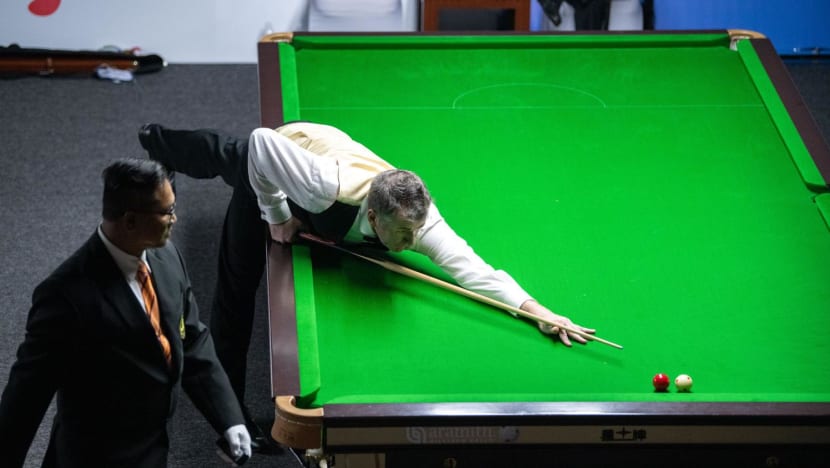 HANOI: When asked about how he felt after his impressive unbeaten streak at the SEA Games came to an end, cue master Peter Gilchrist was disappointed but sanguine.
"It's disappointing losing ... but I've had a good winning streak, so I can't be too disappointed. Can't be too greedy," he told reporters.
Gilchrist, 54, fell short of making it seven golds in a row in the English Billiards men's singles event as he was upset by Myanmar's Pauk Sa on Tuesday (May 17).
At the Ha Dong gymnasium in Hanoi, Gilchrist, who has won the event since 2009, lost 1-3 to his opponent.
Pauk Sa took the first frame 102-11, before the Singaporean, who is the oldest member of Team Singapore's contingent at the Games, bounced back in emphatic fashion to win the second 100-12.
But Pauk Sa would keep his cool and take the next two frames to win gold.
Gilchrist noted that he had made a few "basic errors" in the match.
"It's all 'ifs' and 'buts'. It's easy to say after the game ... We learn by our mistakes and you know, some of the (previously) games I've won when I shouldn't have", he said.
Now Gilchrist's focus shifts to the doubles event, where he will combine with teammate Alex Puan in the quest for gold.
"If someone said about 15 years ago that I'd win six golds (in a row) and a silver, I'd probably have taken it, you know? It was just an accident waiting to happen really. It's been a good run. But all good runs have got to come to an end, and this one has come to an end," he said.
"I'll be back and we've got the doubles - Alex and myself. So hopefully, I'll bring my A game."
In the Men 9-ball pool semi-finals, Singapore world number 1 Aloysius Yapp lost 7-9 to Philippines' Carlo Biado to take joint-bronze. 
However Yapp's quest for a first individual Games gold will continue as he is slated to compete in the Men 10-ball event.
Yapp's compatriot Toh Lian Han also lost to Philippines' Johann Chua in the other semi-finals encounter.