'It will get worse': Singapore's SEA Games football coach urges action after historic Malaysian mauling
Singapore were beaten 7-0 by Malaysia in their final group game at the SEA Games.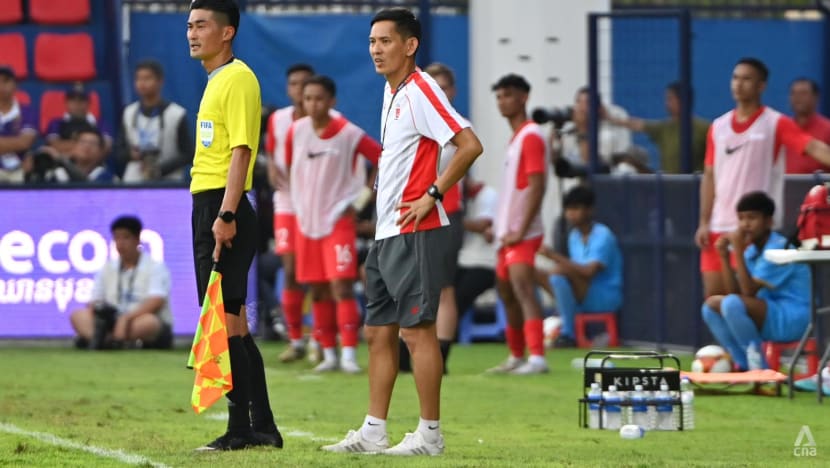 SINGAPORE: A "stark" gap in quality lies between the Young Lions and the rest of the teams in the region, and things will only get worse if measures are not taken to address the standard of football in Singapore.
The head coach of Singapore's football team at the 32nd Southeast Asian (SEA) Games, Philippe Aw, made these comments in a post-match press conference following his side's 7-0 demolition at the hands of rivals Malaysia on Thursday (May 11).
Singapore entered the game with only pride on the line, having already been eliminated from the group stage after a drab goalless draw with Laos last Saturday and successive losses to regional heavyweights Thailand and Vietnam. 
The derby encounter ended up being Singapore's worst showing yet in Cambodia and the country's heaviest defeat at the Games since the competition became an age-group affair in 2001.
This was also Singapore's biggest Games loss since a 5-0 rout by Thailand at the last edition, and ensured the under-22 footballers ended their campaign bottom of the group and with no wins for the first time since 1987.
Aw did not mince his words after. "There was only one team in this game today and that was Malaysia. We conceded the first goal and they took over and it was one-way traffic."
Injuries meant that he made to make four changes to his starting line-up against Malaysia - but Aw was reluctant to pin the thrashing on the absence of several key players.
"The other players that got onto the pitch all tried, but it's a stark difference ... as you can see," he said.
The coach did not directly answer questions about whether he would continue in his role but admitted his future was uncertain.
He warned however that his successor would face the same issues he has had to deal with.
And unless the holes in Singapore's football pipeline are plugged, Thursday's thrashing will only become the norm rather than the exception, Aw added.
"With regards to my future, I think that's not important at this current point," he said. "What we need to reflect on is if we don't do anything moving forward, it will get worse ... This has been ongoing for years."
Aw said he and his staff had given their best but conceded it was just "not good enough".
"It's ok, we can find the next person," he said. "Let's look at the (football) ecosystem in Singapore, let's look at the processes ... I can step down and let someone else take over."
ONE SILVER LINING
Asked if there were any positives from the Young Lions ending their SEA Games campaign on a whimper, Aw said he hoped the early exit would bring about a review of Singapore's football system from the ground up.
"We were drawn in this 'group of death' and the results show where we are ... We need to do something to improve," said Aw, who also is the Young Lions' head coach in the Singapore Premier League.
"The silver lining is ... We've come here and seen the difference in quality now, and I hope we go back and reflect and start doing this better; change for the better."