'It means everything to me': Silat exponent Iqbal finally strikes SEA Games gold on his sixth attempt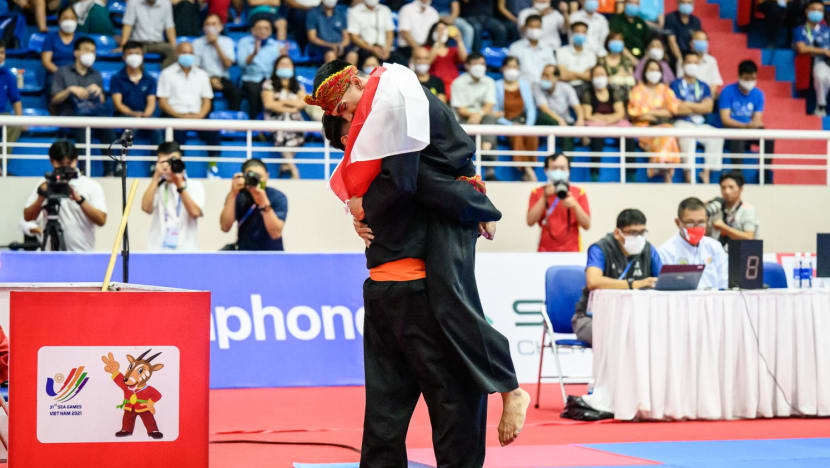 HANOI: As he embraced one of his coaches in a bear hug, 28-year-old Iqbal Abdul Rahman's was overcome with emotion.
Finally, after five previous attempts, he had struck gold at the SEA Games. And there were tears.
"There's no words to describe the feeling (I have) at the moment," the silat exponent told reporters after winning the artistic men's tunggal (singles) finals at the 31st SEA Games in Hanoi, Vietnam. 
"I heard the cheers from my team-mates, and the moment I heard the loudest cheer, I knew that the gold was mine."
At the Bac Tu Liem sports centre on Wednesday (May 11), Iqbal registered a score of 9.960 to beat Thailand's Ilyas Sadara for the victory.
Iqbal's previous best showing at the regional meet had been a silver at the 2019 edition in the Philippines. He won a bronze medal in 2015.
He also has four Asian Championship gold medals and the 2018 World Championships title to his name.
"A lot of my team-mates, my coaches say that sixth time's the charm. Coming into the Games … I didn't tell myself that I wanted to go for the gold. I told myself I wanted to give my everything, I didn't want to go back to Singapore with regrets," he said.
This was not only Iqbal's first SEA Games gold, but also Singapore's first gold at this edition of the Games. 
"It's always great to be the first one to contribute to anything," he said.  
Prior to Iqbal's win, Singapore had clinched two silvers and three bronzes. Two of the bronzes came in silat on Tuesday.
"I'm always confident. I'm always feeling great about my abilities, my capabilities. I always believe in myself. Coming into these SEA Games, I never even had the slightest doubt about myself," he said.
"I was confident I was able to give my everything, and I gave my everything."