Singapore's Joseph Schooling: 'I hope this shows people from small countries can do extraordinary things'
The newly-crowned Olympic champion talks about what his historic win could mean for Singapore sports, at the post-race press conference.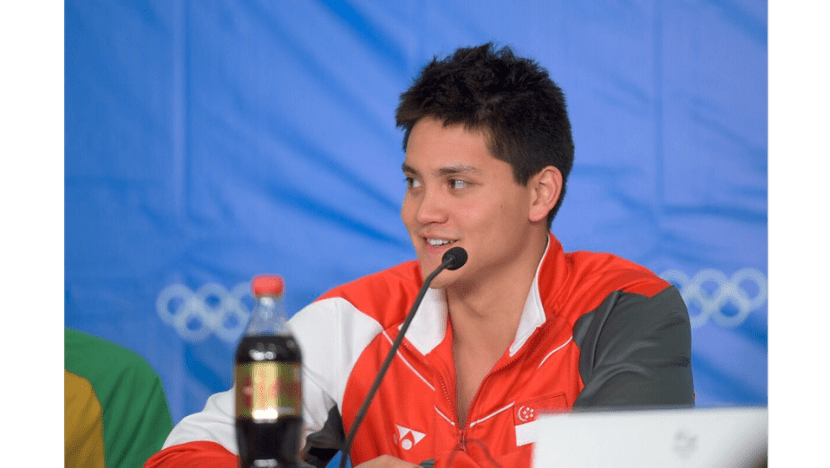 RIO DE JANEIRO: Singapore's first Olympic champion Joseph Schooling on Saturday (Aug 13) said he hoped his win in the 100m butterfly at Rio 2016 would demonstrate "that even people from the smallest countries in the world can do extraordinary things".
Speaking at a press conference after his sensational Games record-setting (50.39s) upset of American legend Michael Phelps and contenders Chad le Clos and Laszlo Cseh, the 21-year-old said: "I hope this paves a new road for sports in Singapore, and opens a lot of doors. Hopefully this changes our sporting culture and mindset towards sports - that's all I can dream for."
The University of Texas student added that it had been "a tough road" getting here. "There was a lot of pressure. Learning how to manage that wasn't easy but I'm just blessed and thankful I can accomplish the things I dreamt of as a little kid," said Schooling.
"i think this race means more to my family and friends and those people who supported me. I did this for them - when you do that, when you race for people greater than yourself, it really means a lot once you've accomplished what you wanted to."
"PHELPS MADE ME A BETTER SWIMMER"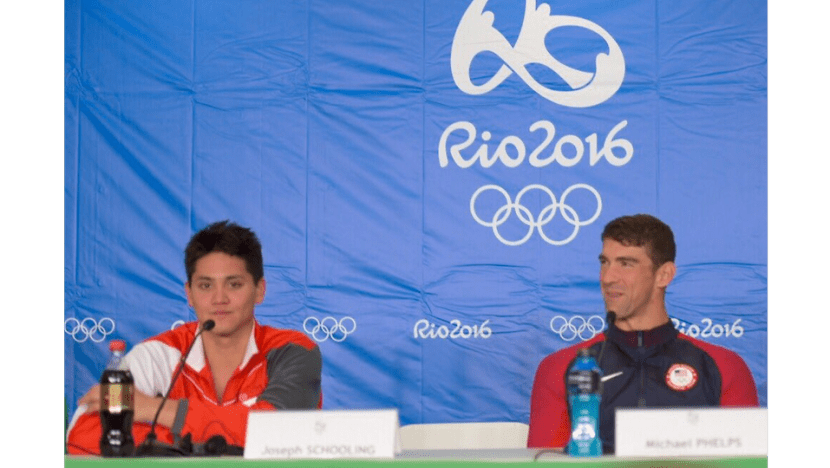 Schooling was also asked what it felt to race his childhood idol Phelps - and to emerge victorious in their last three showdowns.
"He's the greatest," said Schooling. "He's accomplished so much in his career that it's only fitting to idolise someone like that. He's the perfect guy to dream of accomplishing what he has."
"One gold is nuts, I can't imagine 22, 23 - it's out of this world," he added. "So if it weren't for Michael, I don't think I could have got to this point. I wanted to be like him as a kid… I think a lot of this is because of Michael - he's the reason why I wanted to be a better swimmer."
Recalling his first encounter with Phelps in Singapore ahead of Beijing 2008, Schooling said: "The US team came to the country club I trained at. I was doing my Chinese essay for school, when everyone rushed off saying 'It's Michael Phelps'."
"I wanted a picture with him. I was shell-shocked and couldn't really smile so I just opened my mouth," he laughed. "Looking back, it's crazy, like what happens in eight years. I think I'm just honoured and privileged to have the chance to race alongside him."
FUTURE OF THE SPORT
Schooling also told assembled media that Phelps had confirmed his retirement to him, right after their race. "I asked him 'Why don't you go four more years?'," said the Singaporean. "He told me 'No way, that's not going to happen'."
"During the victory ceremony I was like 'Dude, this is crazy; I don't know how to feel right now; it's nuts; it's out of this world'," Schooling chuckled. "He smiled and said, 'I know'. He's been through it all. Just being beside him; walking alongside him and celebrating - I'll really cherish that for the rest of my life."
Phelps, 31, said he was "excited" to chart Schooling's progress. "What he's able to achieve is up to him. He swims at Texas in the US and Eddie (Reese, head coach) has been able to have some really pretty good 100 fly (swimmers)," said Phelps.
"It would be pretty cool to see someone else break 50 seconds. It's up to him where he wants to take it, the ball's in his court - as big as he wants to dream; as hard as he want to work to do whatever is in his head," he added.
"It would be really fun. I think that's something that I'm excited just for the sport as a whole, to see where everything goes from here."