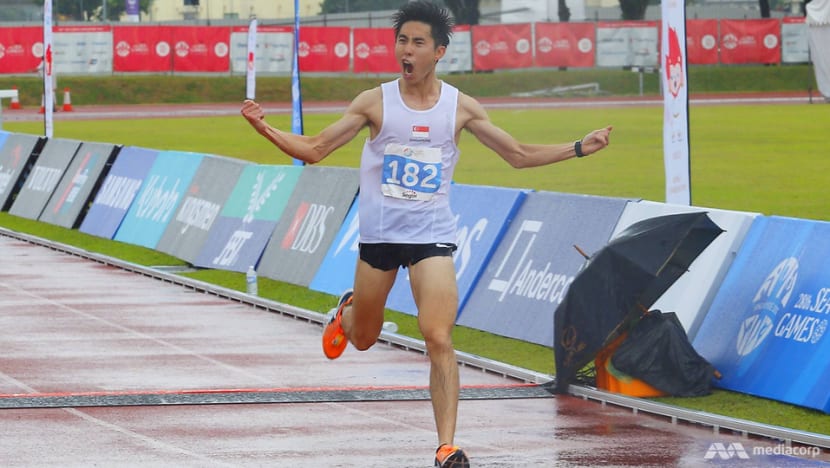 SINGAPORE: Top national marathoner Soh Rui Yong apologised to the Singapore National Olympic Council (SNOC) on Tuesday (Feb 22) after he was excluded from the Singapore team for the upcoming Southeast Asian (SEA) Games in Hanoi.
The SNOC said last week that Soh was excluded because his conduct and behaviour have "continued to fall short" of the standards it expects of and holds its athletes to.
In a Facebook post on Tuesday, Soh said he decided to apologise so "we can resolve our differences" and move forward "in the best interests of Singapore sports".
"I fully recognise that athletes representing Singapore should do our best to serve as a role model to our youth," he wrote. 
"In my view, that includes standing up for what is right, no matter the cost. However, I acknowledge that I could have handled certain disputes in the past differently.
"I could have been more respectful and sensitive in my approach. For that I apologise and will do better."
He said he wrote the Facebook post "not to beg for a place on the SEA Games team", adding that he has already achieved his dream of winning the SEA Games marathon while representing Singapore.
This is the second consecutive SEA Games where the two-time marathon champion was not selected, after being left out of the contingent for the 2019 SEA Games in the Philippines. Soh was not selected for both SEA Games despite meeting the qualification times. 
He won gold medals at the 2015 and 2017 SEA Games.
"There's nothing more I wish to prove," he said in the Facebook post on Tuesday. 
"But I'm apologising here purely because I recognise I've not handled certain disputes well in the past, and I will endeavour to do better and grow into a better person in the future."
He urged people to "celebrate the athletes chosen" to represent Singapore.
"The beautiful thing about sports is that it unites us and should not be a divide instead," said Soh.
"I hope we can be united as one as Team Singapore fights to chase the dreams we have all worked so hard for."
In response to CNA's queries, SNOC said: "Our attention has been drawn to Soh's post and apology to SNOC on his Facebook account. We hope he fulfils what he sets out to do, and wish him well in his future endeavours."
Singapore is expected to send 330 athletes to the upcoming SEA Games in Hanoi, which will take place from May 12 to May 23, with 526 events contested across 40 sports.