Argentina or France: Who will win the World Cup?
Are Argentina favourites to beat France in the World Cup final? CNA speaks to Singapore football coaches and players for their analysis.
SINGAPORE: The stage is set for an epic World Cup final in Qatar, with France attempting to retain their crown against Argentina on Sunday (Dec 18).
Both teams had won their semi-final games convincingly - France beat Morocco 2-0, while Argentina defeated Croatia 3-0.
Argentina, led by maestro Lionel Messi, had shocked fans in their opening game by losing to Saudi Arabia 2-1, but seemed to find their groove as the tournament wore on. 
France, on the other hand, roared past the group stage and knock-out rounds, and are bidding to become the first team in 60 years to win back-to-back World Cups.
Most past and present Singapore football players and coaches whom CNA spoke to, however, are backing Argentina to beat France. And it largely boils down to the Messi factor.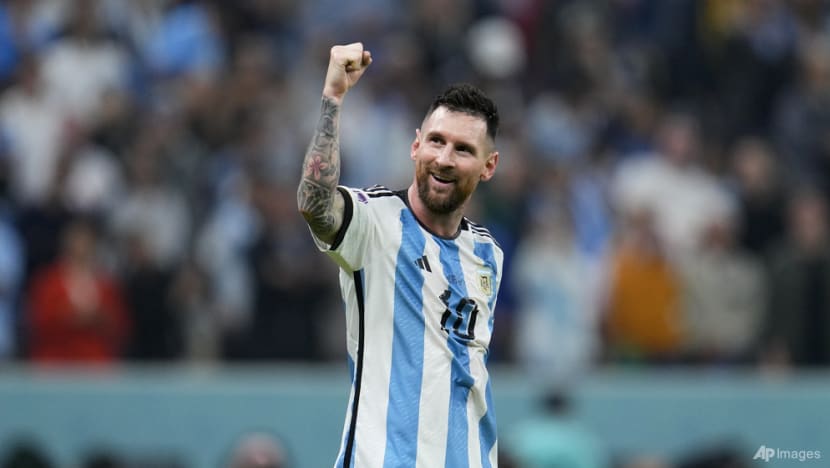 "FOR MESSI"
Footballer-turned-pundit Rhysh Roshan Rai, who previously played in the S.League (now the Singapore Premier League), said: "I would like to see Argentina come out on top because I want Messi to win the World Cup. That would be a lovely way to end the international career of one of the greatest players this planet has seen."
On Wednesday, Messi, 35, confirmed that the final on Sunday will be his last World Cup appearance. He is the joint top-scorer at this tournament, along with France's Kylian Mbappe, with five goals. 
"Messi is pure footballing brilliance," said Roshan, noting the player will be key to Argentina's chances.
"On a tactical level though, he can be difficult to pick up for the opposition defence because he tends to have a 'free role'. He's allowed to drift into different attacking areas and France will have to be switched on to that," he said.
"We've also seen Messi at times rolling back the years with his trademark dribbling. Just as he did with his assist for Argentina's third goal against Croatia. Took a young Gvardiol (Croatian defender) to school."
If Argentina emerge as World Cup champions, it will be their third win after 1978 and 1986. This is their sixth final.
For Singapore national team captain Hariss Harun, 32, Argentina are the favourites as "they would want to do it for Messi".
The Lion City Sailors player said that France will find the "collective spirit of Argentina" tough to overcome.
"They are like a bunch of seasoned fighters who seem to want to help Messi win the one honour that has eluded him so far."
Albirex Niigata head coach Kazuaki Yoshinaga added that Argentina as a country "is united in their desire to make him (Messi) the best in the world".
"It's his last World Cup and absolutely he is the best of two teams," said Yoshinaga, the Singapore Premier League Head Coach of the Year.
Another former footballer tipping Argentina to win the final is former Singapore striker and coach V Sundramoorthy.
Now the technical director of the Laos national football team, he said: "They have come back strongly after their opening-game defeat against Saudi Arabia and shown great improvement and character in reaching the final."
"Also the Messi factor. This might be his last World Cup and what a way to finish it by winning the tournament."
"A VERY DIFFERENT FINAL FROM 2018" FOR FRANCE
Despite Messi's brilliance, those whom CNA spoke to also said that Argentina will be up against tough opponents themselves, especially with star players such as Mbappe and Antoine Griezmann in the French side.
Said Hariss: "Mbappe is a game changer and Griezmann has reinvented himself in a deeper role. Griezmann is sure to have a big role and Argentina will have to try to rough him up - something the Argentines are good at."
Roshan added: "Mbappe has been the standout attacking threat. He's rapid, intelligent, great with the ball and causes all sorts of issues. 
"Argentina will need a plan to protect their right side as Mbappe plays off the left for France and has formed a good partnership with attacking fullback Theo Hernandez. Give Mbappe space and he will hurt you."
He also noted that France striker Olivier Giroud will be a threat in the penalty area with his presence, movement and finishing ability.
As for Yoshinaga, he said that although France do not have any big weaknesses, the team may feel the absence of their injured striker Karim Benzema.
"Argentina have a defensive problem, but so far they have played well as a team and understand it. The key point is whether they will be able to stop the French attackers, who are talented," he said.
Among those whom CNA spoke to, only Singapore national team coach Takayuki Nishigaya tipped France for the crown. And it is down to the team's consistency. 
"Having said that, anything can happen in a final and Argentina have momentum on their side so if they are able to rise to the occasion, they will have a chance too," he said.
"I don't think it's right to single out any particular players because I believe that the team performance is most important to winning in a final."
Apart from the final itself, the clash between two of the best players in the world - Paris Saint-Germain team-mates Messi and Mbappe - is also something many are looking forward to.
Sundramoorthy said: "Both have shown that they not only score goals but they play important roles in creating goals as well. It will be interesting to see both players at this biggest stage and I'm sure both players will put on their A-game in the final."
France's experience in the 2018 triumph will put them in good stead though, said Roshan, who pointed out that Les Bleus have in their squad a number of players from four years ago.  
That said, the "quality and fire" of Argentina, who have improved since their defeat to Saudi Arabia, will be something France must contend with.
He said: "It will be a very different final for France to the one against Croatia (in the 2018 World Cup final) four years ago."
And the outcome of the final could boil down to a stroke of genius, or a mistake. 
"That's where it will become spicy because both teams have enough quality to have a proper go at each other," said Hariss.
Sundramoorthy added: "Both teams are filled with top-class quality players. It's a matter of who can be patient and not make the first major mistake.
"Both teams also do not want to concede an early goal which will force them to chase the game."