Will buying carbon offsets really help to make your flight greener?
More than 50 airlines now offer customers the option to buy carbon offsets with their airfares. But does paying extra for your flight ticket do anything to help the planet?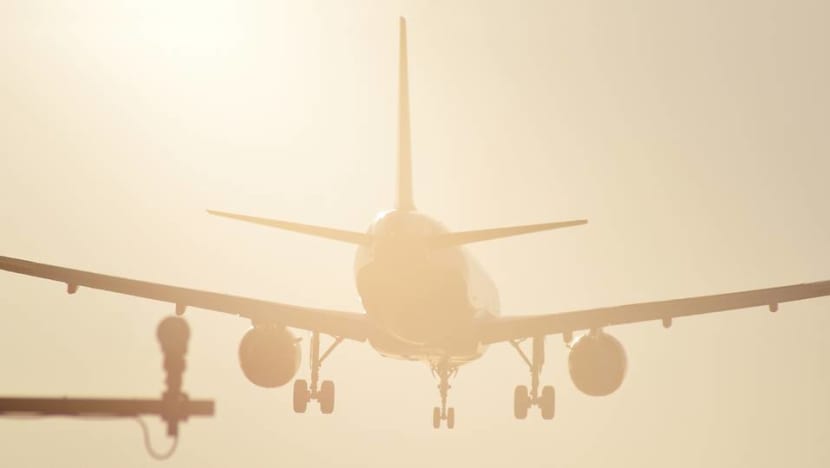 SINGAPORE: Even as airlines recover from three years of border closures and pandemic restrictions, there are growing calls for the industry to do more to address climate change.
Airlines are responsible for nearly 3 per cent of global carbon dioxide emissions, and more are offering climate-conscious travellers an option to reduce the environmental impact of their flight – by buying carbon offsets.
But does paying extra for your airfare have any actual impact on the planet?
HOW DO CARBON OFFSETS WORK?
In general, offsetting aims to mitigate the climate damage that carbon emissions cause by paying to prevent or reduce such emissions elsewhere.
This involves buying carbon credits – a permit or certificate that represents a reduction of one tonne of carbon dioxide emission – generated from verified environmental projects.
When a carbon credit is used to compensate for emissions produced elsewhere, it is "retired" or taken out of circulation, and becomes a carbon offset.
Singapore Airlines (SIA) is one of the carriers that give travellers the option to pay an additional fee for carbon offsets. Passengers can calculate their share of carbon emissions on the airline's website, and pay for the offsets using cash or frequent flyer miles.
For example, a passenger on a return economy class flight from Singapore to London can pay S$21.86 to offset 1,682.3kg of carbon dioxide emissions.
SIA said 100 per cent of these funds will go towards preserving rainforests in Indonesia, solar energy projects in India and distributing clean-burning cooking stoves in the rural parts of Nepal.
Other major airlines with similar carbon offset programmes include Cathay Pacific, Qatar Airways, Lufthansa and All Nippon Airways.
In total, more than 50 airlines – including half of the world's 20 largest carriers – currently do so, according to figures from Geneva-based industry association Air Transport Action Group.
"VERY LOW" TAKE-UP RATE
But with these carbon offset schemes being voluntary, the take-up rate has been low, experts said.
"Uptake varies according to the airlines, but typically it is very low – under 5 per cent of passengers choose to offset their emissions through the airlines," said Air Transport Action Group executive director Haldane Dodd.
Other experts that CNA spoke to were not surprised, noting that most consumers would likely perceive this to be an additional cost eating into their travel budgets.
Rising airfares and inflation fears have made travellers even more cost-conscious, even as the pandemic has raised awareness about green consumption, they added.
James Cook University Singapore's campus dean Abhishek Bhati said a growing number of tourists – typically younger consumers between the age of 18 and 35 – now want greener holidays.
His ongoing research on post-pandemic travel shows about 40 per cent of respondents are open to the idea of paying more for carbon offsets and other sustainable travel options. But that figure drops to one-quarter when it comes to actual behaviour.
"It may vary a little by demographics but in general, people do reconsider their options when it has a negative impact on their pockets," said Professor Bhati.
The low take-up rate undermines the effectiveness of the schemes, with the amount that is offset likely making up a "very small" portion of the airlines' overall emissions, said Nanyang Technological University's (NTU) associate professor for accounting Kelvin Law.
"The intention (of these programmes) is good but the actual impact remains doubtful."
SCEPTICISM ABOUT CARBON OFFSETS
There is also scepticism about carbon offsets in general, given the challenges in verifying the actual impact of the climate action projects.
In the case of a tree-planting project that pledges to restore forests, Prof Bhati said the monitoring process will stretch across years, starting from the planting of the trees to ensuring the trees are well taken care of and not destroyed in the event of policy changes or natural disasters.
It will take a long time before these newly planted trees can act as a carbon sink – where the removal of carbon from the atmosphere exceeds the amount of carbon released – to truly offset the carbon emitted, he added, noting that gaps in the monitoring process might surface and hamper results.
Adding to the uncertainty are scathing reports claiming that the market is flooded with "junk" carbon credits.
One such report emerged last year, which said Europe's leading airlines are relying on "cheap and low-quality" forestry projects in developing countries, which have "uncertain benefits for the climate and no guarantee of permanence" for their offsets.
The report, commissioned by non-profit group Carbon Market Watch, also said the offset prices were "way below the true cost of emissions reductions" for the sector, and that airlines have provided "a misleading signal" about carbon offsets.
More recently, the Guardian reported that 94 per cent of forest carbon offsets approved by leading standards body Verra could be "phantom credits" with "no benefit to the climate".
Verra has since disputed the report, arguing that conclusions reached by the study are incorrect and questioning the methodology used.
All these are not being helped by the little information released by airlines on their carbon offset programmes, experts said.
While airlines generally provide information about the climate projects they support, most do not make public other details such as take-up rates and total contributions from passengers.
"I'm not sure it is really clear to the customer about the benefits of buying carbon offsets from airlines," said NTU's Assoc Prof Law.
"If you look at the annual reports of these airlines, they rarely disclose, for example, the allocation of the money like how much is going into individual projects and actual results."
Being more transparent will go some way in quelling scepticism, he added.
WHAT AIRLINES SAY
When contacted, SIA said its voluntary carbon offset scheme has had "a positive response" since it was launched in mid-2021. But the airline declined to reveal details such as take-up rates, which are "commercially sensitive information".
The national carrier also described the carbon offset projects it selected as "high-quality" and having "a proven and measurable impact". It did not respond to a subsequent question asking for details about this impact.
Carbon offsets are part of SIA's commitment to achieve net-zero emissions by 2050. Other efforts include the use of sustainable aviation fuel and eco-friendly packaging for in-flight meals, as well as operating a young fleet of aircraft which it has said remains the "most effective and direct way" to cut carbon emissions.
All Nippon Airways did not address queries related to the take-up rate and total monetary contributions of its carbon offset scheme, but the Japanese airline said it is "aware of the criticism" related to offsetting initiatives.
This is partly why it launched a programme two years ago to promote the use of sustainable aviation fuel. It also has a long-term target to "gradually replace activities (that) offset carbon dioxide emissions with more substantial and effective solutions to reduce emissions" by 2050, its spokesperson told CNA.
Other solutions it is exploring include the use of negative emission technologies, sustainable aviation fuel and other potential clean energy.
Another airline that responded to CNA's queries is Cathay Pacific, which said its Fly Greener programme managed to offset a total of 27,280 tonnes of carbon emissions produced by its operations in 2021.
Of which, 3,282 and 16,236 tonnes were offset by individual and corporate customers respectively.
Since the carbon offset scheme was launched in 2007 – starting with passengers before being extended to cargo customers last year – the airline has purchased more than 300,000 tonnes of carbon offsets.
As the airline takes "all reasonable steps" to mitigate its environmental impact, Cathay Pacific also noted that it is focusing on areas where its "impact is the greatest", namely cutting air and ground carbon emissions and more conscious use of resources.
"Our goal is to transition to net-zero carbon by 2050 through investment in a modern fleet, operational improvements, and sustainable aviation fuel use," said Cathay Pacific's regional general manager for Southeast Asia and Southwest Pacific Dominic Perret.
Elsewhere in the industry, a handful of carriers like Britain's EasyJet have dropped carbon offsetting schemes to focus on other initiatives.
STILL A "PART OF THE SOLUTION"
Air Transport Action Group said it has always viewed carbon offsets "as an important, but temporary solution" for air travel emissions as longer-term mitigation options are being scaled up.
Experts who spoke to CNA also agreed that carbon offset programmes need not be scrapped entirely.
National University of Singapore's (NUS) Professor Koh Lian Pin, for one, said carbon offsets remain "an important part of the solution" given how sustainable aviation fuel and other new technologies are not yet commercially viable.
In the meantime, airlines can do more to promote carbon offsetting programmes.
This includes better communication strategies to help consumers understand these schemes and being more transparent about progress and results.
"Airlines can provide some scenarios. For example, if 10 per cent of customers pick up on this scheme, this is what will happen. If more people do the same, then the effectiveness of offsetting emissions goes up to this," said Prof Koh, who heads the Centre for Nature-based Climate Solutions at NUS.
"Communication about what these measures are and how more participation can improve outcomes is helpful. Having more information on the progress will also be useful so that people can be more encouraged to contribute to something that is working," he added.
Rolling out incentives – be it discounts or even access to airport lounges – will also help to convert some "fence sitters", said Prof Bhati.
"There are many ways of incentivising and it's not going to be very much damaging to the airline's bottom line, but what it will do is it will create a growing body of travellers who will be more receptive to sustainable efforts."
Travellers can also do their part by asking for more information.
"Be sceptical and ask for data. If they are asking consumers to pay, consumers should have the right to request for more information," said Assoc Prof Law.
You may also be interested in: