Commentary: Revenge travel wreaks havoc on more than just airports
Even with revenge tourism in full swing, people in Southeast Asia are growing more aware of its environmental impact. JCU Singapore's Abhishek Bhati lays out ways for travellers to lighten their carbon footprint.
SINGAPORE: Air travel is making a comeback. Singapore's Changi Airport is seeing passenger traffic at 50 per cent of pre-pandemic levels, while airports in Europe have crossed the 80 per cent threshold.
But the aviation sector is struggling to meet surging demand as major airports worldwide are plagued by endless queues at counters and pandemonium at baggage carousels. Some like London's Heathrow had to impose caps on departing passengers to manage the chaos.
This revenge travel can be attributed to pent-up demand as holidaymakers try to make up for lost time. It has strained resources not only in aviation, but hospitality and related service industries.
Besides causing headaches for customers and companies, revenge travel is bad news for our warming planet. COVID-19 grounded planes to an unprecedented extent in 2020, resulting in huge drops in flight-related carbon emissions.
The International Energy Agency said emissions from international aviation fell almost 45 per cent from 2019 to 2020 – a decline comparable to taking 100 million cars off the road.
History suggests the rebound in travel we're seeing now will be accompanied by an increase in carbon emissions. During the Great Financial Crisis of 2008, air travel emissions declined by up to 7 per cent. But as the economy recovered in 2010, emissions rose 6 per cent, wiping out any gains made for the climate.
But even as the travel-starved among us take to the skies, people in Southeast Asia are becoming more eco-conscious. Google searches related to sustainability have increased this year by 45 per cent since 2019, while searches related to greenhouse gas emissions jumped 163 per cent in Singapore and 156 per cent in the Philippines.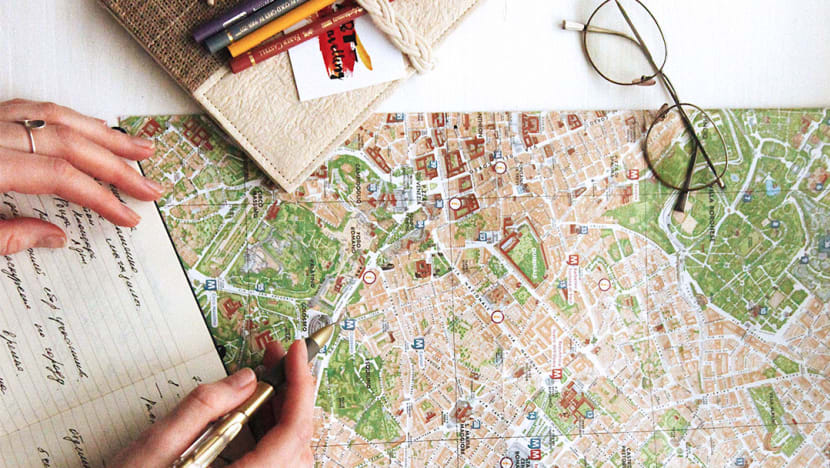 Studies show tourists are willing to fork out more to travel sustainably too. A survey published in 2021 found that more than half of visitors to a small Indonesian island were willing to pay up to US$7.50 extra per night for hotels certified as green.
So how can we minimise the environmental impact of our post-pandemic adventures abroad?
CHOOSE REGIONAL DESTINATIONS
An easy way to minimise the carbon footprint of your holiday is to minimise travel time. That would mean choosing nearby destinations when planning a trip.
According to the International Civil Aviation Organization's carbon emissions calculator, a round trip from Singapore to London generates 933kg of CO2 (carbon dioxide) – which is roughly an eighth of an average Singaporean's annual carbon footprint.
In contrast, a round trip to Bangkok produces 183kg of CO2. While emissions per kilometre travelled in short-haul flights typically exceed that of long-haul flights, less time spent in the air equates less carbon pollution overall.
How you fly also determines how much you emit. According to UK government data, in comparison to an economy-class passenger, a business-class passenger emits three times more CO2 per kilometre travelled, while a first-class passenger emits four times more. Upgraded seats take up more space, so account for a larger portion of the plane's pollution.
Other perks of regional getaways include saving money, travel time and jetlag. If you are keen to visit a faraway place, consider an extended holiday and commute to other cities by public transport during your stay.
CONSIDER OTHER WAYS TO TRAVEL BESIDES FLYING
Besides where you travel, how you choose to travel also matters. While comparing emissions of different transportation modes is not straightforward due to variants like vehicular efficiency, passenger load and fuel types, generally planes are the heaviest emitters and trains the lightest.
As reported by The Sunday Times in 2019, a flight from Singapore to Kuala Lumpur produces 62kg of CO2 per passenger. A Toyota Prius generates 10kg of CO2 per person, assuming there are four passengers in the car, and the same figure applies for a bus of 30 passengers.
At the leanest end of the spectrum, a passenger who travels to KL by train only emits 0.8kg of CO2. But they would have to hop on three different trains to get from Woodlands to KL Sentral, which could take up to eight hours in total.
The carbon savings from commuting to Malaysia by train could therefore be substantial. That Malaysia and Singapore are now discussing the possibility of reviving the terminated KL-Singapore High Speed Rail project is cause for hope.
Meanwhile, other travel options beyond road and rail are opening up in the region, such as the ferry service between Singapore and Desaru launched on Jul 7. While the maritime industry is also identified as a heavy polluter, these transport alternatives present their own opportunities for decarbonisation, which could be realised sooner rather than later as more travellers grow aware of their carbon footprint.
CHANGE MUST BE INDUSTRY-LED TOO
Because we've been deprived of travel the past two years, it seems onerous to limit or inconvenience ourselves for the sake of sustainability. We might even wonder what's the point, when a recent study reveals how much more celebrities contribute to global warming by flying on private jets – with Taylor Swift identified as the worst offender.
Indeed, private jets emit more greenhouse gases than the whole of Denmark each year – so what difference can regular people like us really make?
This is why travel's decarbonisation must be industry-led too.
Several airlines now inform passengers of their flight emissions and nudge them to buy offsets, sometimes bearing part of the cost. But critics say carbon offsets are a form of greenwashing, since they allow airlines to continue polluting without meaningfully decarbonising their operations.
One of the most viable ways to slash planes' emissions is through sustainable aviation fuel (SAF), a biofuel cleaner than conventional jet fuel. Airlines like ANA and Cathay Pacific have adopted 10 per cent SAF targets by 2030, while Singapore Airlines and Scoot will offer customers the option to purchase SAF credits, which go towards supporting the fuel's adoption and development.
More can certainly be done. Observers had once suggested that the pandemic would prompt the retiring of fuel-inefficient aircrafts – but cash-stripped airlines may defer the decision today when demand for travel is still peaking.
Professor Abhishek Bhati is Campus Dean at James Cook University Singapore whose research interest is in tourism. His current work involves post-pandemic travel and new tourism genres that keep pace with technology and the sustainability agenda.