Commentary: Singapore Changi Airport recovery leading in Asia but lags global standards
Changi Airport is recouping its pre-pandemic passenger traffic faster than expected but is still behind peers in other regions. Full recovery could take a few years, says aviation analyst Brendan Sobie.
SINGAPORE: As travel swung back into action during the June and summer holidays, the recovery of Singapore's aviation sector has been faster than expected, enabling Changi Airport to emerge as the Asia Pacific leader for international passenger traffic.
But while the outlook for continued recovery in the second half of 2022 and beyond is bright, Changi will continue to lag behind airports in other regions. A full recovery is unlikely until at least 2024.
Changi handled 2.93 million passengers in June, representing 50 per cent of June 2019 levels and easily making it the largest international airport in Asia Pacific.
This marks the first time during the pandemic that Changi reached 50 per cent of pre-COVID traffic levels. It was also achieved six months ahead of the year-end 50 per cent recovery target, set in March by the Civil Aviation Authority of Singapore.
Singapore is the first Southeast Asian market to achieve a 50 per cent international recovery, boosted by strong pent-up demand, particularly in the outbound segment as many Singapore residents have started travelling again.
In comparison, in June international passenger traffic at Manila Ninoy Aquino International Airport (NAIA) was at 42 per cent of 2019, Bangkok Suvarnabhumi Airport at 35 per cent, Kuala International Airport (KLIA) at 30 per cent and Bangkok Don Mueang Airport at 11 per cent.
Changi, followed by Suvarnabhumi, KLIA, NAIA and Don Mueang were Southeast Asia's five largest international airports prior to the pandemic.
Beyond Southeast Asia, Changi has become the largest international airport in Asia Pacific by far, followed by Suvarnabhumi and Seoul Incheon Airport. Suvarnabhumi handled 1.4 million international passengers in June, less than half of Changi's throughput. Incheon handled 1.3 million international passengers in June or 21 per cent of 2019 levels.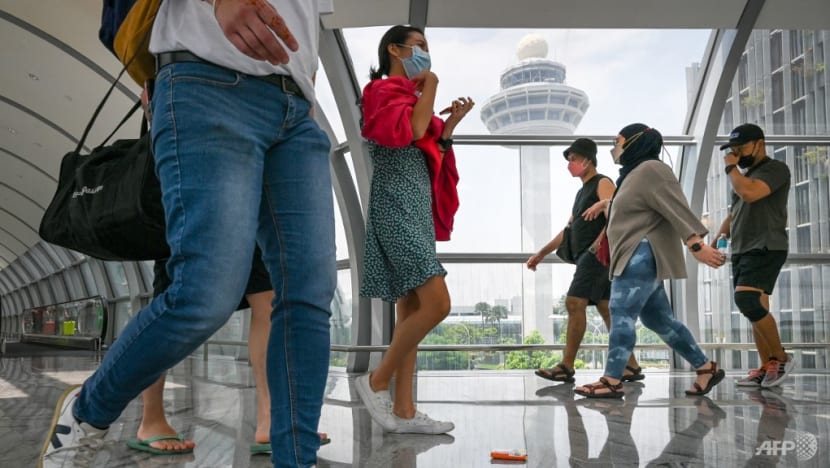 CHANGI LAGGING BEHIND MAJOR INTERNATIONAL AIRPORTS
While Singapore's recovery is impressive by Asia Pacific standards, it is significantly slower than that of major international airports worldwide.
For example, Istanbul Airport's international passenger traffic was at 103 per cent of 2019 levels in June. Istanbul Airport handled about 1.5 million more international passengers than Changi this June, while in June 2019 Changi handled about 1.5 million more international passengers than Istanbul.
Globally, international traffic is now at about 70 per cent of 2019 levels. Other regions have recovered faster than Asia Pacific due to a much earlier and broader reopening.
They also rely significantly less on Greater China, a massive market for most Asia Pacific countries that is still closed. Greater China accounted for nearly 20 per cent of Changi's traffic in 2019.
SLOWER RECOVERY HAS BEEN A BLESSING
However, the slower recovery in Singapore and Asia Pacific has been somewhat of a blessing as it has provided airports in this region with more time to resolve manpower constraints.
For example, London Heathrow traffic shot up from 44 per cent of 2019 levels in January to 83 per cent in June, resulting in more than 3 million additional million passengers per month the airport was not staffed to handle.
Amsterdam Schiphol, another airport that has been struggling to cope with surging demand, saw a spike of nearly 3 million monthly passengers from February to May with traffic reaching 81 per cent of 2019 levels in May and June.
Schiphol and Heathrow have both started to cap flights to avoid further increases in traffic that would further degrade already poor service standards.
Thanks to government measures including wage and training support during the pandemic, Singapore's aviation sector maintained relatively high headcount despite meagre traffic levels. While there were job cuts, particularly involving foreign workers, and significant attrition as some Singapore citizens joined more attractive industries, the aviation manpower shortage in Singapore has not been as severe as other countries.
Changi also has been able to avoid the chaotic scenes of international airports in other regions due to some flights being retimed to off-peak hours and some airlines not being able to add as many flights as desired.
Fewer flights and retimings result in more even distribution of traffic and higher service standards, allowing Changi to maintain relatively short check-in queues and wait times for bags upon arrival. Both metrics have suffered in recent months but to a smaller extent compared to other airports.
But these measures also have their downsides. When airlines cannot add as much flights as desired, consumers face higher fares due to the resulting supply-demand imbalance.
Retimings also inconvenience some passengers, creating unideal scenarios such as 4.30am departures from Penang or 12-hour layovers at Doha.
OUTLOOK FOR SIA GROUP AND CHANGI IS BRIGHT
Load factors (the percentage of seats filled in a plane) have been unusually high due to this imbalance and air fares, particularly for last second travel, have skyrocketed as there are so few seats available on many routes.
In June, Singapore Airlines (SIA) reported its best monthly load factor in its history, at 87.8 per cent, beating the prior record of 87.5 per cent from December 2019.
Yields or average fares have been significantly higher than prior to the pandemic, driving a return to profitability for the SIA Group in the June quarter.
SIA Group, which comprises SIA and Scoot, passenger traffic was at 60 per cent of 2019 levels in June and 55 per cent for the June quarter. This is significantly higher than the 50 per cent and 44 per cent recovery rates respectively for Changi.
The higher rate of recovery for SIA and Scoot compared to Changi overall is due to a slower ramp up in capacity by foreign airlines.
Throughout the pandemic, the SIA Group had much higher levels of capacity than foreign competitors due to strong government support, enabling a high number of flights despite weak demand and very low load factors.
This put SIA Group at a competitive advantage after borders reopened, as it had significantly more capacity already in place than competitors, enabling it to fill empty seats to meet surging demand.
Foreign airlines are now gradually increasing their capacity at Changi and should eventually close the gap with SIA.
Overall capacity will also at some point catch up with demand, leading to more normal air fares, although this could take several months.
The increases in capacity are possible as manpower and terminal constraints gradually ease.
Changi's terminal capacity will increase with the reopening of Terminal 4 in September and half of the Terminal 2 departure hall in October. Some of the Terminal 2 arrival hall has already reopened but departures are currently limited to Terminal 1 and Terminal 3, impacting Changi's ability to add flights, particularly during peak hours.
The peak year-end travel season could lead to another surge in demand, but capacity by then should be significantly higher. With more flights added before the holiday season, Changi traffic could reach up to 70 per cent of 2019 levels in December.
Changi should have the distinction of being the largest international airport in Asia Pacific for 2022 with traffic for the year at 50 to 60 per cent of 2019 levels, but its spot in the global rankings will be well below where it was pre-pandemic due to the faster recovery in other regions.
In 2019, Changi was the seventh largest international airport in the world and the third largest in Asia Pacific behind Hong Kong International Airport and Seoul Incheon. In 2021, Changi was not even in the top 20.
The outlook for the remainder of 2022 and 2023 is bright, particularly in the Asia Pacific context. However, Changi will not be able to recover fully without the reopening of China and will likely still be at around 80 per cent of 2019 levels in 2023, while some of its peers in other regions have already reached or are now approaching 100 per cent.
Brendan Sobie is the founder of Singapore-based independent aviation consulting and analysis firm Sobie Aviation.