CNA Explains: Airport chaos around the world and how to avoid it
If you are travelling soon, take note that there may be long queues at some major airports. Here's why and what you can do to be prepared for the wait.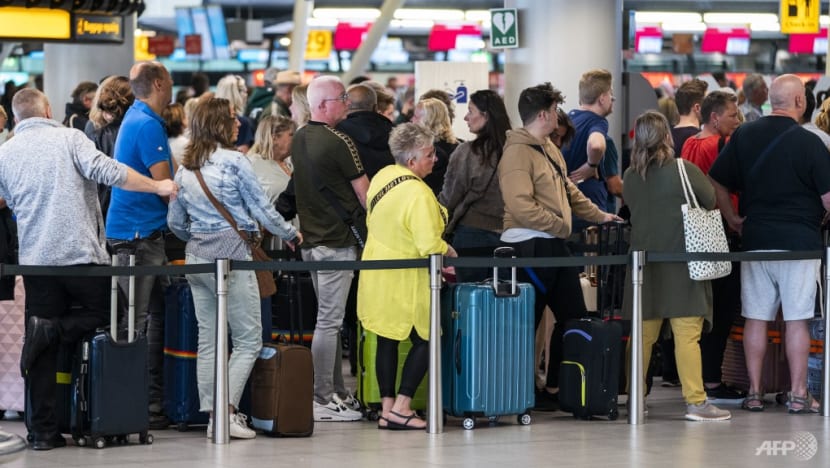 SINGAPORE: From Melbourne to Manchester, and from Toronto to Turin, many airports around the world are struggling to cope with the explosion in demand for air travel as COVID-19 restrictions ease.
But passengers at several major airports have complained about snaking queues at check-in counters and immigration.
With the summer season holiday crowd descending on countries in the northern hemisphere, aviation experts have warned that there may be more chaos at some airports. 
Here is where the crowds are building and how you can best cope with the inconveniences as you gear up to fly again.
WHERE IS THIS HAPPENING?
Amsterdam's Schiphol Airport has been grappling with overcrowding for weeks due to a shortage of security staff, according to Reuters reports.
Last week, Dutch carrier KLM was forced to cancel dozens of flights into its hub, which is Europe's third-busiest airport, in order to alleviate congestion there.
On Tuesday (Jun 7), Spain announced the hiring of 500 additional police to staff passport control at busy airports and tourist destinations around the country including in Madrid.
Spain's interior minister attributed reports of congestion at airports to multiple flights arriving at the same time.
On Wednesday, British Airways, easyJet and Ryanair cancelled flights between Italy and the United Kingdom as a result of air traffic controller strikes at a number of Italian airports, the Liverpool Echo reported.
On Wednesday evening, German flag carrier Lufthansa and its subsidiary Eurowings said they were cancelling more than 1,000 flights in July, or 5 per cent of their planned weekend capacity, due to staff shortages.
The company said in a statement that it had seen a jump in demand as the pandemic has eased, which "after the most severe crisis in aviation is good news".
However, it added that the infrastructure has not fully recovered, leading to "bottlenecks and staff shortages" in Europe, hitting airports, ground services, air traffic control and airlines.
On Thursday, strikes at Paris' main Charles de Gaulle Airport led to a quarter of flights being grounded, with runways closed and passengers delayed.
Around 100 flights were scrapped in total after workers went on strike to demand higher wages.
At Dublin Airport, there were massive queues and a suspension of new bookings for a VIP service, reported news website Independent.ie this week.
Similar scenes of snaking queues at bag drops and at airside security were also seen last week at London's Heathrow Airport, reported ITV News.
In Australia on Friday, travellers thronged airports in Melbourne and Sydney as a long weekend for the Queen's birthday public holiday got under way.
ABC News reported that crowds had "returned to pre-pandemic levels", with about 97,000 people expected to pass through Melbourne Airport on Friday alone – the airport's busiest day since the start of the pandemic.
According to the ABC, Sydney Airport currently has 5,000 vacancies and will be holding a job fair to fill some of them next week, ahead of the school holidays.
Melbourne Airport is also facing a shortage in staff, notably in baggage handling, the ABC added.
Although airports in the United States have largely avoided the heavy congestion seen in Europe, a staffing crunch has forced airlines to cancel flights and cut down their summer schedules.
Alaska Air Group had to cancel 4 per cent of its flights last month because of staffing issues, while Delta Air Lines, which cancelled about 700 flights over the four-day Memorial Day holiday at the end of May, plans to cut flights through August, Reuters reported.
Canada's busiest airport, the Toronto Pearson International Airport, is allowing some of its staff who have yet to obtain their badges to work temporarily under supervision by vetted employees, said Tori Gass, a spokeswoman for the Greater Toronto Airports Authority.
The temporary pass is in response to the large volume of appointments for restricted area identity cards, Gass said. It takes roughly 45 days to get the cards.
Pearson is struggling to cope with planes stuck at gates and hours-long security lines due to staffing shortages.
The country's largest carrier Air Canada cancelled almost 10 per cent of flights from the airport during the first week of June, according to data from Cirium, an aviation analytics company.
Air Canada told Reuters that its overall flight completion rate remains high, and a combination of factors, including air traffic control limitations have "forced airlines to cancel flights".
WHY IS THIS HAPPENING?
The situation can be broadly blamed on a general shortage of staff across the world's airports, following heavy layoffs during the pandemic.
But the chaos has in many cases been exacerbated by strikes as cabin crews make a case for higher pay due to inflation.
While budget carrier Norwegian Air reached a wage deal with the Norwegian union representing pilots for 2022 and 2023, crews from three budget carriers including Ryanair, staged a walk off on Wednesday, reported Reuters.
Bloomberg also reported on Wednesday that Ryanair's cabin crew across five countries – Belgium, France, Italy, Portugal and Spain – may go on strike later this summer.
On Thursday, about 1,000 SAS pilots in Denmark, Norway and Sweden said that they could go on strike from late June.
Beyond air crew, ground staff and members of essential services at airports have been on strike as well.
A firefighters' strike forced the closure of two of Charles de Gaulle Airport's four runways between 7am and 2pm on Thursday in accordance with safety procedures, airport operator ADP said.
In total, around 800 striking workers protested outside the airport demanding a pay rise of €300 (US$320) following job cuts caused by the pandemic.
"We've been understaffed for two years and the wages haven't kept up," said Oumar Aw, who works for an Air France subcontractor.
ADP, whose staff took pay cuts to survive the pandemic, has said that salary negotiations with the trade unions will take place from Jun 14.
Amsterdam's Schiphol Airport, meanwhile, is raising wages for staff while Dublin Airport and London's Heathrow Airport have stepped up recruitment of screeners.
HOW SHOULD I PREPARE?
Based on Melbourne Airport's advisory, the simplest solution is to arrive earlier than usual for your flights – but not too early.
"With the long weekend upon us, we ask that passengers arrive at least 1 to 2 hours prior to a domestic flight and 2 to 3 hours for an international flight," the airport said in a Facebook post on Friday.
"Keep in mind that some airlines don't open check-in until two hours before a domestic departure and three hours prior to an international flight, so being at the airport before that could mean an unnecessary wait."
With the multi-hour queues reported at airports like Schiphol recently, however, arriving an hour or two early may not always be good enough, so be sure to follow updates from airports on their official social media channels before your flights.
Some airlines expect to see proof of COVID-19 vaccination status and other documentation before allowing passengers to check in, so having all your paperwork in order will help smoothen the process.
Finally, be prepared for flight delays and cancellations. Leave enough leeway in your travel schedule and purchase insurance to cover any additional costs incurred from such eventualities.