Fighting the tides: Maldives races to reclaim more land as sea levels rise
Some have advocated for alternative solutions to be looked into, given that land reclamation is not without downsides.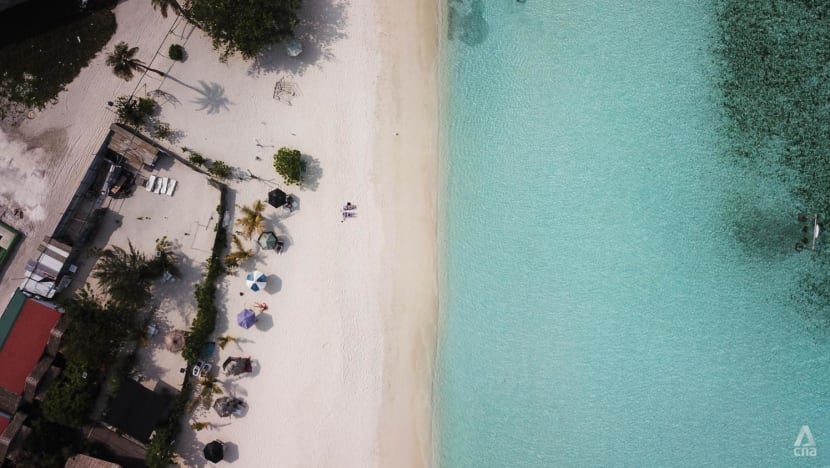 MALE: It only takes a few minutes on a speedboat from the docks of the heaving Maldivian capital before the iconic colours of this island nation come into view.
The intensity of the azure water is almost unreal. This is postcard Maldives.
And amid this shimmering seascape, new islands are emerging. 
One, for a future resort, is already dotted with palm trees that will decorate walkways for guests and line a pure white but artificial beach. Another is crammed with diggers and construction workers putting together the foundations of buildings.

In the quest for more land, reclamation projects like these are abundant throughout the Maldives. 
As these islands form - from sand dredged up from lagoons and seabeds - others fall away.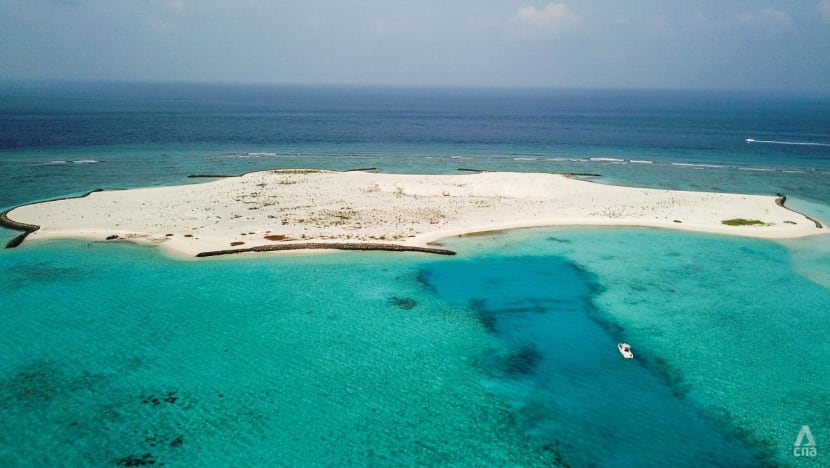 Most of the country's 1200 islands are under threat from rising sea levels and being slowly swallowed by the waves through erosion. 
Building to ensure safety has become ingrained as a survival tactic in one of the most vulnerable places to climate change. 
Sea level rise is a problem for the entire world due to global warming, which causes glaciers to melt and the expansion of water in the ocean. 
For the past half a century, sea levels have been rising at an accelerating rate, the fastest in 3,000 years. 
Over the last decade, the rate has been about 4mm per year and for low lying states like the Maldives, the situation is already alarming.
Coastal flooding and storm surges will become even more common as temperatures increase.
"Even an incremental increase in sea level rise poses significant challenges for us," Aminath Shauna, the Maldives' Minister of Environment, Climate Change and Technology told CNA.
"Our coral reefs (are) bleaching and all the islands in the Maldives have run out of freshwater. And we face increased severity of storms, our islands are getting flooded more and more, and the weather has become more extreme," she said.
"I want people to know that we are actually living. We are experiencing the realities of the impacts of climate change on a daily basis."
It is on the small islands where the effects are already impeding people's daily lives.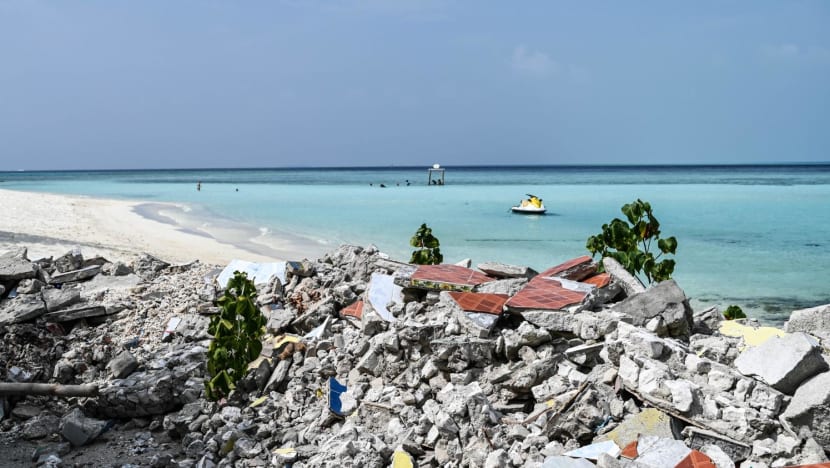 WAVES ARE RISING HIGHER
On the island of Gulhi, home to close to 1,000 people, the climate challenges are front and centre. 
Just metres from the island's famed "Bikini Beach", a popular spot for tourists, the coastline has been left ragged. Skeletal roots of mangrove trees entangle with a haphazard trail of discarded construction materials that are now being used to keep the waves at bay.
"During the rainy season or sometimes in the summer season when the tide's much higher, these waves come in completely. This area I'm standing now also will be underwater actually," said Mohamed Raisan, the secretary general of Gulhi Council.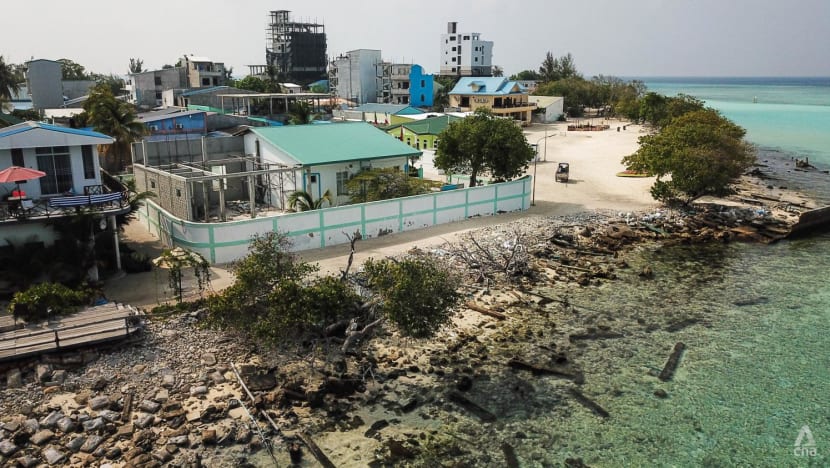 "Our hospital is right next to us and sometimes the salt water is affecting it. Even the waste goes inside the hospital as well.
"We ask locals to dump this construction waste to kind of minimise the problem, but it doesn't fully eradicate it. And now the government and the council are trying to actually reclaim this whole area," he said.
Their plan is to more than double the original size of Gulhi through a massive reclamation project. The outcome will be two-fold - more room to live and develop as well as increased safety from the rising tide.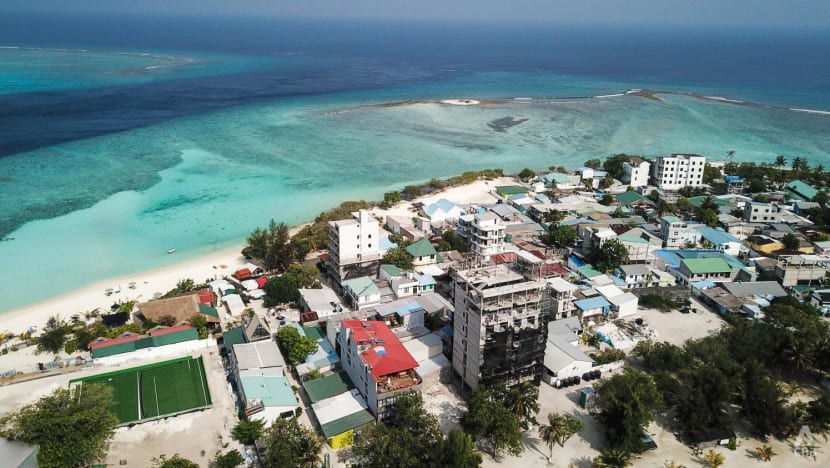 It is exactly the playbook the national government has used to expand land around Male, which is the most densely populated capital city in the world.
Twenty-five years ago, it embarked on an ambitious project of "conjuring up land from the lagoon", to eventually house 240,000 people in a smart, safe city, called Hulhumale, which is now connected by bridge to Male.

The second phase of Hulhumale is still underway. For a country so land-deprived, the new island where tall apartment buildings are being constructed, flanked by long artificial beaches, is notable for its vastness.
The Housing Development Corporation (HDC), the government-owned enterprise charged with managing the project, previously branded the project the "City of Hope". The area has been raised 2m above sea level, an attempt to minimise the risks of flooding and coastal inundation and protect its infrastructure.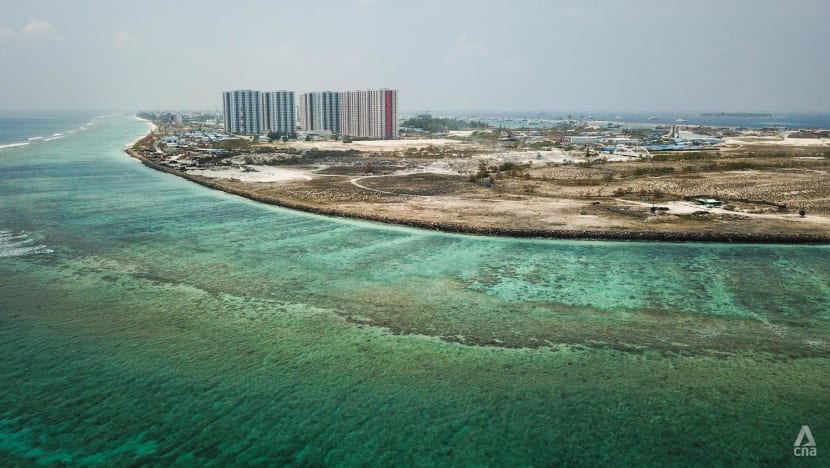 Previous mistakes made in Male to reclaim close to the surrounding reefs have not been repeated in order to avoid high swells impacting the city.
It is symbolic of the anxiety of climate change and such measures are being made right across the atolls as new islands are reclaimed from the sea.
"We can only take steps from what we know and what we can foresee at this given time. I would say Hulhumale is a very, very safe place," said HDC's managing director Suhail Ahmed.
"But what we don't know is how much sea level rise we are going to get within the next 50 or 100 years."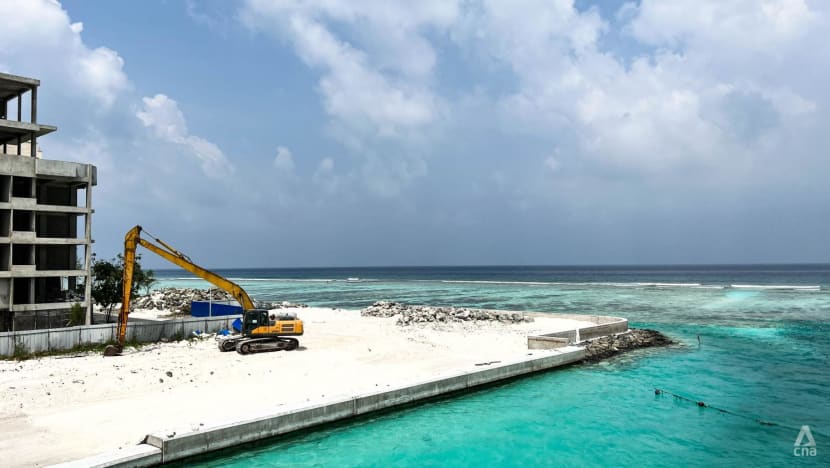 LOOKING FOR ALTERNATIVES
Despite the merits of land reclamation - for climate adaptation and economic and social reasons - there remains strong opposition to the manner in which projects are done in the country.
Building new land is fundamentally reshaping nature. It impacts coral reefs, tidal flows, marine life and vegetation. This can push the problem of erosion to new areas instead of solving it.

"We find a lot of projects designed and implemented in a lot of these islands that destroy the natural barriers to climate change. And one of the main issues that we find with it is the fact that people are not consulted in any of these processes," said Sara Naseem from Transparency Maldives.
"Quite often, these projects are designed in a way that it actually makes the islands more vulnerable to climate change. And so while we raise funds to increase the resilience of the islands, while we raise funds to protect our mangroves and our wetlands, you also find that mangroves are destroyed in another part of the island and coral reefs are destroyed for reclamation projects."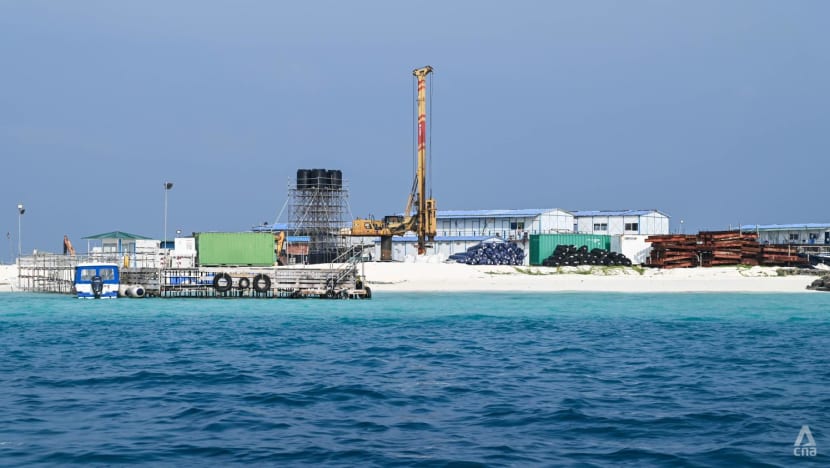 The government is adamant that its environmental protections and assessments are sincere, with the resilience and prosperity of people central to decisions being made. There are also economic considerations - climate change is proving extremely expensive for this small nation.
"It's a double edged sword for us. And when we think about reclamation, we also know that countries like ours, our reefs, our marine resources, of which we have very much depended on, are impacted because of reclamation," said Shauna the minister. 
"But at the same time, we also need land, we also need higher ground for us to continue to live on these islands.
"We need to use a mix of hard engineering and soft engineering solutions. To protect our islands, we need to look for ways to raise the level of our lands as well, which also means finding ways to increase our land and think of ways to protect the population and people who live on these islands."

She said that about 35 per cent of the national budget is currently spent on coastal protection and flood prevention. 
"Because of climate change, we are having to invest heavily. Resources that otherwise could have been spent on education, the health sector, transport, and other development needs are now having to be reallocated and reprioritised to spend on coastal protection, flood prevention measures and the provision of water and sewage services."
Naseem of Transparency Maldives argued that a bigger national discussion needs to happen - about the viability of continuing to rely on building to safety instead of putting more resources into less impactful adaptation measures.
"Do we need destructive projects that build more land for these islands? Or do we really need sustainable development that increases the resilience of these people and island communities?
"Building to safety might just be a race that we can never quite complete against sea surges and rising sea levels. And so looking at other ways we can sustainably develop islands and increase the resilience of these islands is more important. And currently, there's also a lack of research that's done here," she said.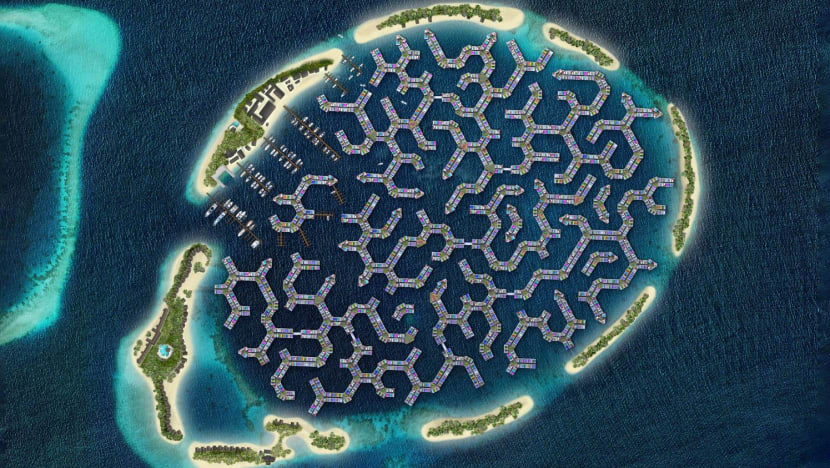 LIVING ON THE WATER
There are some who think land reclamation could become a thing of the past, with innovation that will forever change the way Maldivians live.
Being close to the ocean has - naturally - been etched in the country's DNA. Now, one development wants thousands to, literally, live on it.
Maldives Floating City, which remains presently still a concept project, promises within just a few years to house 15,000 people on floating concrete modules that connect like Lego blocks in a lagoon close to Male.

It might look like science fiction: A colourful spiral design of thousands of homes alongside sandy roads and palm trees, powered by renewable energy and a modern sewage system. But the company behind it is adamant that the technology will work and that it is both commercially and environmentally viable.
"Land reclamation is not done for fun. It is an absolute necessity in this moment, because you can't tell the people that you can't expand. So that has been very difficult to manage," said Ibrahim Riyaz, the director of the project, which is a Dutch Docklands development.
"The curiosity is there from the people if there is another way of doing it, but still we haven't demonstrated it yet. So we believe that this project is going to actually bring that to the people. Seeing is believing here.
"From all kinds of studies we have done, this is cheaper than reclamation. And then of course, remember that the impact is less," he said.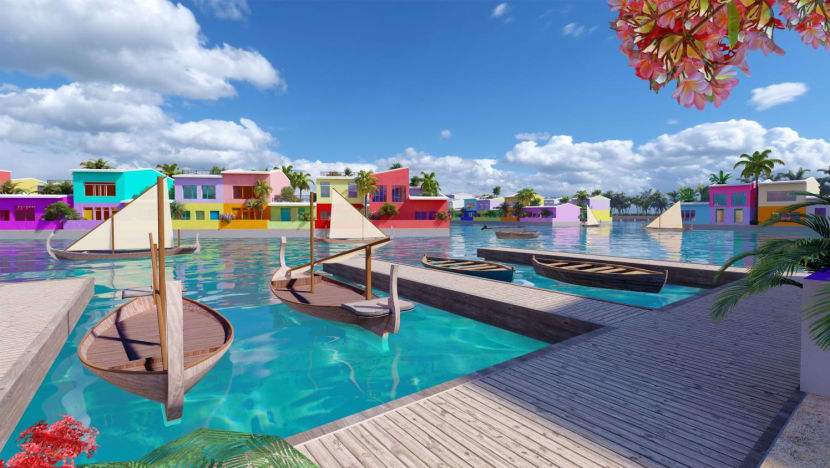 The moored housing modules are designed to move up and down with the tide, giving flexibility in the event of storm events, and future proofing against sea level rise.
The project plans to release prototype housing this year. There are grander designs to build floating airports, golf courses and harbours around the world, if the enterprise proves to be a success.
Living so close to the water is natural for Maldivians, Riyaz argued, and this project will turn back the clock to a way of traditional living, combined with modern, low impact environmental innovation.

"Every house is waterfront, every house has a backyard and every house has a terrace. It's a life we have been used to until very recently," he said.

"So we think we can take us back to the time of how we used to live, instead of currently being like birds in concrete jungles."
"IT'S OUR BLOODLINE"
Re-establishing Maldivians' connection to the sea is central to Shaaziya Saeed's life. As a surfer, conservationist and dive instructor, she spends more time in the water than most people.

She has watched first hand over many years how the country's precious underwater resources have been undermined, mostly by man.

The organisation she co-founded - Save Our Waves - is dedicated to protecting surf breaks around the country's islands. Many are threatened or have disappeared due to development projects, resort building and land reclamation.
The mission is not to simply save the sport, but to remind people about the importance of the marine ecosystem.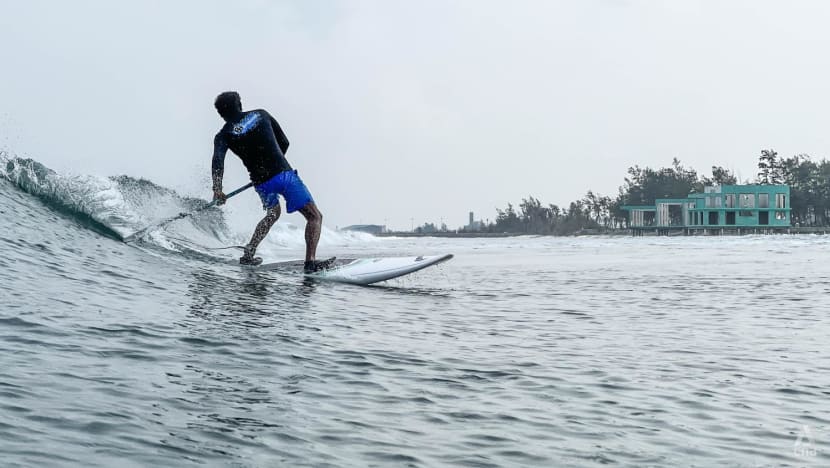 "The waves break on top of the reef and it stops the erosion on the islands. But if there is a man made development or land reclamation or anything happening, this natural thing to protect the island is gone. Very soon, the corals will be dying," she said.
"Because of global warming, the waves will get a little bit higher when it is high tide. So these kinds of things are getting more frequent when we play with our natural environment."
She spends her days teaching young children how to surf. The seas may be rising and the warnings might be grim - that the waves will one day swallow these islands - but she wants them to engage with the natural world and fight for it.
"Maybe some people are scared of the ocean because of what they have heard from the TV. But still, they are somehow connected to the ocean. We all breathe the oxygen from the ocean. So it's all connected. It's our bloodline."
Sea level rise is already a live reality in the Maldives. It will be an existential threat to the young generation who will contend with the decisions made today.

All the protections provided by nature and human engineering may still not be enough if the world does not take the necessary urgent action to fight climate change.