One remote Scottish distillery is now carbon net zero, and it's showing the whisky world the way
DRIMNIN, UK: This is wild country, raw and exposed to nature's force. In these late autumn months, the landscape is a rich ochre. 
After a few dozen miles on a single track road that contorts through rugged highland valleys, a distillery looms, overlooking the Sound of Mull. The Drimnin Estate isn't at the end of the Earth, but it feels something close to it.
This is one of Scotland's most isolated places. Only a few hundred people live on this land in the Hebridean Islands. A small group of them are doing something quite remarkable with whisky.
This year, Nc'nean Distillery became the UK's first and only net zero carbon emissions distillery. It runs on 100 per cent renewable energy and offsets its small footprint using forestry resources.
The distillery's operations are designed around using biomass as a fuel. It also recycles 99.97 per cent of the water used in the whisky-making process, is a zero waste operation and is certified organic.
In ways, this is emblematic of a new Scottish whisky story.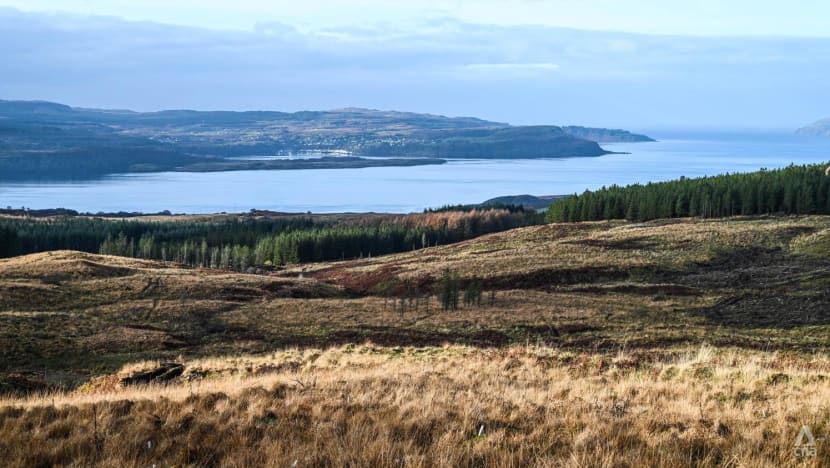 Whisky has for centuries had an intimate connection with nature. It is a product directly born from its landscape. Its ingredients are simple and time honoured - barley, water and yeast. But equally, its history has been tied to the burning of fossil fuels for energy - originally coal and for many decades now, natural gas.
As the world now attempts to wean off dirty energy in the face of worsening climate change, so too is Scotland's whisky industry.
Reaching net zero certification has been a journey for Nc'nean, one that many other distilleries around Scotland are also starting to undertake as the scotch whisky industry aims to completely decarbonise by 2040.
"We've managed to hit net zero 20 years ahead of industry targets and 25 years ahead of government targets. But that's because we were thinking about this 10 years ago," said Amy Stammers, who runs the sustainability portfolio at Nc'nean. 
"Sustainability is a very broad topic. But we apply it in very specific ways: to energies, to packaging and to purchases. It's really like just having a lens where we say, 'right, is this the best way that we can operate in order to have the least environmental impact?'," she said.
In the hills behind Nc'nean, an estate owned forest boasts trees of various heights. Some of the timber from these trees is sold to the distillery, which then powers its spirit making as biomass. This sustainable forestry is a crucial component to minimising the distillery's carbon footprint.
"This is classed as carbon neutral because the CO2 that's being emitted when we combust, that timber has already been absorbed from the atmosphere while the tree grows," Stammers explained.
"We have enough trees to close a 40-year loop in terms of cyclical energy - trees growing and energy generation."
Installing a boiler that could function using biomass was an engineering challenge and a serious investment. 
Stammers estimates it initially cost five times that of a conventional boiler. Meantime, hand selecting organic barley producers and shifting towards recycled glass in their bottles were also extra expenses to consider for a fledgling business.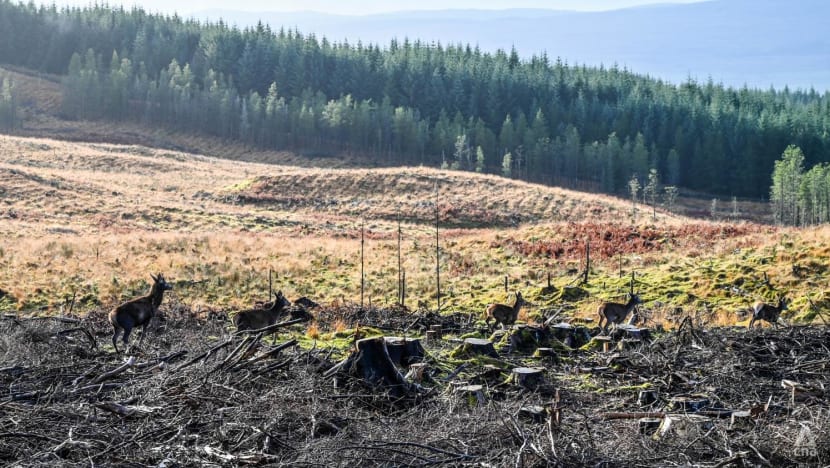 The next step for Nc'nean is to tackle its supply chain and influence changes that will positively affect its wider emissions output and the environmental impact of its products.
The only sources of emissions now left on site are the distillery's forklift and tractor, which are separately offset elsewhere. "The cost implications were more at the time. But the savings that that's brought us now is worth every penny." 
There is also an inherent value in preserving this rugged frontier.
"The highlands are particularly magical. And that is a definite reason why we wanted to take this business route, because, yes, sustainability is about emissions. But also it's how we operate on a day-to-day basis and how we can build in operational things that don't adversely affect our immediate environment," Stammers said.
INDUSTRY AMBITION
Scotland is home to more than 130 whisky distilleries, all of them with unique geographies, recipes and stories.

What will tie them together is the need to be decarbonised within two decades under an industry-wide 2040 net zero strategy.

The industry body, the Scotch Whisky Association (SWA), is taking climate change seriously, describing it as "the most pressing emergency the world faces today".
Since 2008 when emissions data was first collected by SWA, the industry's greenhouse gas emissions have reduced by 53 per cent. To achieve its climate ambitions, it will aim to reduce the industry's carbon footprint in operations by a further 40 per cent over the next decade. 
"The distilleries have always been on a journey and are evolving along a pathway towards more sustainable energy use. It's not a massive transition in mindset. But it will be in terms of engineering, process and the infrastructure needed," said Graeme Littlejohn, SWA's director of strategy and communications.
"We think it's important to show leadership on this issue and really drive forward as fast as we can. Some distillers will get there much sooner than that. We think it's ambitious but achievable."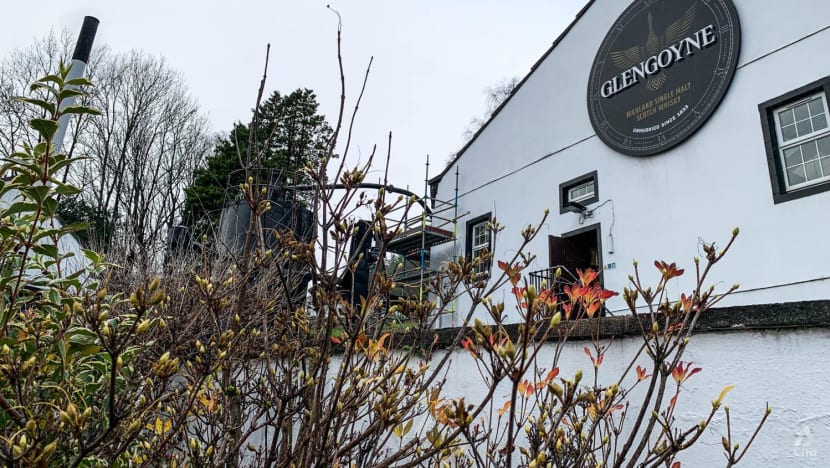 Whisky making is an energy intensive process. Heat is used to produce steam, which is currently generated in boilers by combusting fuel.

Switching that to a renewable energy source will require innovation, investment and experimentation. Biomass and hydrogen are seen as promising long term solutions.

The sustainability commitment, however, goes beyond simply counting carbon.

Water use and efficiency is central. Despite being one of the wettest places on earth, Scotland has seen drier summers in recent years and there are projections of more to come with the onset of climate change. This means some distilleries have been left scrambling for water.

Land use and stewardship are also key strategies, with the aim of being able to farm barley and cereals in a climate-resilient way with minimal impacts to local ecosystems.

In regions of the country where peated whisky is a coveted product, restoring those carbon-rich peatlands, which have broadly degraded across the United Kingdom, will also be prioritised.

And by 2025, SWA wants all packaging to be reusable, recyclable or compostable.

Littlejohn said that despite the fierce competition on the shelves, whisky producers are eager to cooperate when it comes to climate change.
"The industry has 500 years of history behind it. Over that time producers have collaborated together. It's a longstanding tradition. That has set them in good stead for the effort it takes to get sustainability strategies up and running. It's engrained in the muscle memory of distillers," he said.
WETLAND ANSWERS
Not all distilleries have the same advantages as Nc'nean. Retrofitting a century-old whisky operation and gearing it with new technology is a very different challenge to building a new distillery from scratch.

Glengoyne Distillery is steeped in tradition, from its iconic pagoda chimney to its fabled waterfall, where water has flowed for centuries to form a natural component of its whisky.
Since 1833, it has been distilling single malt on the northern outskirts of Glasgow. Now, it is contemplating an upheaval of its practices. It will not be easy.

"You can't just turn into a green distillery overnight. We have some of the older technologies. If we were building a distillery today, we'd be building with these targets in mind," said Gordon Dallas, the experiential ambassador for Ian Macleod Distillers, the parent company for Glengoyne.

"It will take time, we will have to innovate, we will have to adapt to greener technologies and we are. It will take a number of years but we will get there and we are confident that we will reach net zero by 2040, not just at Glengoyne but as an industry." 
While renewable energy technologies come into play, already Glengoyne has proven innovative in the way it cares for its local environment, a picturesque valley with sweeping mist.
It has developed a wetland on its property, comprising about 14,500 plants that act as a natural filter for the waste generated by the distillery, as well as a home for wildlife.

Previously, Dallas explained, 21 tankers a week would be deployed to remove the waste. Now, nature does the job in a far more sustainable way.
"In many ways the wetlands are a wonder. It's an amazing technology that has been right under our noses for generations. We're utilising the power of plants, so that's really important. They've been underappreciated," he said.
In addition, solid waste is no longer being spread on the field as fertiliser. Instead, it is being taken away to a local village and put into an anaerobic digester and turned into electricity.

Last year, Glengoyne powered approximately 354 homes from the power generated from that digester. 
"This product comes from the land of fresh air and wild wilderness. I do not see the story of scotch whisky being a polluting story," Dallas said.
"We are proud of where we come from and our landscapes. If scotch whisky can be part of the vanguard of making this a greener landscape and economy then that is something to be proud of. It's our duty to lead the charge."