Singapore's 'loss and damage' fund contributions to be negotiated: Grace Fu
On expanding Singapore's climate change contributions, Minister for Sustainability and the Environment Grace Fu said the country believes in multilateralism, and will participate in the new fund with "the right spirit of cooperation and collaboration".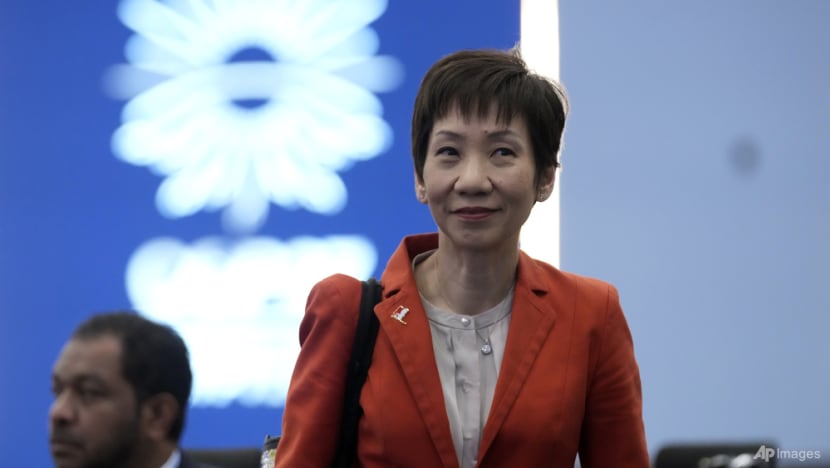 SINGAPORE: The landmark agreement at the United Nations climate summit to set up a "lost and damage" fund to help developing countries battered by extreme weather is a positive move, but Singapore's involvement in it still has to be negotiated. 
On contributing to the donor base for the new fund, Minister for Sustainability and the Environment Grace Fu said on Sunday (Nov 20) that Singapore believes in multilateralism, and will participate in "the right spirit of cooperation and collaboration".
"This has to be something to be negotiated. There are certain historical contexts to how climate finance has come about. It has to be based on an agreed basis in the Paris Agreement of common but differentiated responsibility," she said in her wrap-up interview after the COP27 climate conference in Egypt. 
"We still need to discuss with parties about the modality, and also on the terms of the funding arrangements. We would like to see how we can play a part in the formal arrangements."
SINGAPORE'S CLIMATE AID CONTRIBUTIONS
Singapore has, in its own way, been playing a useful role in climate action, such as by offering technical and capability support to developing countries, said Ms Fu. 
The nation, for instance, is providing aid through the Southeast Asia Disaster Risk Insurance Facility, a regional platform for financial resilience against climate shocks, she noted.
Ms Fu said the new fund will "help to channel support to the communities and people most in need", and Singapore will see how it can play a part going forward. 
Details of the fund will be fleshed out over the next year.
LIMITING PLANET'S WARMING TO 1.5 DEGREES CELSIUS
Ms Fu also addressed the goal of limiting the global temperature rise by 1.5 degrees Celsius.
"The negotiation process may not be moving as quickly, or as much as we'd like to see," she said.
"But outside the negotiation process, we see a lot of momentum, we see energy, we see resources, we see new technologies. I think this is why I remain optimistic, because like-minded countries are pooling their resources together, are forming alliances, and are starting projects …" 
The need to slash emissions and achieve this goal "definitely matters because this is what the science is telling us, that this is a critical level, and we must do our best to reach that target," said Ms Fu. "We have not been able to do so, but we want to keep it within reach."
PHASE-DOWN OF INVESTMENTS IN FOSSIL FUELS
On the issue of fossil fuels, Ms Fu said: "We have supported the phasing-down of investments in coal, and we will do our best to abide by the international agreements, whether it's reached by parties, or reached at a subsequent COP." 
She added: "We'll do our very best to decarbonise the energy and power sector in our industries, and we have to look for alternatives. 
"And our investments in R&D, on green energy, our R&D on transportation of hydrogen, show our intention and our determination to find alternatives."
GOOD OUTCOME AT COP27, DESPITE DIFFICULT CONDITIONS
Ms Fu said it is important for the United Nations Framework Convention on Climate Change (UNFCCC), which acknowledges the vulnerability of all countries to climate change effects, to stay relevant.
"The world really needs evidence that multilateralism works, and continues to be relevant. And we'd like this to be an area where transboundary issues, global issues, are tackled by all parties in the global community, and UNFCCC must continue to be relevant in that respect."
Overall, countries have reached as good an outcome as they could get at the COP27 summit, given the difficult economic and geopolitical exigencies such as surging inflation, energy shocks and Russia's invasion of Ukraine, said Ms Fu. 
"At the same time, the effects of climate change and events are escalating with significant downstream implications, and we have seen several very devastating extreme weather events around the world. Hence, expectations for COP27 were high, but also that it would be a difficult one." 
Ms Fu added: "But I think this is the best that we can do given the difficult situation. All the parties negotiated very hard. And we are very grateful to all our negotiators for their hard work and commitment."