Singaporean students hope to inspire climate change innovation after claiming top IAEA prize
"Don't need to underestimate yourself just because of your age or relative lack of experience in the field," says a member of the team.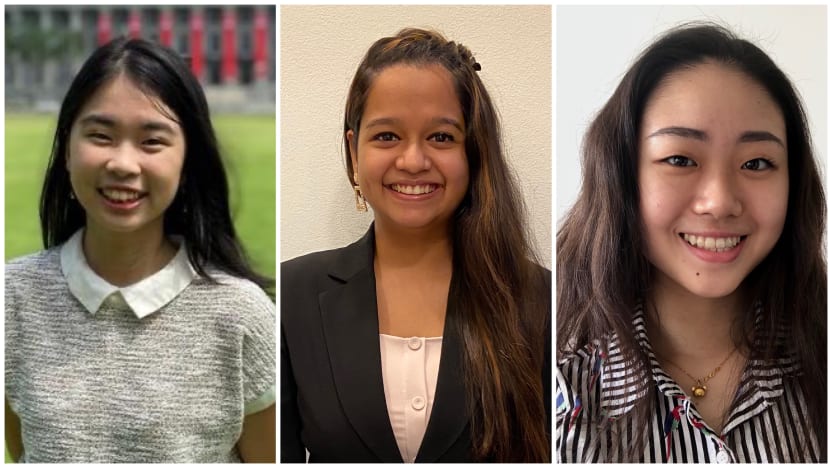 BANGKOK: Three Singaporean students with an award-winning policy idea to decarbonise the global shipping industry said they hope to inspire more youths in the country to come up with solutions to climate change. 
Last week, the trio of Claire Li, Komal Prashar and Linda Zeng were announced as the winning team of the International Atomic Energy Agency (IAEA) Net Zero Challenge, beating 70 other entries from young people around the world. 
Participants were asked to submit a paper addressing the question of "How can nuclear energy, alongside other low carbon energy sources, help your country or region to achieve their net zero targets?".
Their proposal was to leverage the influence of Singapore's port to promote a cleaner maritime industry using nuclear-powered hydrogen. 
The team's policy outlined how clean hydrogen fuel cells for use in ships, produced by nuclear energy overseas, could be imported to Singapore in order to assist with the country's net zero targets.
"I think Singapore prides itself on innovation. We have such a vibrant port and it's a great ideal to implement this type of innovation into the maritime industry. Given the fact that commercial hydrogen-powered ships are just starting to come into the picture, there's a lot of potential," Zeng, a 22-year-old student at King's College London, told CNA.
Singapore has announced that it would halve its 2030 peak greenhouse gas emissions by 2050, and to achieve net zero emissions "as soon as viable" in the second half of the century.
Research and development is continuing in many countries, including in Asia, to deploy nuclear technology to produce green hydrogen. Hydrogen itself is clean, but existing technologies to produce it are sometimes problematic and remain reliant on dirty fuels.
Singapore has no nuclear capacity. In 2010, the government embarked on a pre-feasibility study on nuclear energy. Two years later, it was concluded that the technologies available were not yet suitable for deployment in the city state.
"The latest designs of nuclear power plants are much safer than older designs which remain in use in many countries. However, the risks to Singapore, given that we are small and dense, still outweigh the benefits at this point," said then Second Minister for Trade and Industry S Iswaran.
The students noted that while it was unlikely that Singapore would promote its own nuclear development, this "indirect policy" could help the country diversify its clean energy mix.
Li, 20, who is currently studying at London School of Economics and Political Science, said the concept could also help Singapore wield greater influence in fighting climate change.
"Singapore is one of the small countries that will be very much affected by climate change. We will be among the first people to be affected by sea level rise," she said.
"There is an additional impetus for Singapore specifically to make a bigger impact. By helping the maritime industry, it's one way that we can pull above our weight and make larger scale change."
In April, the Maritime and Port Authority of Singapore (MPA) announced two new decarbonisation initiatives aimed at reducing the impact of the shipping industry, which is responsible for about 3 per cent of global carbon dioxide emissions and a quarter of all emissions from the transport sector. 
A fund would be established for a maritime decarbonisation centre to be set up in Singapore, while MPA would work with Temasek to explore collaborations on port operations, low-carbon or alternative energy sources and decarbonising other parts of the maritime supply chain. 
In July, the Global Centre for Maritime Decarbonisation was formed in Singapore. Set up with a S$120 million fund from MPA and six other founding partners, the centre will spearhead the maritime industry's energy transition journey.
The International Maritime Organization is targeting a 50 per cent cut in emissions from 2008 levels by 2050. 
The trio of students said they were surprised to win the competition, given some of the other entries were older and had real industry experience. 
"When we were announced as winners, it was a genuine shock. We were not expecting this," said Prashar, 22, who is studying biomedical engineering at National University of Singapore (NUS).
"We were like little kids in comparison to what they were doing. It says that you don't need to underestimate yourself just because of your age or relative lack of experience in the field," Li said.
"It gives encouragement to quite a lot of Singaporean youths in particular. If you have a passion and desire to make change, you can come up with ideas that will be very relevant to the world."