California's climate refugees: Counting the human cost of weather-related events
According to the United Nations, an average of 21.5 million people have been displaced every year since 2008 as a result of weather-related events.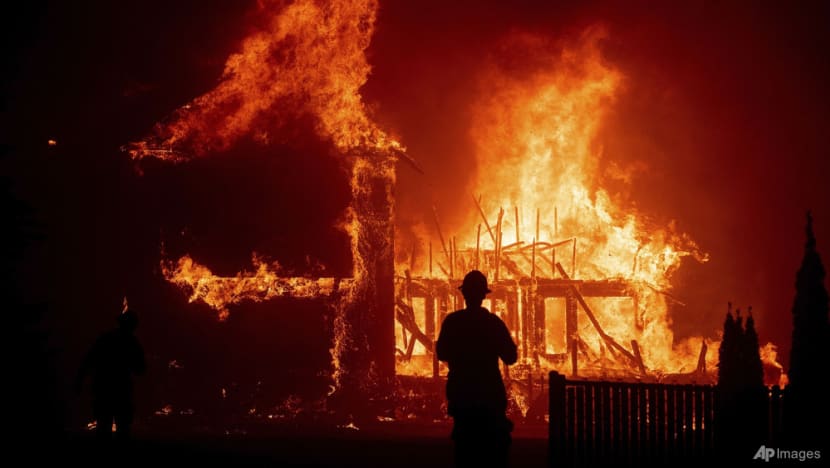 CALIFORNIA: California's wildfires have ravaged tens of thousands of homes in recent years. 
One such fire, dubbed "Camp Fire" after where it originated, roared through the town of Paradise in 2018 and killed 85 people, making it one of the state's deadliest and most destructive. 
It forced nearly 50,000 people to flee, including Mr Nicolas Gioia.
"At about 8 o'clock I got a call from my significant other and she said pack everything up. This is not a drill. Time to go," Mr Gioia told CNA.
Today, like many others whose homes were destroyed in that fire, he still finds himself in the neighbouring town of Chico, trying to get back on his feet.
While California seems especially susceptible to wildfires, Mr Gioia believes no place is safe from such natural disasters.
"We've been educated on it in the past few years that, you know, climate change is a real thing and it's affecting, you know, the way fires happen. And it's like the devastation from these fires is just... it's insane," he said. 
Mr Gioia is among a growing number of climate refugees in California and around the world.
INFLAMED TENSIONS AND NEED FOR SOLUTIONS 
Since the Camp Fire, California's wildfires have become even bigger, fuelled by drought conditions, which have led to an extended annual fire season. The two most destructive seasons on record in California were in the past three years. 
According to the United Nations, an average of 21.5 million people have been displaced every year since 2008 as a result of weather-related events. That figure is expected to grow as climate change causes more severe and unpredictable weather in the coming years.
The influx of people who lost their homes in the Camp Fire, as well as other blazes, has inflamed tensions in Chico. Like many American cities, it is dealing with homelessness and record-high housing costs.
"Immediately after the fire, Chico and the surrounding areas really opened their arms, really tried to help folks," said Ms Jennifer Haffner, programme administrator of the Chico Housing Action Team.
"But here we are almost four years out. I don't think people fully understand the loss of housing that occurred. And 15,000 units were destroyed in 24 hours."
Climate refugees are putting a strain on California's infrastructure and government services despite the state's thriving economy. 
Across the developing world, resources are even more stretched. There are calls for action at the COP27 climate summit to help address some of these issues.
"Within the Paris Agreement, for example, there's a basis for liability and for compensation under 'losses and damages', right? So, what this would require was really establishing that as a basis for compensation between wealthier countries and less wealthy countries," said policy analyst from the Othering and Belonging Institute at the University of California, Hossein Ayazi.
However, setting up these mechanisms requires political will and time. In the meantime, many of California's climate refugees continue to worry about having a roof over their heads.