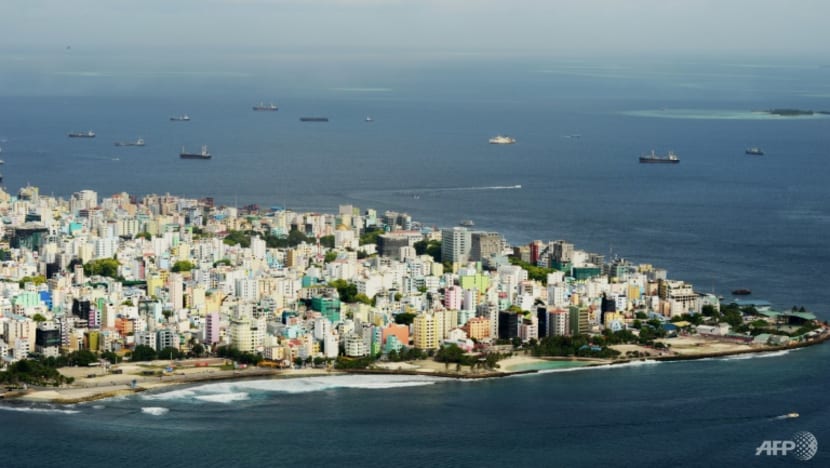 SHARM EL-SHEIKH, Egypt: The Maldives' environment minister said she hopes to leave the United Nations climate summit in Egypt with a sense of renewed trust between the developed and developing world, as well as an outcome on loss and damage.
Shauna Aminath told CNA at COP27 on Thursday (Nov 10) that global temperature rise was posing a death sentence for her country and many other small island nations, as she called for more ambition to address the causes and impacts of climate change.
"Even now with 1.1 (degrees Celsius rise), we are experiencing extreme weather. Our islands are getting flooded. Every single island in the Maldives is eroding. Every single island in the Maldives has run out of fresh drinking water," she said.
"I can't even imagine a home when global temperatures overshoot 1.5 degrees."
The Maldives has been a leading advocate for decades for climate change action, as slow onset impacts including sea level rise, erosion and changes in weather patterns, affecting food security, have worsened. Sea level rise is a problem for the entire world due to global warming, which causes glaciers to melt and the expansion of water in the ocean. For the past half a century, sea levels have been rising at an accelerating rate, the fastest in 3,000 years. 
Over the last decade, the rate has been about 4mm per year and for low-lying states like the Maldives, the situation is already alarming. Coastal flooding and storm surges will become even more common as temperatures increase.
Ms Aminath said negotiations at COP27 needed to make progress on specific "reliable funds and predictable finance" for loss and damage, whereby developed nations that have historically caused carbon emissions and temperature rise would provide financial assistance to those suffering the worst of the impacts.
"When a country like the Maldives, when countries in the Caribbean, when countries in the Pacific Island nations, are constantly being hit by severe storms, by extreme weather events every year, that affects our development. That constrains our fiscal space," she said.
About 35 per cent of the Maldives' national budget is currently spent on coastal protection and flood prevention.
"Loss and damage for me, for the Maldives, means our ability to continue to live a healthy life," she said.
"I think one reason why this topic has become such an urgent issue is because for many years, we have failed on mitigation. For many years, we have failed on adaptation as well. Now we are in the loss and damage space.
"It's a complex issue and we need a mosaic of solutions to be able to address this and one of them is the establishment of a fund, which is capitalised."
A new climate data report, released by leading scientists with the Global Carbon Project on Friday (Nov 11) showed that global carbon emissions remain at record levels this year.
If current emissions levels persist, the report states that there was a 50 per cent chance that the 1.5-degree Celsius threshold would be passed within nine years.
"There are some positive signs, but leaders meeting at COP27 will have to take meaningful action if we are to have any chance of limiting global warming close to 1.5 degrees Celsius. Right now, we are not seeing the action required," said study lead, Pierre Friedlingstein from Exeter's Global Systems Institute.