Five on Friday: 5 movies based on real life events
In CNA's regular look at what hit the headlines during the week, Five on Friday looks at the upcoming release of Thirteen Lives, as well as other films based on actual events.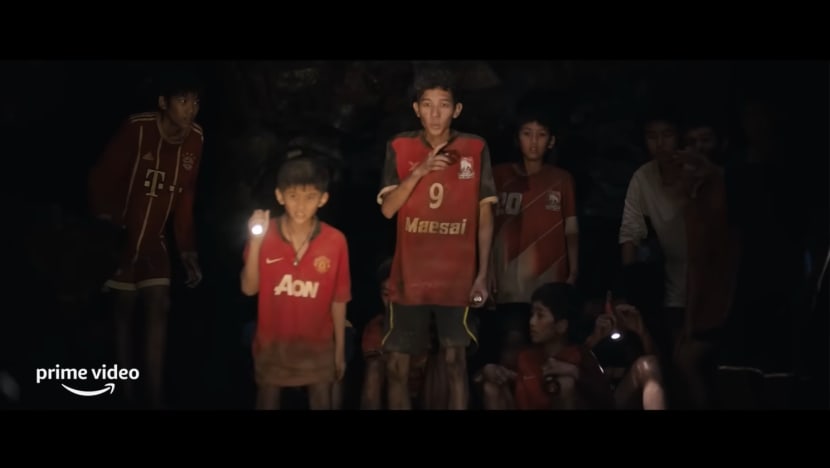 SINGAPORE: In 2018, the world watched with bated breath as a 12 young football players and their coach were miraculously rescued after being trapped in a flooded cave in Thailand for nearly three weeks. 
The international operation involved some of the world's strongest rescue divers racing against time to bring the Wild Boars football team out from the Tham Luang cave.
Thirteen Lives, an upcoming film starring Viggo Mortensen and Colin Farrell, will tell the story of the nail-biting rescue, which had already inspired an award-winning documentary.
While movies based on real life events may sometimes seem heavily exaggerated, viewers are often still drawn to the retelling of stories based on human tenacity ... or the strange.
One of the most dramatic, memorable (and financially) successful retelling of a true story is Titanic, which was released in 1997. 
The characters of Jack and Rose may have been fictional, but the film gave us a very real look at the ordeal faced by the passengers and crew of the doomed ship, as well as their subsequent fates.
Here's a look at five other extraordinary events that were retold on the silver screen:
CATCH ME IF YOU CAN (2002)
Based on the autobiography of American author and convicted con-artist Frank Abagnale, Catch Me If You Can chronicles his exploits as a teenager taking on several identities.
Played by Leonardo DiCaprio in the film, Abagnale had impersonated a pilot, a doctor and an attorney, carrying out millions of dollars worth of cons and scams in the process.
Given the unbelievable sequence of events, many who have watched the film were surprised to find out that it was based on a true story - after all, how could a teenager get away with so much?
Sure, pretending to be someone else isn't easy - but how do you fake being in professions that require technical knowledge and skill?
Only Abagnale knows the true extent of his adventures. But despite admitting that he exaggerated some of his claims, he does have the receipts to back most of them up.
300 (2006)
Bloody, violent, and dripping with testosterone - the movie 300, which was released in 2006, is based on a comic series that tells the story of the last stand of the Spartan King Leonidas in an attempt to repel the Persian King Xerxes.
Although the Battle of Thermopylae is an actual historical event, the comic - and by extension the film - is extremely stylised.
The visceral flick is known for its slick, slow-motion fights, where the hyper-masculine, nearly naked Spartans carve not only their enemies, but their mark in the history books.
Directed by Zack Snyder, who is known for his distinctive, polarising style, nothing in 300 is left unexaggerated.
The actual event was a notable historical development in the Greco-Persian wars, which began in 499 BC for a period of up to 50 years.
King Leonidas and his 300 royal Spartan bodyguards actually fought in the battle, although it is not known whether all of them really had the chiseled physique of Gerard Butler in his prime.
HACHI: A DOG'S TALE (2009)
If you love animals, you've definitely heard of Hachiko and the real story is enough to bring anyone to tears.
In summary, this loyal pup dutifully waits for his owner, a university professor, at Japan's Shibuya train station every day when he returned from work. One day, its owner suddenly died at work, leaving behind Hachiko. 
Despite this, Hachiko continued to return to the station every day for nearly ten years until its death, becoming an unwavering symbol of loyalty.
A statue of Hachiko still stands today at Shibuya station, and is a popular meetup spot and tourist destination. It inspired the Japanese film Hachiko Monogatari released in 1987.
Hachi: A Dog's Tale is an adaptation of the story, set in modern-day USA.
Starring Richard Gere as the professor, the movie imagines how the dog - referred to as Hachi - and its owner forged an unbreakable bond before his untimely demise.
Although your mileage may vary on the quality of American adaptations, how can you resist a cute doggo?
127 HOURS (2010)
The story of mountaineer Aron Ralston's life-changing expedition would make even the most hardened individual flinch.
In 2003, while traversing Bluejohn Canyon in Utah, Ralston was pinned to a wall by a falling boulder which crushed his right arm.
Trapped for five days, Ralston made the excruciating decision to amputate his arm with a small, dull knife (which took an hour!) before hiking his way out and eventually getting rescued.
In the film 127 hours, James Franco flexes some serious acting chops as Ralston. His portrayal of the mountaineer saw him nominated for Best Actor at the Academy awards, with the film receiving another five nominations.
Aside from several minor changes to his experiences, Ralston told The Guardian that the film is "so factually accurate it is as close to a documentary as you can get and still be a drama".
THE WIND RISES (2013)
The Wind Rises, animated by Studio Ghibli, tells the story of Japanese engineer Jiro Horikoshi.
Horikoshi is the designer behind several fighter planes, many of which were used in World War II - including the Mitsubishi A6M Zero, also known as the Zero or Zero Fighter.
Written originally as a manga by the legendary Hayao Miyazaki, he went on to adapt and direct the movie, which turned out to be his last before his retirement in 2013.
Miyazaki was reluctant to pick it up at first, rationalising that his works are made for children - however, he was convinced by a producer that "children also need to be exposed to things that they can't understand", he told Nikkei in an interview in 2013.
Despite the weight of the subject matter hanging over the movie, Horikoshi's story is ultimately about a man and his boyhood dream during a troubled time in history, peppered throughout by haunting whispers of the war.