Long hours, harmful chemicals, poor safety standards: NYC's nail salon workers protest work conditions
Many salons are still not complying with regulations on ventilation, safety equipment and minimum wage, according to research by Cornell University.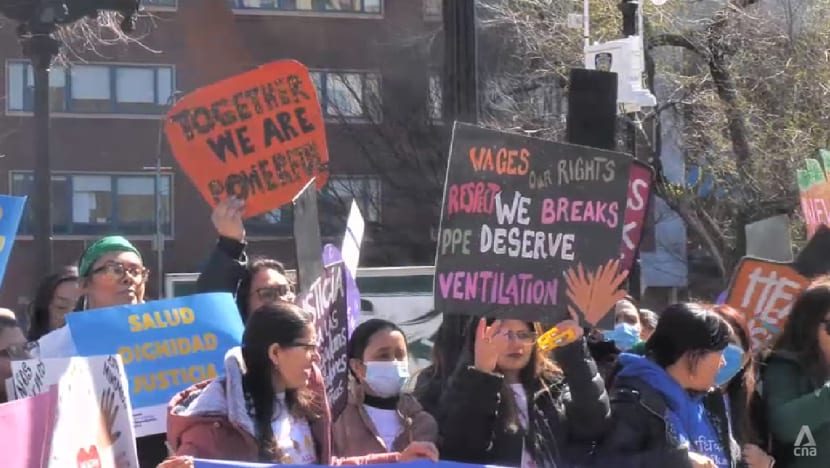 NEW YORK: New York City's nail salon workers – faced with long hours and subpar safety standards – are calling out the ugly side of the beauty industry and demanding better working conditions and legal protections.
The workers have been protesting the risks of poor ventilation and lack of adequate personal protective equipment, which are believed to cause allergies and reproductive harm.
They are also hoping to see changes such as regulated working hours, sick pay and pensions rolled out across the United States.
IMPROVING PAY, WORK CONDITIONS
The state of New York hosts around 5,700 nail salons and up to 40,000 nail workers. 
About 85 per cent of nail technicians in New York are women, and 73 per cent of them are Asians or Pacific Islanders.
Many are suffering health problems due to dangerous chemicals and fumes, said observers. 
Since 2014, the New York Healthy Nail Salons Coalition has been working to improve pay and conditions for workers. Several new laws have also been implemented at state level.
But many salons are still not complying with regulations on ventilation, safety equipment and minimum wage, according to research by Cornell University.
"Even though the minimum wage was implemented (and) the Bill of Rights was passed, not every nail salon worker is getting the minimum wage," said Nepali nail technician Goma Yonjan Gurung. 
"There's no vacation, no paid leave, let alone getting a pension. I've been working for 25 years and I have nothing."
Women-led community and workers' centre Adhikaar, which represents the Nepali-speaking community in New York, is working to ensure nail workers know their rights and call out poor practices, such as being denied breaks.
"During my career, I had seven miscarriages in the industry. That's the reason I want to protect my sisters who work in the industry," said Adhikaar senior organiser Pabitra Dash, who has suffered health problems due to her work.
"As an immigrant woman, I want to protect them. I want to establish their family life. Almost everyone wants to have babies, kids. I'm here fighting for those things."
Some salons in New York are listening to these workers' calls for change.
Paintbucket Nails in Brooklyn, for instance, calls itself an ethical salon offering its workers bonuses, vacation days and career progression.
"Everything is fair. My boss and co-workers are nice," Paintbucket Nails employee Tshering Llama. "Everything is good. I'm happy."
COMPETITIVE MARKET
Yet in a competitive market, some would-be customers are willing to gloss over poor conditions for lower costs, some nail salons told CNA. 
"It is very much a one-on-one, labour-intensive business," said Paintbucket Nails founder Kristin Pulaski. 
"When you have a bunch of staff that are paid well, the business at the end of the day, after the operating costs, has to make a bit of a chunk of money to keep operations going.
"And sometimes it's hard to get to that place when so many other salons in New York City are charging less, because they're getting around paying employer taxes, they're paying people off the books in cash, so they're paying under minimum wage at times."
Observers said many workers have precarious immigration or employment statuses, cutting back their opportunities to work in other sectors that require visas and legal documentation. 
Meanwhile, campaigners are calling on lawmakers to take action, stressing that the future of a healthier nail industry lies in their hands.