Was the meeting between US House Speaker McCarthy and Taiwan President Tsai a success for them?
Analysts noted that there were assurances of US support for Taiwan, with House Speaker Kevin McCarthy emphasising the plan to fast-track its delivery of weapons to the island.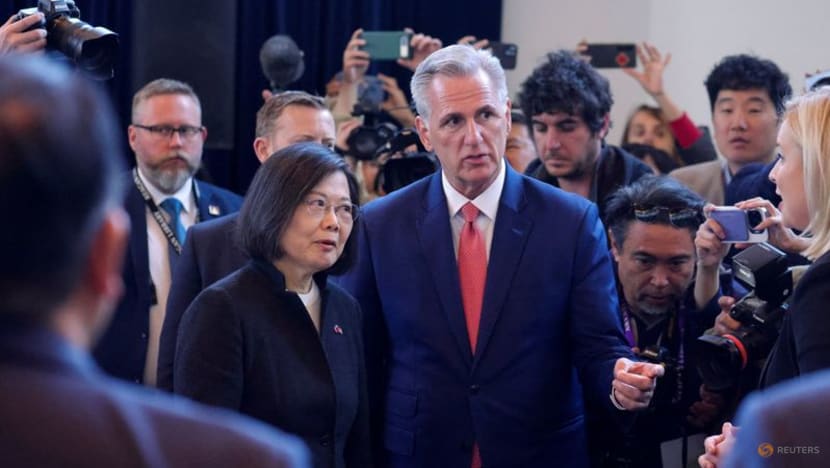 The meeting between United States House Speaker Kevin McCarthy and Taiwan President Tsai Ing-wen in California on Wednesday (Apr 5) was a success for them, analysts told CNA on Thursday.
There were assurances of US support for Taiwan, with Mr McCarthy emphasising the American plan to fast-track its delivery of weapons to the island.
Meanwhile, China did not seem to respond as heavily as it did in the aftermath of former Speaker Nancy Pelosi's visit to Taiwan last year.
Her trip in August had sparked fury in Beijing, as the most senior US politician to visit the island in over two decades, prompting China to launch its largest military exercises in waters around Taiwan.
Analysts also told CNA that the US and China are unlikely to escalate the ongoing tensions into war, as both sides have too much to lose.
Moving forward, more such high-level meetings can be expected, said experts, although the status quo on the Taiwan issue will remain between the US and China.
PROVOCATION VERSUS ASSURANCE
The US has "always had to walk a very fine line between provocation and assurances" when it comes to Taiwan, noted Mr Kitsch Liao, assistant director of the Atlantic Council's Global China Hub.
"You want to deter China in the sense with military force, making an invasion that much harder to achieve, while also at the same time not take away the possibility (and) the prospect of eventually potentially Taiwan reuniting and being part of China," he said.
Mr Liao added that Wednesday's meeting was a success for both sides due to the focus on speeding up arms sales, as well as an emphasis on the shared democratic values within the alliance.
"And that's actually a sign to me that they're talking about more substantive stuff behind the scenes, on how to basically operationalise this new concept of deterrence and to basically make the red lines both on Taiwan and the US side," he said.
The two were also clearer on their approach, while taking into consideration the guardrails required with China in order for competition to proceed safely, he added.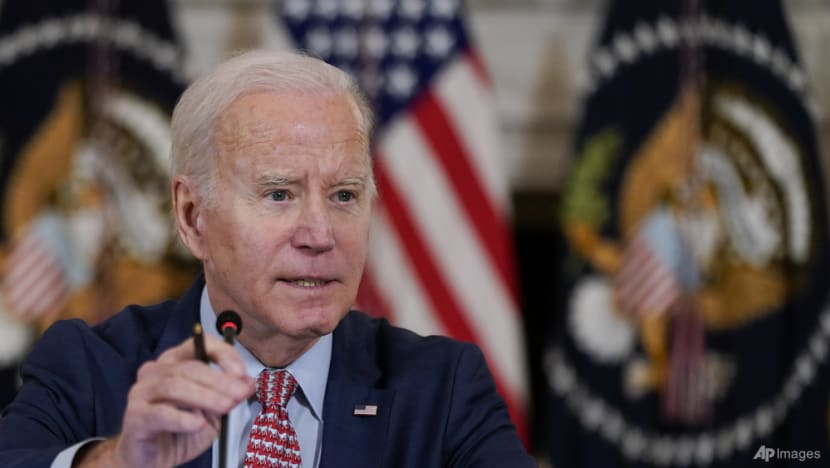 On the issue of the delivery of weapons and arms promised to Taiwan, Mr Liao noted that it is a matter that has been discussed over the past few weeks and is applicable now, as the National Defense Authorization Act (NDAA) was signed into law by US President Joe Biden in December.
It allows for the president to "move weapons from US stocks directly into Taiwan's hands if he deems necessary", Mr Liao told CNA938.
"Now that is a very critical step, and I would argue that today's meeting actually reiterated congressional support for such a move."
Mr Liao also noted that Mr McCarthy is "in the best position to actually put out this sort of statement" because Congress represents the American people, emphasising the difference between Congress and the administration. 
"And I think Speaker McCarthy actually made it very clear that the American people support democratic values (and) the friendship, and this is what Congress wants to stand for," he said.
Beyond that, Park Strategies senior vice president Sean King said that the US and Taiwan have a "long-standing and very endurable" relationship, across areas such as electronics, technology, healthcare, trade, defence, democracy, freedom, "and the strategic position that Taiwan plays in blocking the PLA's (People's Liberation Army) naval advance into the western Pacific".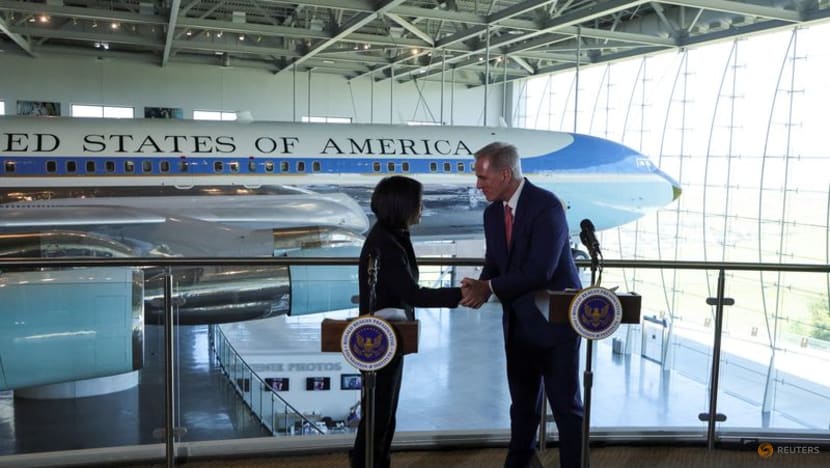 BEIJING'S RESPONSE
Mr Liao said that Beijing's response to the meeting will have to be observed in its actions, rather than just its rhetoric.
"The important thing about Pelosi's visit is that while the rhetoric was fairly strong and they did order the military exercise, if you look at what they censor within China, they are actually censoring a lot of pro-nationalist extreme rhetoric within China talking about what they should do to Taiwan," he noted.
It signifies that Beijing does not want to escalate the tensions, said Mr Liao.
For Wednesday's meeting, China ordered its forces on standby alert, but the real action involved the Coast Guard, which after 2019 was put under the People's Armed Police, a paramilitary organisation mostly in charge of domestic security, said Mr Liao.
He added that China's hopes of achieving eventual unification through the support of the Kuomintang (KMT), Taiwan's main opposition party, has "gradually dissipated".
The KMT traditionally favours close ties with China.
"That becomes very clear with Xi's recent policies on going more radical (and) more heavy-handed in terms of political warfare and information operations against Taiwan," said Mr Liao.
TOO MUCH TO LOSE
Mr King told CNA's Asia First that the US and China are unlikely to go to war as "both sides have too much to lose".
"China has not fought a war since 1979, a small conflict that they actually lost with Vietnam. And if Xi Jinping has just orchestrated this third unprecedented term of his, why would he fight a war? He doesn't have to," he said.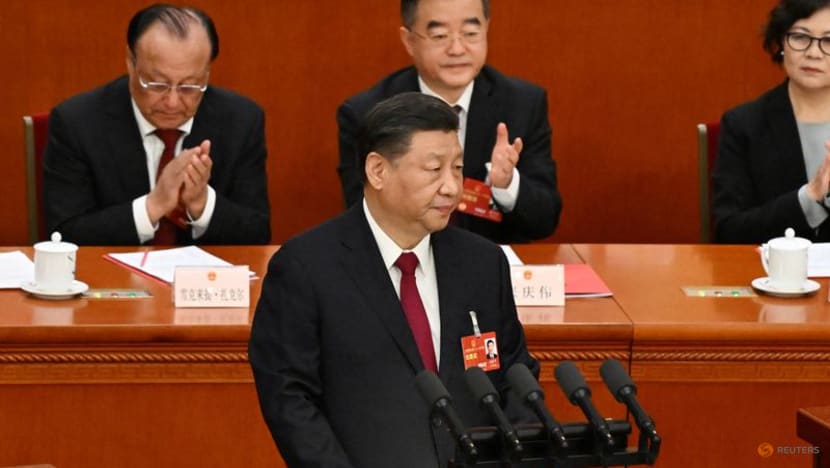 Mr King also defended the US' right to forge relations with Taiwan.
"Just because we have relations with Beijing doesn't mean we can't have relations with democratic free Taiwan. At the same time, our 'One China' policy is separate from 'One China' principle," he said.
"We acknowledge their claim to Taiwan, but we don't necessarily accept it."
He said that amid calls for an American promise to defend Taiwan in the event of a Chinese attack, both sides do not have a treaty as the US has not formally recognised Taiwan since 1979.
"So any sort of commitment to strategic clarity would really be just words," said Mr King, noting that President Biden has said on four occasions that the US would go to Taiwan's defence in the event of an unprovoked attack from the mainland.
Mr King also said that high-level meetings such as the one between Ms Tsai and Mr McCarthy are going to become routine, citing the visits to Taiwan by delegations from Canada, Japan and the European Union, since Mrs Pelosi's visit in August.
"I think these kinds of delegations, these meetings and interactions will only continue. And I don't really think there's anything Beijing can do about it."