Could a living wall of oysters protect New York City against rising sea levels?
New York City authorities are building a living reef housing a billion oysters on the south shore of Staten Island.
NEW YORK: A decade after Hurricane Sandy descended on the east coast of the US, pummelling New York City with the worst storm it faced in centuries, the state has turned to innovative solutions to protect itself from climate change.
Authorities have embarked on an innovative project to build a living reef, instead of a concrete sea wall.
Situated on the south shore of Staten Island, the Living Breakwaters project involves collecting shells from dozens of restaurants in the city, and transferring them to the beds where new, living oysters can take root.
These near-shore breakwaters are made up of a series of rock piles, where a billion live oysters now call home.
The aim is to replicate reefs that are naturally found in oceans throughout the planet, providing vital habitat for marine life, and at the same time breaking storm waves and fighting shoreline erosion. Oysters filter water and attract other marine life.
Mr Thad Pawlowski, managing director at Columbia University's Center for Resilient Cities and Landscapes, called the Living Breakwaters initiative a "seminal, super innovative, really inspiring project".
"And for all those reasons it's super important. It's the kind of project that sets up a new paradigm, sets up a new way of doing business. And I think we're all watching it carefully for that," he said. 
Such projects are part of efforts to find new answers to climate change after Hurricane Sandy tore through New York City. It lasted 48 hours, leaving devastation in its wake - almost a fifth of the city was flooded, 44 residents died, and about 300 homes were destroyed.
Thousands of New Yorkers were left without power, and had their access to food, drinking water, healthcare and other critical services disrupted.
It was also a costly disaster, inflicting about US$19 billion in damages and lost economic activity across New York City, according to the city's official website.
PROBLEMS WITH SEA WALLS
Traditionally, sea walls have been built to mitigate the impact of climate change.
Ms Katie Brennan, executive director of the New York Governor's Office of Storm Recovery, said: "It attenuates the waves, so it slows down the strength and the velocity of the waves as they approach the shore, especially during high tide events."
Such sea walls are expected to help New York City, where the coastline has changed dramatically in the last four decades, evolving from situating factories to housing people.
However, these human-made barriers can come at a cost, with experts saying that concrete seawalls only risk intensifying surges at neighbouring beaches and destroying ecosystems.
Earlier this year, the United Nations also warned that such infrastructure could worsen the effects of climate change in the long run.
PROJECT BEING WATCHED
The US$107 million dollar Living Breakwaters effort off Staten Island is on track to be completed by 2024, and scientists are watching closely.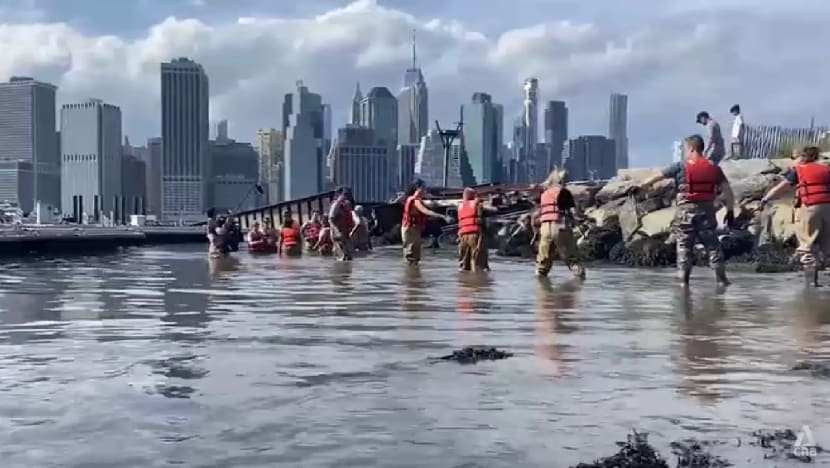 Dr Judith Weis, professor emerita of biological sciences at Rutgers University, said the effectiveness of the project remains to be seen, but noted that it is already a better solution than typical concrete seawalls. 
"I think it's certainly a whole lot better than just building up seawalls. Seawalls are biologically useless. You'll get a few little algae, maybe growing on it, but you need to provide a much better habitat," she said. 
The Living Breakwaters is part of an emerging approach to climate resilience being adopted around the world, which argues that humans should be building with nature, rather than against it.
These designs take different shapes depending on the place. For example, scientists in Boston have begun working on what they call the "Emerald Tutu", a string of vegetation mats to protect the city from flooding.