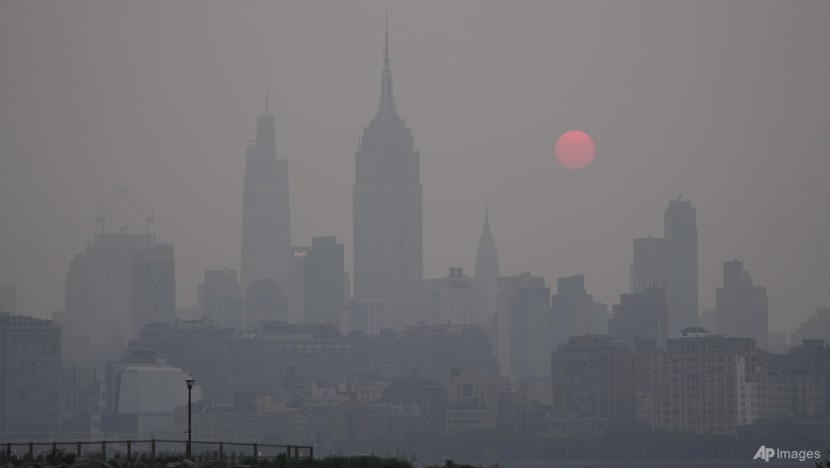 NEW YORK: As firefighters in Canada battled hundreds of wildfires, the smoke spreading south engulfed New York City, Washington DC and beyond in a yellowish haze on Wednesday (Jun 7) as people, many wearing masks, passed by familiar landmarks obscured by the smoky fog.
The New York City skyline could barely be seen across the Hudson River from New Jersey, while the Washington Monument and National Mall were enveloped in a rainless grey haze, where at one point a single jogger ran.
The Big Apple's mayor urged residents to stay indoors as the thick haze of pollution delayed flights and forced the postponement of sporting events.
The New York Yankees took on the Chicago White Sox on Tuesday night in a Yankee Stadium blanketed under a heavy amber pall, but Wednesday's game was postponed because of the hazardous air quality.
Commuters fished out pandemic-era face masks in the face of the hazardous conditions as masked street vendors did a brisk business selling them to those who had run out.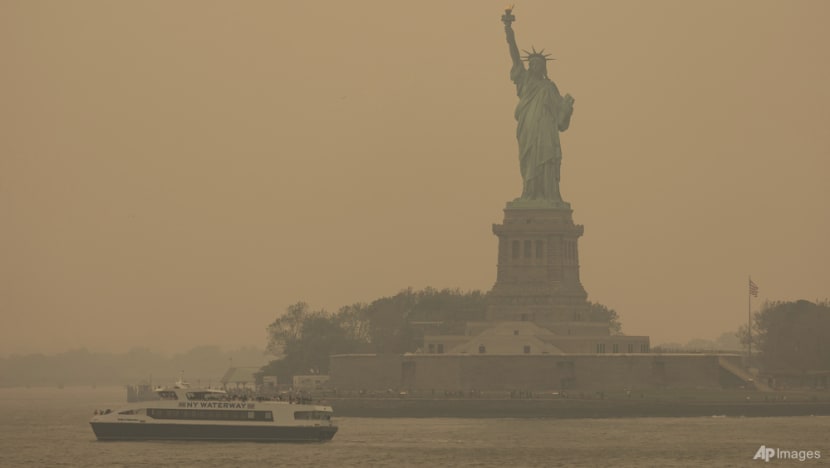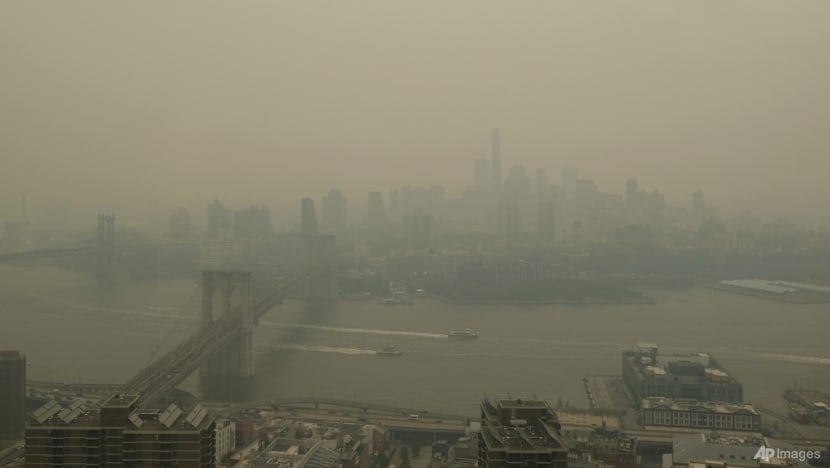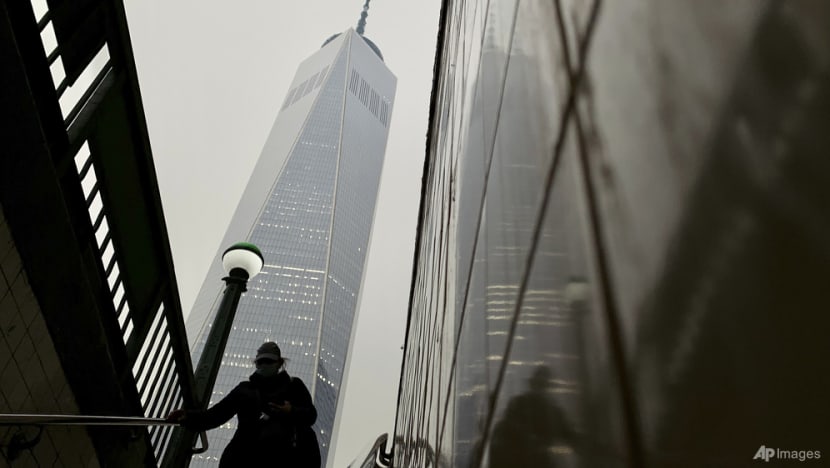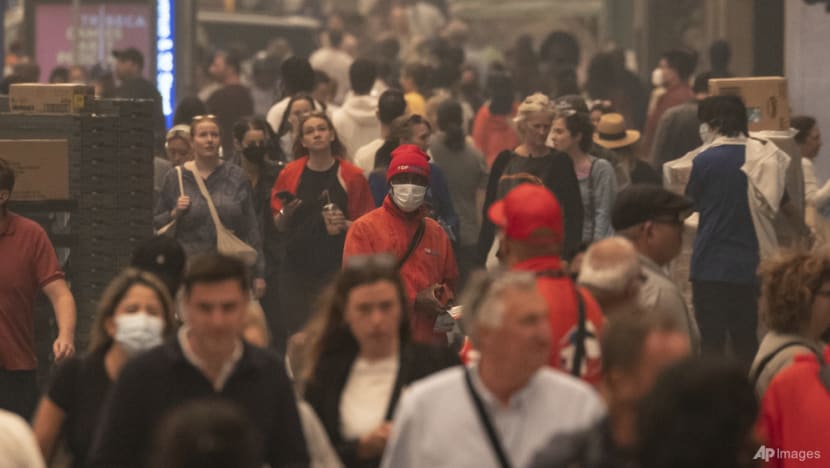 More than 100 million people across the northeastern United States, and extending west to Chicago and south to Atlanta, were under pollution warnings after the smoke drifted hundreds of miles from Canada, the US Environmental Protection Agency (EPA) said.
In Canada itself, the devastating wildfires have displaced more than 20,000 people and scorched about 3.8 million hectares of land.
Prime Minister Justin Trudeau said this is the worst wildfire season ever in Canada.
"It smells like someone is doing a barbecue," said Nicha Suaittiyanon, a 30-year-old tourist to New York City from Thailand, who complained of watery and itchy eyes.
Hugh Hill, a 43-year-old lawyer, said his throat had been stinging from the harmful haze, which he likened to the smell of a wood-burning fire.
Like many New Yorkers, he chose to cover his face while out walking his dog in Central Park, normally Manhattan's green lung.
"I don't know if it's psychological or physical, but I know there's some benefit to wearing a mask. Obviously, it's not going to prevent everything, but the dog has to be walked," he told AFP.
IQAir.com, which tracks air quality around the world, said New York - normally known for its piercing blue skies - was enduring the worst air quality index (AQI) of any major city in the world.
New Delhi, notorious for its pollution, was the second-worst. New York is normally outside the top 3,000 worst cities for pollution, according to the website.
"HAZARDOUS"
AirNow, another monitor, said the Big Apple's AQI reached a hazardous level of 413 at 5pm, just short of the scale's maximum of 500.
NASA scientist Ryan Stauffer told AFP that New York had broken its previous AQI high, set 21 years ago.
New York City health commissioner Aswin Vasan said it was experiencing its worse air quality since the 1960s, while New York state Governor Kathy Hochul called it an "emergency crisis" that could last several days.
All outdoor activities at New York City's public schools were suspended, with Mayor Eric Adams urging city dwellers to limit outdoor time to "the absolute necessities".
"This is not the day to train for a marathon," he told reporters.
The smog enveloped the Statue of Liberty and the Manhattan skyline, with the Federal Aviation Administration saying it had slowed traffic to and from the city's airports due to reduced visibility.
Major League Baseball postponed Wednesday's game between the New York Yankees and the Chicago White Sox as well as the Phillies' home game against the Detroit Tigers due to poor air quality.
The WNBA and the National Women's Soccer League also announced postponements.
Music organisers cancelled the opening night of a concert series in Brooklyn set to feature Corinne Bailey Rae.
And the actress Jodie Comer walked off the stage of her one-woman Broadway show "Prima Facie" after just 10 minutes, citing breathing difficulties, and was replaced by an understudy, a spokesman for the production told AFP.
In Washington, authorities warned that the air quality was "unhealthy for people with heart or lung disease, older adults, children and teens" and cancelled all outdoor activities in public schools, including sports lessons.
"CLIMATE CRISIS"
White House spokeswoman Karine Jean-Pierre said the situation was an "alarming example of the ways in which the climate crisis is disturbing our lives".
Scientists say warming temperatures increase the risk of the hot, dry weather that often fans wildfires.
In Canada, more than 11,000 locals have already been evacuated from Quebec province, now the epicentre of the disaster, with another 4,000 expected to flee by the end of Wednesday, said local leader Francois Legault.
US President Joe Biden said on Twitter that more than 600 US firefighters and other personnel, along with equipment, had been deployed to Canada to help battle the blazes.
The White House said Biden had spoken with Trudeau Wednesday, offering "additional support to respond to the devasting and historic wildfires".
Trudeau on Twitter said he had thanked Biden, adding: "These fires are affecting everyday routines, lives and livelihoods, and our air quality."
"We'll keep working ... to tackle climate change and address its impacts."
Back in New York City, Jack Wright, a 76-year-old retired lawyer said the pollution had "kinda generated a cough all day long".
"I quit smoking 50 years ago, but it's a kind of a cough I would have when I was smoking," he told AFP, braving a walk along the East River.
Not everyone, though, was disturbed by the acrid stench that hung over the city of 8.7 million residents.
"It does not bother me. You know, New York often smells strange," said 78-year-old retiree Pamela Roderick.